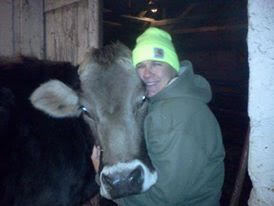 I would like to introduce Liz Neadow from Teacup Farm in Barker, NY.  Liz and her husband, Tim are proud parents and grandparents and started with dairy goats in 1999 on their 22 acre farm.  At the beginning, they had a herd of Brown Swiss but due to the amount of feed they consumed and breeding difficulties, they have transitioned to Jersey and Jersey Crossbreds but still have 1 Brown Swiss remaining.  Liz notes that they may look like an "odd" group of cattle but she strives for good creamy milk to be used in their creamery.  Currently, they have about 14 cows and each one will come to their name and loves the special attention.  Liz's current responsibilities include being the owner, milker, cheese maker, sales person, health, breeding, cleaner, book keeper (to name a few) and Tim cleans the barns, repairs and helps with chores.  The Neadow's love to camp and travel as their schedule allows.
---
Liz's Story in her own words:
Describe a typical/average day for you.
Day starts at 7 getting my granddaughter on the school bus, either paper work and marketing or we bottle milk. Chores include milking cows and goats and about tending to 200 chickens. Clean up, short break and then back to the cheese room to either process milk, make cheese or packaging. Two days a week we then pack the market trailer. By then it is dinner time and then back to the barn for night chores. I hope for our day to be done by 6-7 but most days we work till 10pm.
What are 3 things you want consumers to know about the dairy products you produce?
How much we really care for our animals, that there is no one way to farm and we all need the respect and support of the public.
TO be open minded and not just believe what you read or see on the internet.
We are customer direct and I would like customers to understand how hard we work.
As a Mom and Grandma what do you want to share with others about the dairy industry?
Farming is rewarding and we need younger dairy farmers. Hoping we can think outside of the box.
What is your favorite dairy product?
I love milk, real fresh out of the cow creamy milk!  We also make fresh cheese curds out of our cow milk and Feta and Chevre out of the goat milk.
Editor's Note: When it comes to dairy products, the Center for Disease Control and Prevention (CDC) warns that when consumed raw, "milk and products made from milk (including certain cheeses, ice cream, and yogurt) can pose severe health risks."
What is the most rewarding part of production agriculture? Challenging?
Rewards include supplying good milk to the public who is looking for local milk. I love to see my animals every day and see them enjoy their humans. It is challenging to do it all.
What advice would you give someone interested in production agriculture?
Do not give up there is a way for you to survive as a farmer, not only one way to produce milk and market it.
What do you envision the future of the dairy industry looking like?
We tried to ship milk but for us we were just losing money. So we continued with our NYS Raw milk permit and added a creamery in 2014. We are now able to bottle our own milk and we are in about 10 small local shops and health food stores. We also make a few cheeses and a couple seasonal local markets. I hope we will see more of these small dairies. I have many farm family friends who struggle with small dairies to stay alive.
---
Liz, thank you for sharing your story with us!  Make sure you check out their Website and give their Facebook Page a "like".
Entire Women in Dairy Series:
Comments
comments