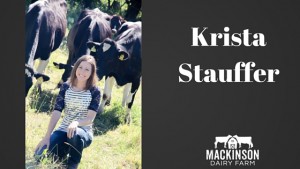 I would like to introduce Krista Stauffer (age 29) from the state of Washington!  Krista, her husband and three children are first generation dairy farmers that milk on average 150 cows with their herd consisting of Jerseys, Holsteins and crosses.  Their cows are milked in a parlor with their milk being sold to Northwest Dairy Association, Darigold as fluid milk.
You can witness Krista's love of dairy, photography and writing through her dedication to promoting the dairy industry through social media.  As she states on her blog,  I have been able to take all three  and turn them into advocacy for the dairy industry. Through photos and words I am able to educate those interested in the truth about the dairy industry.  Krista, you do an excellent job and thank you for all you do for the dairy industry!
---
Krista's Story in her own words:
When did you start farming? What brought you into farming? 2009, my farmer. We met shortly after he started in 2009.
Who do you farm with? My husband. He is the main man on the farm, everything falls on his shoulders. My job is to take care of the kids & fill in wherever possible.
What has been the most rewarding/challenging part of farming for you? Constant time with my children. Farming is tough, it has been quite the adjustment.
What is the biggest misconception about the dairy industry? That farmers do not care & we are only in it for the money. Couldn't be further from the truth.
Who is your favorite cow? 6199. She made me fall in love with farming, read more about her here.
What is your greatest achievement thus far?  Goals? We made it through the first year after starting in 2009. We plan to purchase our own farm.
Do you open your farm for tours or agro-tourism opportunities?  Just recently we offered it up to the community. Didn't advertise much so we are not experts in that department.
What's one question you always receive about what you do?  What do you do with the bull calves? We re-home them within the community & recently starting raising them ourselves. They are raised just as if they were a heifer calf. Treated with the same care.
Tell me a unique story about your farm.  My husband started in May of 2009. We lease a farm from a family whose husband/father passed away in December 2008. My husband moved away from everything he has ever known to start this farm. On his way across the state, he stopped to buy cows, had to get the farm ready before they arrived. We met shortly after he moved to my hometown at the local feed store. We run our farm on a cash flow basis. We are still farming because of his hard work, the grace of God & an older generation of dairy farmers that we do business with.
What is one message you'd like to get across to the general public about what you do? We love our animals & care for the land. We do not do this for the money but for the way of life.
What do you hope for your kids or future generations on your dairy? I pray that there is a farm available for them when they are older. Of course I would love for them to farm but we shall see, our oldest is only 7.
What advice would you give to anyone interested in getting into farming? Research, plan, dive in head first, plan for the worst, hope for the best and just do it. Don't plan on getting much sleep & plan on working harder than you ever thought possible. BUT it is worth it.
---
Stay connected with Krista on her blog, through Facebook, Pinterest, Twitter and on Instagram.  
Thank you Krista for taking time to participate in our "30 Days of Dairy" series.  If you enjoyed this post, make sure you subscribe to our blog (no spam, just an email when we post a new blog) so you don't miss any posts.
Entire "Thirty Days of Dairy" Series:
Sarah & Andy Birch – Derby, VT – the dairy farmers that were my inspiration for the 30 Days of Dairy!
Melissa Collman – Boring, OR – an organic dairy farmer from the West Coast!
Macy Sarbacker – Belleville, WI – a blogger, editor and dairy farmer from American's Dairyland!
Karen Bohnert – East Moline, IL – a very talented writer, Mom and Jersey lover from my state!
Lisa Myers – Hamstead, MD – one of my best friends that moved back home to run their dairy!
Rebecca Schlehlein – Platteville, WI – a dedicated farm employee that loves her Brown Swiss!
Heather Moore – Maquoketa, IA – Special Events Coordinator turned Dairy Farmer!
Katie Dotterer-Pyle – Union Bridge, MD – Spanish teacher and dairy farmer that makes sure her cows enjoy their stay!
Brent Pollard – Rockford, IL – an innovative dairy farmer who loves to tinker with things.
Krista Stauffer – Washington – a 1st generation dairy farmer and very talented AGvogate for the dairy industry!
Diane Loew – Byron, MI – a writer, blogger and dairy farmer from Michigan!
Nicole Fletcher – Southampton, MA – a Cabot Creamery dairy that milks Holsteins & Jersey's!
Elinor Opitz – Maple Lake, MN – a young lady just starting her Ayrshire dairy!
Alise Sjostrom – Brooten, MN – one of the readheads behind Redhead Creamery!
Tara McIntosh – Ontario, Canada – our only dairy farmer featured from Canada!
Jenna Kilgus – Fairbury, IL – a Jersey dairy farmer that bottles their own homogenized milk!
Will Gilmer – Sulligent, AL – our only dairy farmer from the "south"!
Gene Zimmerman – Colby, WI – our only dairy goat farmer featured this month!
Darleen Moore-Sichley – Oregon – a Mom, AGvocate and Gurnsey dairy farmer!
Michelle Eilenstine – Mountain Grove, MO – a dairy farmer & University of Missouri grad!
Jenni Tilton-Flood – Clinton, Maine – a Cabot Creamery dairy that milks 3400 Holsteins!
Kalli Ehrhardt – Baldwin, MD – A Mom and dairy farmer!
Craig Swenson – River Fall, WI – a dairy farmer who loves his red & whites!
Katie Harris – Washington – a mom & dairy farmer from Western Washington!
Annaliese Wegner – Ettrick, WI – the Modern-day Farm Chick!
Morgan Kliebenstein – Darlington, WI – a dairy farmer, Genex employee, Mom & wife!
Matt & Joe Engel – Hampshire, IL – the brother behind Luck-E Holsteins!
Stephanie Aves – Popular Grove, IL – a dairy farmer & agriculture teacher!
Beverly Donovan – Benton, Maine – a dairy farmer & accountant!
Sadie Frericks – Melrose, MN – a dedicated AGvocate, dairy farmer, mom & wife!
Greg Schulte – Darlington, WI – the cheesemaker at Brunkow Cheese!
Katie Deslippe – St Mary Ontario – a young lady that loves everything about dairy!
Carrie Mess – Lake Mills, WI – the well-known AGvocate Dairy Carrie!
For a listing of all the 30 Days Bloggers that Holly Spangler rounded up, visit here.
Comments
comments