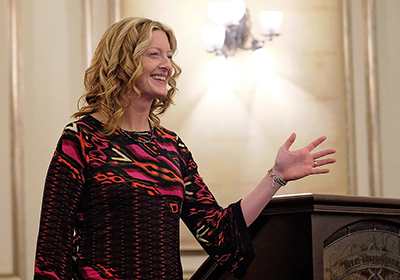 Today, we have the opportunity to meet the talented Kim Bremmer of Greenwood, Wisconsin.  I had the opportunity to meet Kim at the 2013 Ag Chat Conference in South Carolina and we've even stumbled across each other at World Dairy Expo since then! Kim grew up on a dairy farm in north central Wisconsin and was active in 4-H.  She is a proud graduate of UW-Madison with a degree in Dairy Science and Ag Journalism.  Kim was a dairy nutritionist for 15 years before starting her own business this past spring, called Ag Inspirations.  The mission of Ag Inspirations is:
To inspire farmers to tell their stories, connect people to where their food comes from and represent the great successes in agriculture.
Kim loves to travel and speak and share the real story of agriculture! She always takes the opportunity to be a vocal champion for agriculture whether she is at the grocery store or the airport. Kim is the Wisconsin state coordinator for Common Ground, President of the Wisconsin Women for Agriculture (an affiliate of American Agri-Women), a regular contributor on Rural Route Radio, board member for SWAG, an Academy Member of the National Speaker's Association, and a proud member of the American Dairy Coalition.  Kim enjoys reading and playing guitar, and bass fishing with her husband and two kids.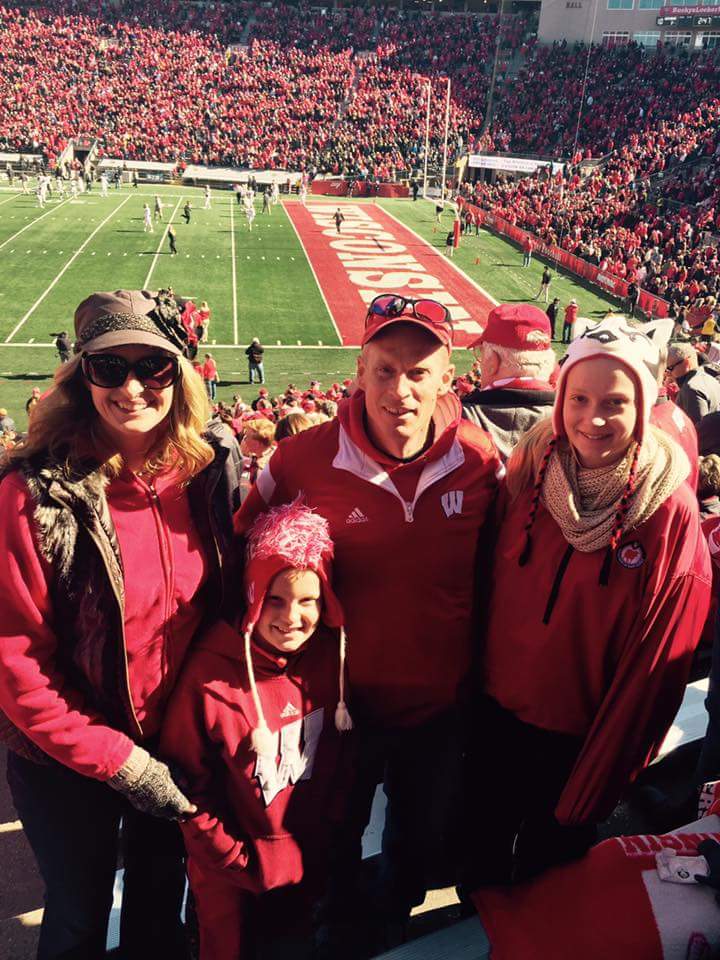 ---
Kim Story in her own words:
What is your role in the dairy industry?
Growing up a farm girl, I've always loved cows and I also love science, so the dairy industry is a logical place to be! I absolutely loved working with farmers every day for 15 years as a dairy nutritionist, and never dreamed I would ever start my own business, helping to share the real story of agriculture. I have always been a big believer in the power of one person and their ability to make a difference by creating a "ripple effect." I believe we can keep the conversation growing!
What is your favorite dairy product?
My favorite dairy product is a tall, ice cold glass of whole milk!  My favorite dairy recipe is any variation of a grilled cheese sandwich – I really love using aged Marieke Gouda with a fresh tomato and a basil pesto sauce."
Who is your favorite cow?
My favorite cow is named Reba – she was the first cow that my oldest child ever showed at the fair. A college roommate of mine ended up buying a farm a few miles away (yes, this world is small!) and we are so blessed to get the opportunity to spend a lot of time there working with her cows. There is nothing like watching your kids care for animals! I will never forget the pride I felt as my daughter walked around that little show ring with her! My favorite breed is a Holstein  – they are simply what I have always loved!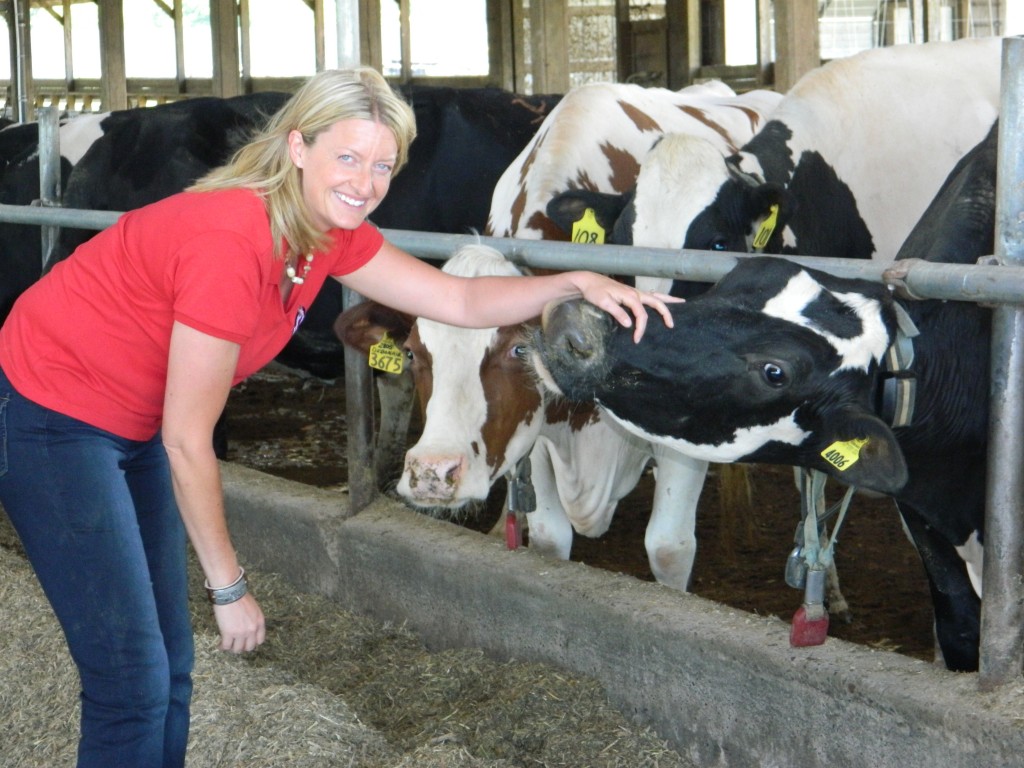 What are 3 things you want consumers to know about the dairy industry?
No two farms are the same, (big, small, organic, conventional, etc…) but most are still families (99% of them in my state- Wisconsin) that take a lot of pride in their work, making safe food for their families and ours.
We all hate the fear marketing used in food today! We wish more people asked us their questions about farming and food instead of Google.
Cows today are cared for like never before and we continue to make improvements on farms from year to year. One example is how cows eat better than people! We customize and balance their diets for over 60 different nutrients every day.
As a Mom what do you want to share with others about the dairy industry?
As a Mom, I am confident in food safety today because I have had a unique front row seat to farming.  I visited thousands of farms over the course of 15 years as a dairy nutrition consultant and it makes me so sad to see how so many moms today have so much anxiety about food choices based on fear. I can't imagine feeling that pressure and I try in every conversation to share perspective on this. No milk has antibiotics in it. All milk is safe. Cows and the environment are cared for like never before. (And not to forget that 9 essential nutrients packed into milk is hard to beat.)
What is the most rewarding part of being in the dairy industry? Challenging?
The most rewarding part of being in the dairy industry is the people – I am convinced that farmers are the best humans!  Their work ethic, tenacity and ingenuity is second-to-none.  Working with farmers has allowed me to learn something new each day and my respect and admiration for them extends a lifetime. But it becomes increasingly difficult to watch them get attacked by activists and self – proclaimed experts with an agenda. Especially when I understand farmers' everyday work and how hard they work to be experts in their field. The most challenging part is keeping up with how quickly things change, improve and advance in agriculture today.
My biggest fear is that we will lose some great farmers because they will be regulated out of business. Often times demands placed on others can have unintended consequences, especially when these demands start to come from people who have never actually ""been there and done that."" "
What advice would you give someone interested in the dairy industry?
I think the dairy industry is exciting and always full of opportunities! Science and technology play such integral roles in the industry today.  My simplest advice would be to not get discouraged, work hard, and you will be rewarded! One of my favorite Zig Zigler quotes is, "You don't have to be great to start, but you have to start to be great."
What do you envision the future of the dairy industry looking like?
I think we will continue to see farms grow, expand and consolidate with more family members and friends farming together. Robotics may also play a bigger role in the future. I am most excited about what technological advances I will see in my lifetime!  Farming has always been about continuing to improve how we care for our animals, the land and make safe food.  We are always advancing nutrition, genetics and precision in farming.  My great grandpa could never have imagined more tractors than horses, what a modern free stall barn would look like, or the amount of milk cows are able to make today…so our future is limitless!
---
Stay connected with Kim on Twitter and make sure you "like" her Facebook Page.   Kim, thank you for sharing your story with us!
Entire Women in Dairy Series:
Comments
comments