It's time to meet Katie Harris (age 30) from Western Washington! Katie and her husband Roy, have three young children. Avery is 5, Ashton is 3 and Taos is 5 months. Growing up, Katie was active in FFA showing her dairy cows and was a chapter officer for three years. After high school, Katie went to WSU and earned a Bachelors of Science in Animal Science with a pre-vet emphasis.
She admits, her kids keep her pretty busy. Katie and her daughters love horses and spend a lot of free time with their ponies. She has trouble picking just one favorite dairy product as she loves cheese, ice cream and yogurt! Her favorite dairy filled Thanksgiving recipe is mashed potatoes because she adds heavy cream, butter and some sour cream! Katie, that sounds delicious!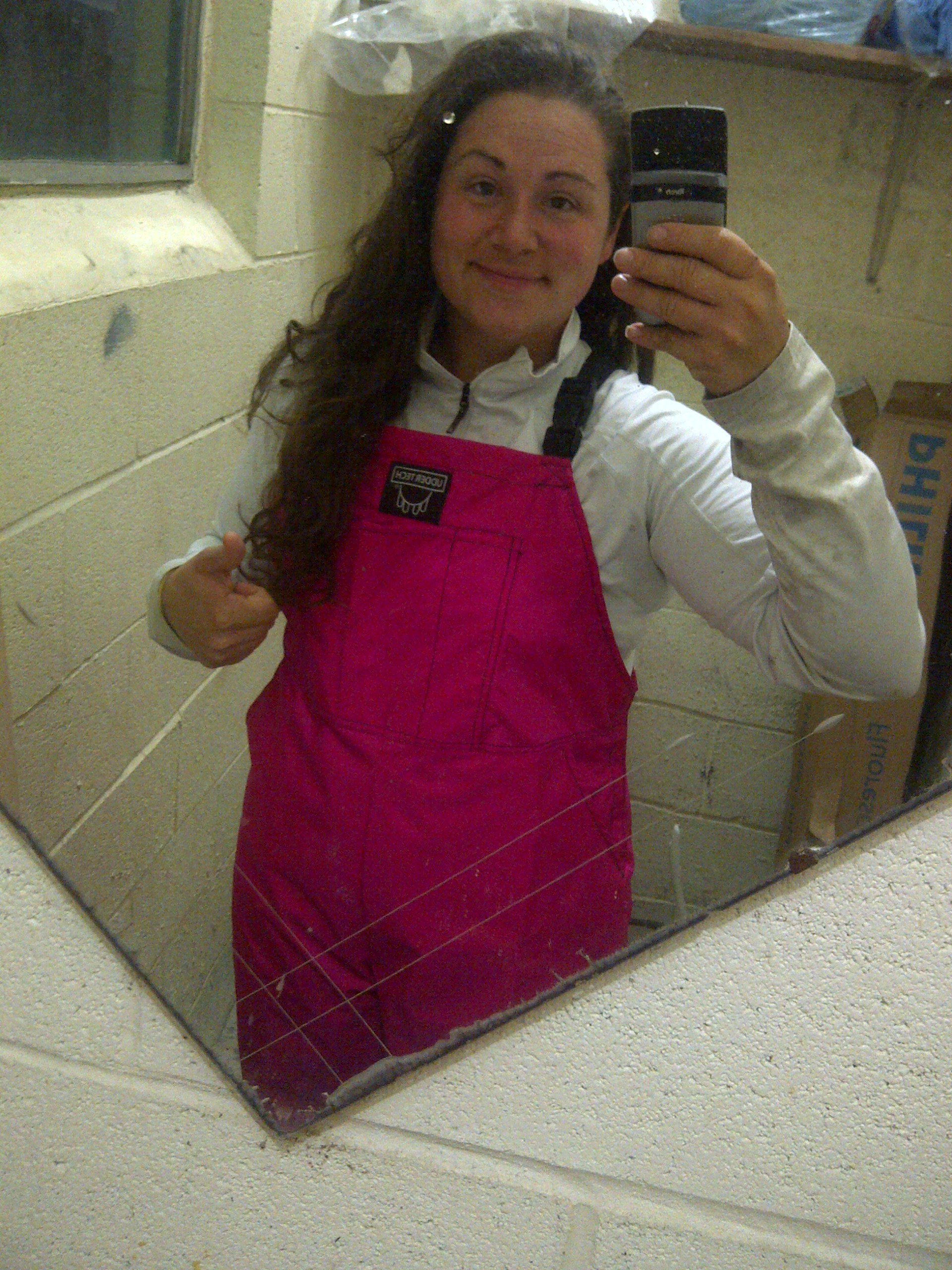 ---
Katie's Story in her own words:
We were milking 180 cows up until September. We had terminated the lease here and were in the process of leasing a larger farm. We bought an additional herd of 260 cows from a retiring farmer and then the lease deal fell through on the other farm. He decided to go with beef cows. So we sold the herd we were currently milking. The farmer who we bought the other herd from has been great. He is still milking them for us and we have the option of letting them stay until we can find another farm. So right now, we are absentee owners. We are a conventional dairy and have a few registered cows. The herd we bought was a closed AI bred herd. We sell our milk to Darigold and it ends up as bottled milk at Fred Meyer or goes to the drying plant we have locally.
When did you start farming? We are both 3rd generation farmers. I think its just something both of us always knew we would end up doing. We started our dairy in 2012.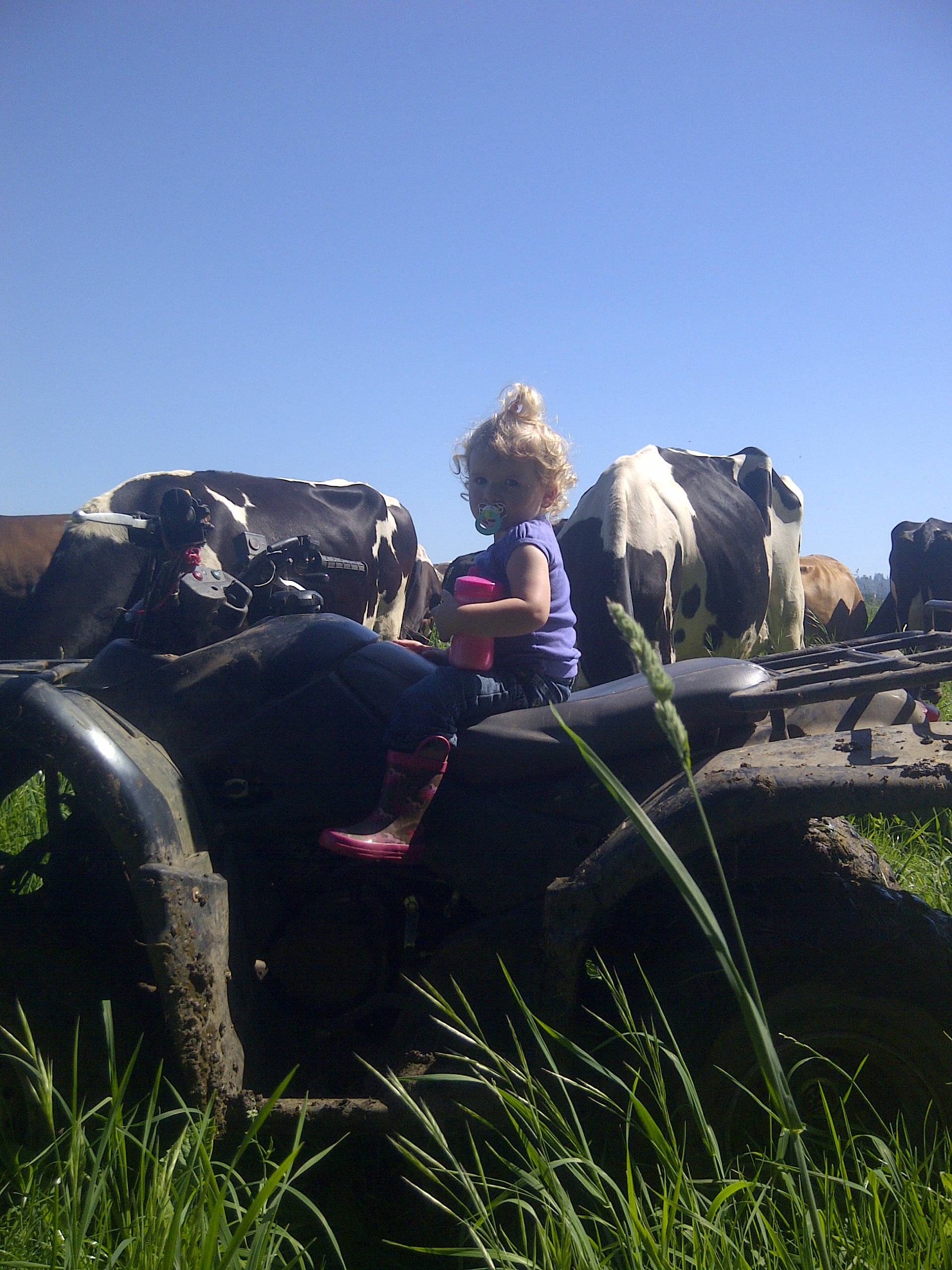 Who do you farm with? It was my husband and I (and sometimes an employee). It was really hard balancing the operation between us and 2 tiny kids at the time. We usually rotated the milkings either he would do am and I would do pm and both would do outside chores 7 days a week or sometimes one would do both milkings for that day and then the other would do both the next, but those were close to 20 hour days. We didn't sleep much when we started. We did hire one part-time employee that did 5 milkings a week, which seemed like a vacation. When I was 8 months pregnant with baby 3, we hired a relief milker so I team milked with Roy and fed calves. I did get a few weeks maternity leave after Taos was born.
What has been the most rewarding part of farming for you? There are many rewards to farming. The life style is a big part. We get to be with our family all day and work together. I also love seeing a cow I've bred have her baby and watching those babies grow up to be cows, or watching the changes between first and second lactation. Seeing all of the hard work you put into everything all come together is amazing. What has been the most challenging part of farming for you? The most challenging part has not been killing each other (kidding)! But some times it can be really hard working together. I saw a meme once that said if your relationship can handle working cattle together, it can handle anything and that is so true! Its also tough when you really cannot participate in any activities away from the farm. We do miss a lot of functions because of that. Obviously the biggest challenge is the finances. Farming is expensive and sometimes the milk checks aren't that great. Some months if we have payed all our bills and have money left to go to Costco, it's a good month.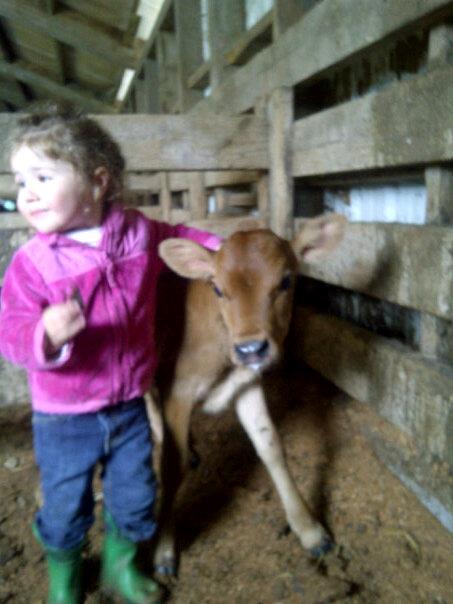 What is the biggest misconception about the dairy industry? The biggest misconception in my opinion is all of the abuse rumors. We care about these girls. A LOT! We aren't pumping them full of antibiotics or hormones just to get more milk, we aren't milking sick and dying animals and we certainly aren't treating them the way a lot of the videos being spread around like you to think we are.
Who is your favorite cow? I had 5 favorites and watching them all get loaded onto a semi truck was the absolute hardest thing I have ever done. 782 was my grandma cow and no matter where you were she was ALWAYS wanting her head scratched. She was just a big ol sweetie. Madison, I had raised as a day old at my parents house in a box stall with my horses before we started farming. She ended up being on of our best producers. They were both Holsteins. Then I had Chloe and Chloe's baby. They were my pet Jerseys that we let some of my cousins show at fairs. They were both just the sweetest things in the world and I really miss those big brown eyes. Last would be my Future cow and Autumn. So I guess really I had 6. Autumn, I bought as this little sick half starved cross bred. She was about 3 months old and the cutest little thing. She was a cross bred and just a doll face. She was probably our number 1 cow in the herd. I have two daughters out of her who will not go anywhere. They have their moms sweet personality. Future, I bought at a local registered sale. She was just so pretty and also just a sweetie. We showed her at our local fair and I really got to know her better when I spent the week there with her. She was just agreeable and so nice to be around
What is your greatest achievement thus far? MY greatest achievement are my kids. They amaze me every single day. My goals are pretty simple. No matter WHAT I am doing in life and no matter where I am or what my situation is, I want to be happy, and I want my family to be happy.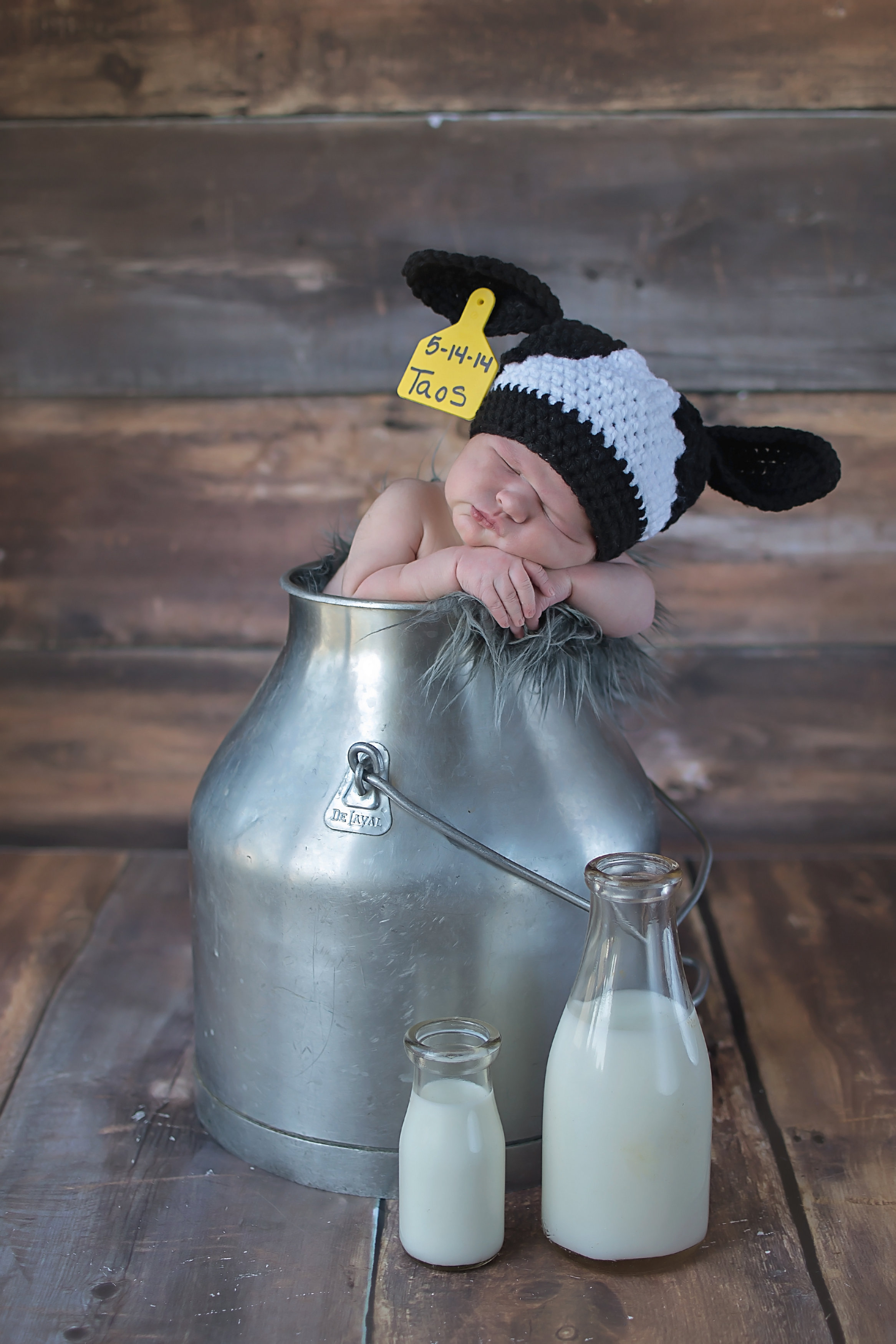 What is one message you'd like to get across to the general public about what you do? We do it because we love it, everything we are doing out here is because of love.
What advice would you give to anyone interested in getting into farming? Educate yourself, and have a good banker. It takes a lot more than just hard work to be successful. It might be a good part of it but you also have to have some balance with financial knowledge and street sense. Your operation can make all the money in the world, but if you don't know how to manage money you will be in real trouble.
---
Katie, thank you for taking time to participate in our "Thirty Days of Dairy" series. If you enjoyed this post, make sure you subscribe to our blog (no spam, just an email when we post a new blog) so you don't miss any posts
Earlier "Thirty Days of Dairy" features this month include:
Sarah & Andy Birch – Derby, VT – the dairy farmers that were my inspiration for the 30 Days of Dairy!
Melissa Collman – Boring, OR – an organic dairy farmer from the West Coast!
Macy Sarbacker – Belleville, WI – a blogger, editor and dairy farmer from American's Dairyland!
Karen Bohnert – East Moline, IL – a very talented writer, Mom and Jersey lover from my state!
Lisa Myers – Hamstead, MD – one of my best friends that moved back home to run their dairy!
Rebecca Schlehlein – Platteville, WI – a dedicated farm employee that loves her Brown Swiss!
Heather Moore – Maquoketa, IA – Special Events Coordinator turned Dairy Farmer!
Katie Dotterer-Pyle – Union Bridge, MD – Spanish teacher and dairy farmer that makes sure her cows enjoy their stay!
Brent Pollard – Rockford, IL – an innovative dairy farmer who loves to tinker with things.
Krista Stauffer – Washington – a 1st generation dairy farmer and very talented AGvogate for the dairy industry!
Diane Loew – Byron, MI – a writer, blogger and dairy farmer from Michigan!
Nicole Fletcher – Southampton, MA – a Cabot Creamery dairy that milks Holsteins & Jersey's!
Elinor Opitz – Maple Lake, MN – a young lady just starting her Ayrshire dairy!
Alise Sjostrom – Brooten, MN – one of the readheads behind Redhead Creamery!
Tara McIntosh – Ontario, Canada – our only dairy farmer featured from Canada!
Jenna Kilgus – Fairbury, IL – a Jersey dairy farmer that bottles their own homogenized milk!
Will Gilmer – Sulligent, AL – our only dairy farmer from the "south"!
Gene Zimmerman – Colby, WI – our only dairy goat farmer featured this month!
Darleen Moore-Sichley – Oregon – a Mom, AGvocate and Gurnsey dairy farmer!
Michelle Eilenstine – Mountain Grove, MO – a dairy farmer & University of Missouri grad!
Jenni Tilton-Flood – Clinton, Maine – a Cabot Creamery dairy that milks 3400 Holsteins!
Kalli Ehrhardt – Baldwin, MD – A Mom and dairy farmer!
Craig Swenson – River Falls, WI – a dairy farmer who loves his red & white cows!
For a listing of all the 30 Days Bloggers that Holly Spangler rounded up, visit here.
Comments
comments