I would like to introduce Katie Deslippe (age 22) from St. Marys Ontario. Katie is a true lover of dairy and admits that any and all hobbies she has are dairy related. When Katie's not farming, she's busy attending dairy related functions such as shows and sales. Katie proudly states, "When you have such a passion for something it becomes your whole entire life."
Growing up Katie was an avid Dairy 4-H member. Showing dairy cattle is her passion which started by exhibiting her Holstein calf. She also participated in judging clubs. 4-H was a great opportunity to become active within the dairy industry, making friends and developing crucial life skills. Katie, you have so much passion and energy for the dairy industry, I wish you much success as you begin working at Willdina Holstein and Jerseys in Ontario.
---
Katie's Story in her own words:
My family farm, Meadow Bridge, consists of 300 acres located in the heart of rural Southwestern Ontario. We raise Registered Holstein bull calves for breeding purposes. All of our bulls are purchased and arrive at the farm as weaned calves where they are raised to roughly 15 months of age. At this age they are then sent to their buyers to be used as breeding bulls for their dairy operations. Last summer we expanded our barn to house 180 bulls. Covered manure and feed storage was also added on at this time as well as office facilities and a loading chute. Upon arrival at Meadow Bridge, our bulls are fed a diet of grain and hay until 10 months of age. At this point they are then switched over to a total mixed ration of chopped hay, corn silage and grain. Our acreage is rented to a local cash cropper except for what is needed for corn to feed our cattle. All cattle are housed in a pack barn with self-locking head gates. The alleys are scraped clean daily and the packs are cleaned out with fresh bedding added as needed.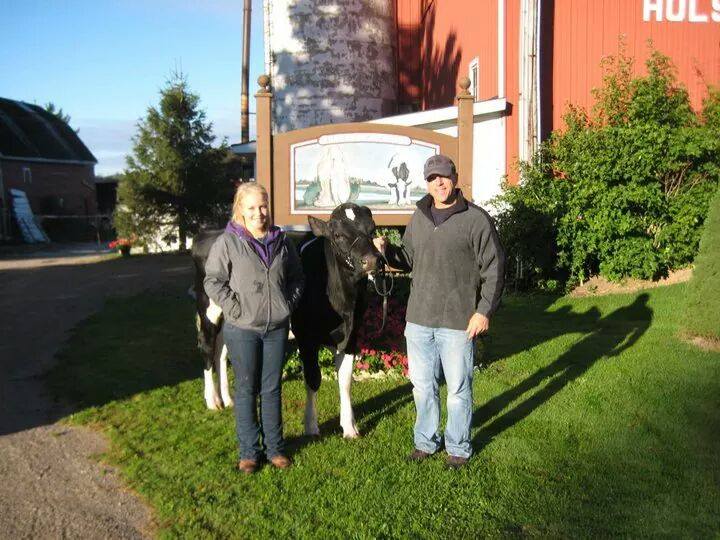 A new venture for Meadow Bridge is our recent investment in registered Angus cattle. With plans underway to build a barn for this new endeavor this is another great opportunity to diversify our farm business. The idea is to market registered bulls and heifers thru live and private sales while building a genetically superior herd thru artificial insemination and acquiring elite females. Another unique aspect to this undertaking is the ability to market our own processed product. With a greater push for locally produced foods and being located close to large urban areas we have an excellent opportunity to make a personal connection with our consumers.
My dad John is the driving force behind Meadow Bridge. The bull operation was originally started by my grandfather Cecil but more recently my father has successfully grown our business to what it is today. Having both been raised on as well as owning and operating their own dairy farms they wanted to remain active in the industry they loved when they sold their herds. The bulls that our family handles are genetically superior so it is a great way to stay connected and up to date on the current industry leading genetics and breeders. Growing up myself and my sister Sarah helped in the barn on the weekends and when needed. While I had the most love for chores and the cows my sister has always enjoyed being in the barn around the cattle. Both having been keen dairy 4-H members, she has helped my dad at home the past two summers at home. Although never the avid cow-man my younger brother Johnny would help out with chores and showed a few calves in pre 4-H. My mom Joyce also grew up on a mixed farm with the main focus being on dairy cattle. When my family used to have an active Dairy farm my mom always helped out, mainly with looking after calves but also wherever something needed to be done.
When did you start farming? I have never not farmed. Ever since I was a little girl, I've been going to the barn with my parents. Being in the barn from infancy goes hand in hand with being raised on a family farm, out of necessity the kids get brought to the barn too. From the time I could hold a bottle and feed a calf I've been helping with chores. I have loved the cows ever since I was a small child. There was something so safe and serene about being in the barn surrounded by these gentle bovines with their big kind eyes and soft wet noses that I have always loved. They were so big but so gentle at the same time and I guess that's what I love about them. When you can raise something from infancy all the way to a mature cow and watch her thrive makes me feel like I'm doing something right.
What has been the most rewarding part of farming for you? The most rewarding part of farming for me is to be able to do something I love and am passionate about every single day. The little things like being up to watch a beautiful sunrise peaking in at the cows through the barn windows, or witnessing a new bovine life enter this world and take its first breath these are the things that make it the best job in the world. Another rewarding factor is the incredible people that make up this Dairy industry. I have been fortunate enough to make many friends from all over the world who I would otherwise never have met if it wasn't for dairy cattle. What has been the most challenging part of farming for you? The most challenging part of farming for me is when things don't go right. There's nothing that makes me feel worse than a sick cow. When you work so hard to provide top notch living quality for these beautiful bovines and one gets sick it's so hard to watch. Having to pick which cows to part with has always been one of the most challenging aspects of this lifestyle. Even though each and every cow is loved our dairy farms are still a business and sometimes we need to make tough decisions about selling a cow based solely with this mindset. Maybe old Jamaica has a high somatic cell count or can't get pregnant after multiple attempts and has to be sold. Unfortunately these hardships come with the job but thankfully the good outweighs the bad.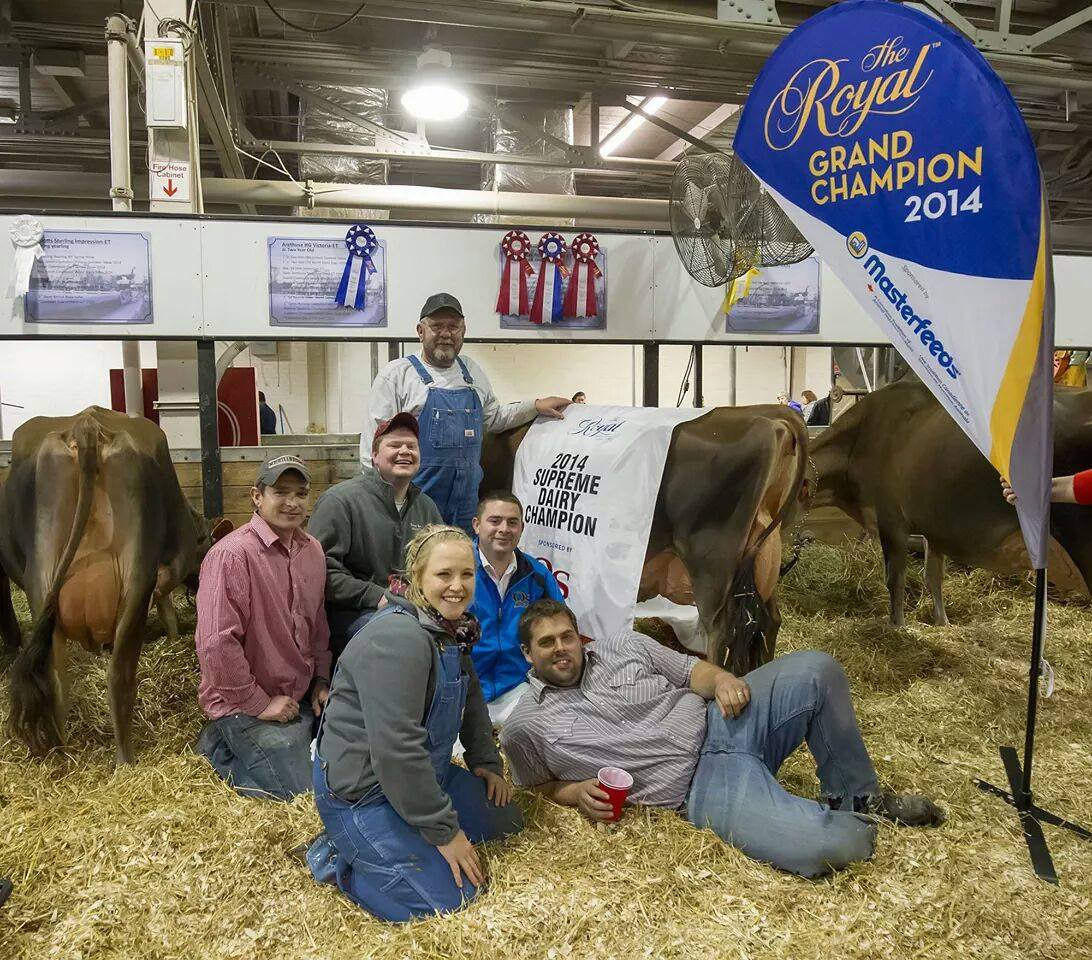 Who is your favourite cow? It's hard to pick just one favorite cow. There are so many great cows that have had such a positive influence. My favorite Jersey is definitely Huronia Centurion Veronica EX-97. Having spent a little over a year at Arethusa Farms, Veronica quickly became a favorite. Even though she is now retired and spends her days roaming the pastures she is still such an impressive individual having just turned 15 this fall. I think the true test of a great cow is not only how they compete in the show ring but how they transmit to their offspring. Having been Supreme champion at World Dairy Expo and having her daughter Vivid being Reserve Supreme at World Dairy Expo is a huge feat which they both make look easy. Apart from Vivid, Veronica has transmitted so many success stories both through her sons and daughters as well as their offspring.
Keeping with the theme of beautiful cows that transmit one of my favorite Holsteins is Ms Kingstead Chief Adeen EX-94. I can't pick just one favorite Holstein but Adeen is my ideal kind of cow. This family continues to produce great ones whether it is in the show ring, the top of the genomic charts or just good functional cows. Her granddaughter Durham Atlee thru her sons and daughters has had an incredible impact on the Holstein breed. In my opinion these are truly great cows that have forever changed their respective breeds for the better.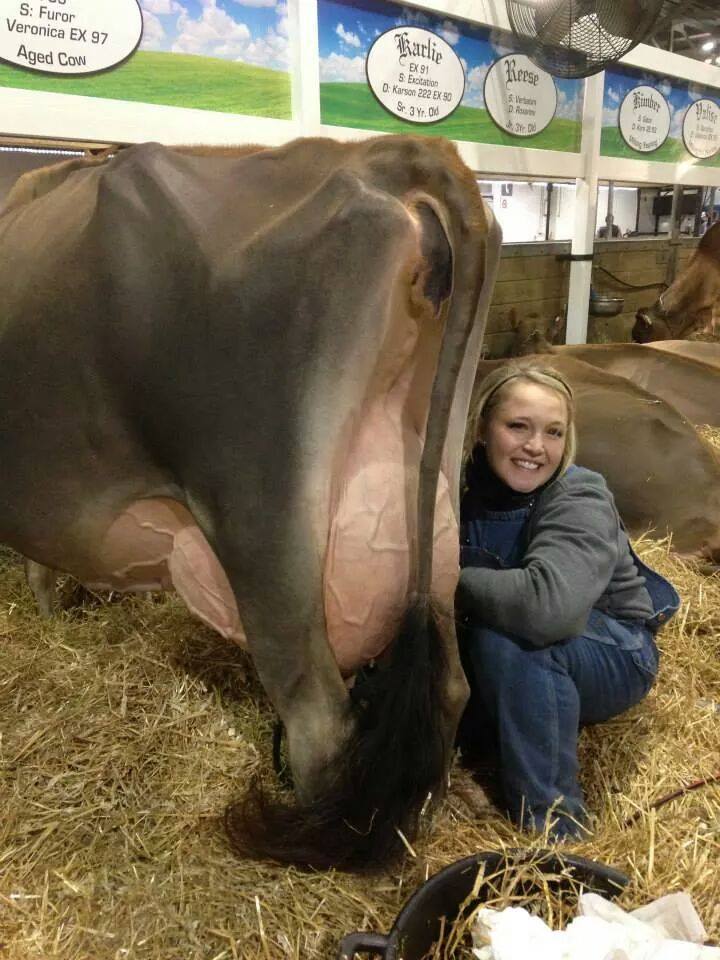 What is one message you'd like to get across to the general public about what you do? It seems there has been a lot of negativity shrouding the dairy industry due to lack of understanding from the general public. If there is one message that I could convey to the general public about what myself and my fellow dairy farmers do it would be yes we love our cows but most importantly our farms are a business. Just like every other business if you don't take proper care of it the potential success and profit will be reduced so it doesn't make sense for farmers to be cruel to our cattle. Also the fact that our farms are a business and sometimes tough decisions such as selling a cow for reasons such as a high somatic cell count or she can't get pregnant after multiple attempts have to be made. By no means are they easy but sometimes for the sake of being a profitable functioning organization they are necessary.
What do you hope for your kids or future generations on your dairy? For future generations at Meadow Bridge I hope they will continue to grow and expand the family business. Always continue to think out of the box to make our business better and more successful and to always work hard to achieve their goals.
What advice would you give to anyone interested in getting into farming? Something that I have learned is to be open to new ideas even if it wasn't your original plan. Ideally I'd love to be milking a herd of my own but with the startup cost it isn't doable right now. So instead of not farming I've just taking a different route via bulls and beef cattle. Another piece of advice that I have learned is to embrace change. Change can be scary but when you learn to embrace variation it can lead to success. We can get stuck in a comfort zone, doing things the same way they've been done for years but with new technology and ideas sometime the old way isn't the best way. Going into things with an open mind and positive outlook is the best way to deal with every constant change.
---
Katie, thank you for taking time to participate in our "Thirty Days of Dairy" series.
Entire "Thirty Days of Dairy" Series:
Sarah & Andy Birch – Derby, VT – the dairy farmers that were my inspiration for the 30 Days of Dairy!
Melissa Collman – Boring, OR – an organic dairy farmer from the West Coast!
Macy Sarbacker – Belleville, WI – a blogger, editor and dairy farmer from American's Dairyland!
Karen Bohnert – East Moline, IL – a very talented writer, Mom and Jersey lover from my state!
Lisa Myers – Hamstead, MD – one of my best friends that moved back home to run their dairy!
Rebecca Schlehlein – Platteville, WI – a dedicated farm employee that loves her Brown Swiss!
Heather Moore – Maquoketa, IA – Special Events Coordinator turned Dairy Farmer!
Katie Dotterer-Pyle – Union Bridge, MD – Spanish teacher and dairy farmer that makes sure her cows enjoy their stay!
Brent Pollard – Rockford, IL – an innovative dairy farmer who loves to tinker with things.
Krista Stauffer – Washington – a 1st generation dairy farmer and very talented AGvogate for the dairy industry!
Diane Loew – Byron, MI – a writer, blogger and dairy farmer from Michigan!
Nicole Fletcher – Southampton, MA – a Cabot Creamery dairy that milks Holsteins & Jersey's!
Elinor Opitz – Maple Lake, MN – a young lady just starting her Ayrshire dairy!
Alise Sjostrom – Brooten, MN – one of the readheads behind Redhead Creamery!
Tara McIntosh – Ontario, Canada – our only dairy farmer featured from Canada!
Jenna Kilgus – Fairbury, IL – a Jersey dairy farmer that bottles their own homogenized milk!
Will Gilmer – Sulligent, AL – our only dairy farmer from the "south"!
Gene Zimmerman – Colby, WI – our only dairy goat farmer featured this month!
Darleen Moore-Sichley – Oregon – a Mom, AGvocate and Gurnsey dairy farmer!
Michelle Eilenstine – Mountain Grove, MO – a dairy farmer & University of Missouri grad!
Jenni Tilton-Flood – Clinton, Maine – a Cabot Creamery dairy that milks 3400 Holsteins!
Kalli Ehrhardt – Baldwin, MD – A Mom and dairy farmer!
Craig Swenson – River Fall, WI – a dairy farmer who loves his red & whites!
Katie Harris – Washington – a mom & dairy farmer from Western Washington!
Annaliese Wegner – Ettrick, WI – the Modern-day Farm Chick!
Morgan Kliebenstein – Darlington, WI – a dairy farmer, Genex employee, Mom & wife!
Matt & Joe Engel – Hampshire, IL – the brother behind Luck-E Holsteins!
Stephanie Aves – Popular Grove, IL – a dairy farmer & agriculture teacher!
Beverly Donovan – Benton, Maine – a dairy farmer & accountant!
Sadie Frericks – Melrose, MN – a dedicated AGvocate, dairy farmer, mom & wife!
Greg Schulte – Darlington, WI – the cheesemaker at Brunkow Cheese!
Katie Deslippe – St Mary Ontario – a young lady that loves everything about dairy!
Carrie Mess – Lake Mills, WI – the well-known AGvocate Dairy Carrie!
If you enjoyed this post, make sure you subscribe to our blog (no spam, just an email when we post a new blog) so you don't miss any posts.
For a listing of all the 30 Days Bloggers that Holly Spangler rounded up, visit here.
Comments
comments