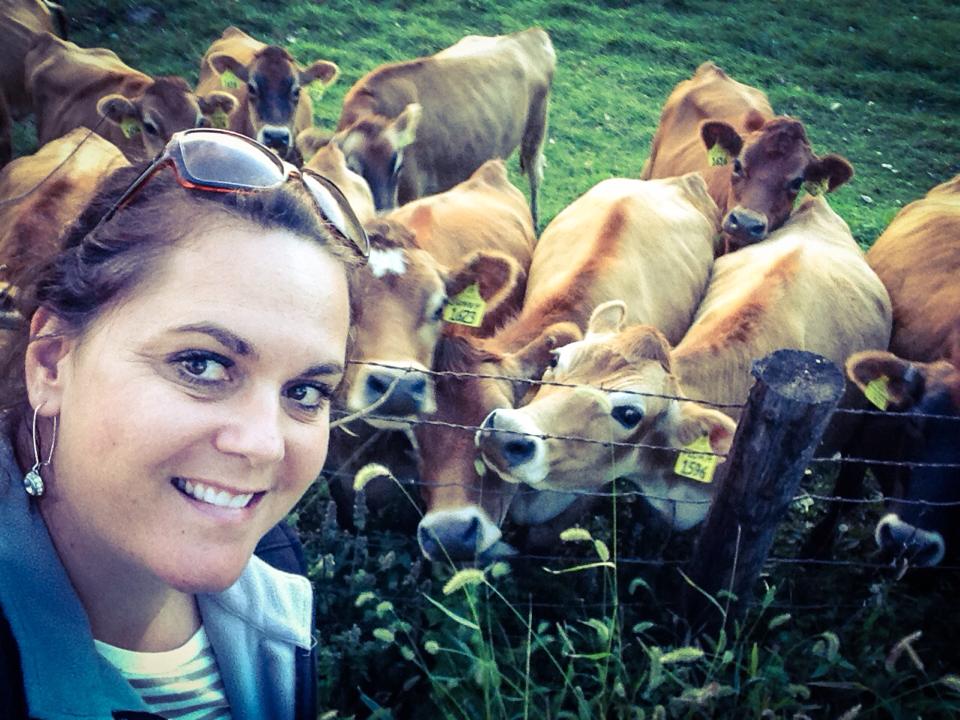 I would like to introduce Karen Bohnert (age 37) from East Moline, IL. Bohnert Jerseys is a 425-cow registered (conventional) Jersey dairy with approximately another 400 young heifers. All cows are housed in a free-stall barn, and can move around, eat and drink, or lay in stalls at any time. Cows lay on a mattress bedded with chopped straw. Cows are milked twice daily in a double-12 parallel parlor. Cows are grouped, by age, stage of lactation and pregnancy status. Their milk is sold to Stockton Cheese and the end product is Swiss cheese. The farm is owned and operated by brothers, Scott (Karen's husband) and his brother, Brian, and their parents, Jim and Wanda. Scott and Karen have three children: Tyler, 10; Cassie, 8 and Jacob, 4.
Growing up, Karen was very active in both 4-H and FFA and her projects were mostly sheep and swine. She attended Oregon State University and majored in Agriculture Economics and has a minor in writing (which she is very good at)! She is very involved in their church, Christ the King, where she teaches 1st grade CCD. Karen says, that between the farm and kids and kids' activities, they don't have a lot of free time. But when they do find free time, they enjoy watching Packer football (booo, Go Bears) and traveling back to Oregon to visit family and friends. Karen's favorite dairy product is strawberry yogurt and her favorite Thanksgiving recipe is pie, preferably pumpkin with home-made whip cream!
---
Karen's Story in her own words:
When did you start farming? I was born and raised on a family dairy farm in Bend, Ore. My parents milked 100 Holstein cows. After graduating college, I moved east to take a job, which led me to eventually meet my husband. Bohnert Jerseys began small and simple in 1984, with a couple of Jersey heifers serving as the kids' 4-H project. The dairy grew quickly from hobby to business thanks to the family's willingness to incorporate efficient, progressive tools into their dairy and its management.
By 1989, the herd had grown to 10 head, the cows were milked by machine but carried in individual buckets to the bulk tank in a flat, four-stall barn built by the family, and the boys started shipping milk. A year later, they added a pipeline and constructed a 40-cow free-stall barn; a facility they thought they'd never outgrow.
But by 1993, with the free-stalls nearly full, the family made the decision to build a milking parlor with six stalls. Two years later, they added 60 stalls to the barn. By 2000, the family was milking 100 cows and four years later, a new parlor with 24 stalls was installed, featuring a system where milking units detach automatically from each cow, and meters help track individual production and quality. Bohnerts invested in a 250-cow free-stall barn and a concrete manure storage facility with enough capacity for an entire year in 2006. And, in the summer of 2013, our family added another 250-cow free-stall barn, allowing us to milk 500 cows.
What has been the most rewarding part of farming for you? What has been the most challenging? The most rewarding thing for me is to watch my husband lead a purpose-driven, passionate life. He loves his Jersey cows and his farm with all his heart. He is beyond grateful to his parents for laying the farms' foundation and he enjoys working side-by-side with family. Our children have the opportunity to work on our farm—that has allowed them to drive skid loaders and tractors and grant them the opportunity to work side-by-side with family. They have the opportunity to own cattle and show those cattle at fairs. They have the opportunity to witness miracles of newborn calves, bountiful harvests and watch a family business thrive. Yes, farm life can be challenging at times when the work load is never ending, Mother Nature playing a driving force in our bottom line and the endless sacrifices and commitment that comes with the title of being a farmer. But the rewards, many of which I listed above, outweigh the challenges by leaps and bounds.
What is the biggest misconception about the dairy industry? That large farms are factory farms. Not true. 97 percent of farms are owned and operated by family. Regardless of the number of cows we have milked – from 10 to more than 400 – our farm has and always will be family owned and operated.
Who is your favorite cow? Very hard to choose because so many of our cows have reasons to be mentioned. However, right now, my favorite cow is my son, Tyler's 5-year-old cow, Elvira. She is 91%, produces an average 20,000 pounds of milk each year and has allowed him to learn some of life's best lessons with a leather show halter in his hand, as he has showed her since she was a calf. Plus, she recently calved with a heifer calf, who we named, Ellie.
What is your greatest achievement thus far? What are your goals? I am a dairy farmer's wife, a dairy farmer mom and enthusiast through and through. I feel that I'm good at being a mother, a wife and a writer. The things I'm most proud of are not on my resume—they are ones I kiss goodnight. I wouldn't be all that good at my job, if those other things were not true. You cannot be really first-rate at your work, if your work is all you are.
My dream has come true. I wished many years ago to write about dairy from the comfort of my home, while having a husband that farms and children who understand and appreciate farm life. In all honesty, my life goal is simple. To make each day count. And, I try to achieve that my pouring myself into those things that matter the most to me – my family, our farm, our community, and really thank God daily for the beautiful life He has given me.
What is one message you'd like to get across to the general public about what you do? We are a family farm and proud of it! We take great pride in caring for our cattle and land that in return care for us!
What advice would you give to anyone interested in getting into farming? I tell my children that they need to find an occupation that they are passionate about -whether that is farming or something else. I honestly believe, when we can find work that we are passionate about, then we can find our purpose! And, if someone wants to get into farming – any avenue of farming – I say go for it, especially if you're wholeheartedly passionate about it.
---
Stay connected with Karen on her website, Facebook, Twitter and on Instagram.
Thank you Karen for taking time to participate in our "30 Days of Dairy" series. If you enjoyed this post, make sure you subscribe to our blog (no spam, just an email when we post a new blog) so you don't miss any posts.
Entire "Thirty Days of Dairy" Series:
Sarah & Andy Birch – Derby, VT – the dairy farmers that were my inspiration for the 30 Days of Dairy!
Melissa Collman – Boring, OR – an organic dairy farmer from the West Coast!
Macy Sarbacker – Belleville, WI – a blogger, editor and dairy farmer from American's Dairyland!
Karen Bohnert – East Moline, IL – a very talented writer, Mom and Jersey lover from my state!
Lisa Myers – Hamstead, MD – one of my best friends that moved back home to run their dairy!
Rebecca Schlehlein – Platteville, WI – a dedicated farm employee that loves her Brown Swiss!
Heather Moore – Maquoketa, IA – Special Events Coordinator turned Dairy Farmer!
Katie Dotterer-Pyle – Union Bridge, MD – Spanish teacher and dairy farmer that makes sure her cows enjoy their stay!
Brent Pollard – Rockford, IL – an innovative dairy farmer who loves to tinker with things.
Krista Stauffer – Washington – a 1st generation dairy farmer and very talented AGvogate for the dairy industry!
Diane Loew – Byron, MI – a writer, blogger and dairy farmer from Michigan!
Nicole Fletcher – Southampton, MA – a Cabot Creamery dairy that milks Holsteins & Jersey's!
Elinor Opitz – Maple Lake, MN – a young lady just starting her Ayrshire dairy!
Alise Sjostrom – Brooten, MN – one of the readheads behind Redhead Creamery!
Tara McIntosh – Ontario, Canada – our only dairy farmer featured from Canada!
Jenna Kilgus – Fairbury, IL – a Jersey dairy farmer that bottles their own homogenized milk!
Will Gilmer – Sulligent, AL – our only dairy farmer from the "south"!
Gene Zimmerman – Colby, WI – our only dairy goat farmer featured this month!
Darleen Moore-Sichley – Oregon – a Mom, AGvocate and Gurnsey dairy farmer!
Michelle Eilenstine – Mountain Grove, MO – a dairy farmer & University of Missouri grad!
Jenni Tilton-Flood – Clinton, Maine – a Cabot Creamery dairy that milks 3400 Holsteins!
Kalli Ehrhardt – Baldwin, MD – A Mom and dairy farmer!
Craig Swenson – River Fall, WI – a dairy farmer who loves his red & whites!
Katie Harris – Washington – a mom & dairy farmer from Western Washington!
Annaliese Wegner – Ettrick, WI – the Modern-day Farm Chick!
Morgan Kliebenstein – Darlington, WI – a dairy farmer, Genex employee, Mom & wife!
Matt & Joe Engel – Hampshire, IL – the brother behind Luck-E Holsteins!
Stephanie Aves – Popular Grove, IL – a dairy farmer & agriculture teacher!
Beverly Donovan – Benton, Maine – a dairy farmer & accountant!
Sadie Frericks – Melrose, MN – a dedicated AGvocate, dairy farmer, mom & wife!
Greg Schulte – Darlington, WI – the cheesemaker at Brunkow Cheese!
Katie Deslippe – St Mary Ontario – a young lady that loves everything about dairy!
Carrie Mess – Lake Mills, WI – the well-known AGvocate Dairy Carrie!
For a listing of all the 30 Days Bloggers that Holly Spangler rounded up, visit here.
Comments
comments