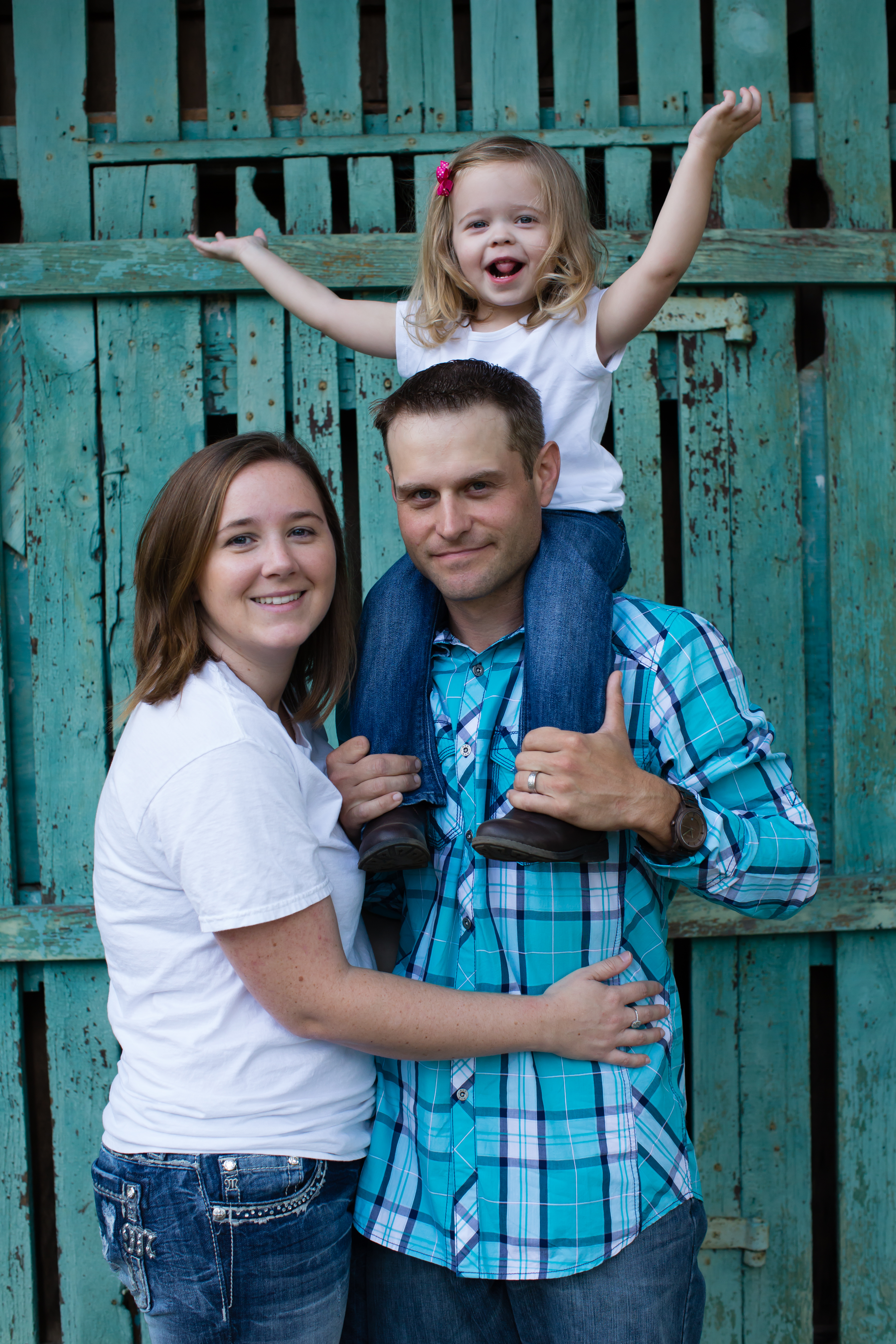 Today, I would like to introduce Kalli Ehrhardt (age 28) from Baldwin, MD. Kalli and her husband Kevin have one daughter, Bristol Lynn who is 2 years old (and maybe the hardest worker on the farm!) The heart of Ehrhardt Farms is Kalli's husband (Kevin) and his two brothers. They are the fuel that keep the farm running. Currently, they are milking around 180 head of registered Holsteins and Jerseys in a stanchion barn. Their farm is a conventional dairy that grows a portion of their own feed and hay each year.
Milk from their cows goes to Maryland & Virginia Milk Producers. According to their website, the cooperative markets member milk throughout the Mid-Atlantic and Southeast regions. Kalli's favorite dairy products are a good scoop of ice cream or a milk shake and favorite dairy-filled Thanksgiving recipe is pumpkin pudding! She says it's delicious and makes it like banana pudding with the vanilla wafers and peanut butter brownies, both of which require dairy to make.
Growing up, Kalli was very active in Kansas 4-H. She was president of her 4-H club for 3 years, as well as president of the Kansas Junior Holstein Association. Her projects included: dairy, beef, clothing, foods, leadership and citizenship. She even dabbled in swine and photography. After high school, she attended Northern Oklahoma College at Oklahoma State University, majoring in Psychology. She is just short of a degree, after choosing to move home and help with her ailing grandmother. Then life got the best of her and she hasn't gone back.
Before moving to Maryland, Kalli enjoyed being involved in speaking about dairy to school children, something she would like to get involved in Maryland. Her hidden interest/talent is bridal and wedding design, helping brides plan their weddings from start to finish. Dance, crafting and event planning are favorites when she can find the time. Still dabbling in photography when it catches my fancy.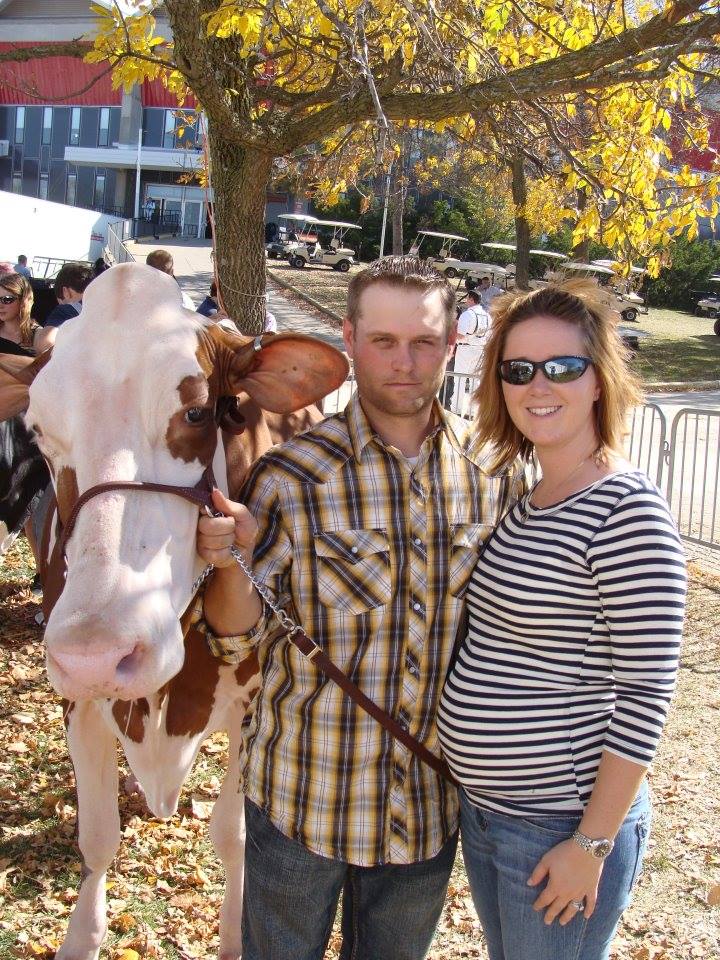 ---
Kalli's Story in her own words:
Has your farm changed since you became involved? No real changes yet, but I look forward to the future of our farm and the ways that we can broaden our interest within the industry. Currently technology doesn't play much of a role and I'd like to change that and boost us into the 21st century.
What is the biggest misconception about the dairy industry? That every farm puts hormones into the cows and the milk and that we all treat our cows like they are just an object. Sadly with all of the scare tactics used today by people like PETA and others, many people don't see a family farm for what it really is. All they see is the scary videos that those organizations put out to turn people against the farmer.
What is your greatest achievement thus far? My greatest achievement is a deep yet simple one. Surviving the integration into an already very established family farm. Coming from a small yet still extensive dairy background, I had to learn everything in a new way working with new people in a very different place. My goals for our farm here are to move toward using more technology with bookkeeping and establishing a payroll. To create organization that is user friendly for all.
What's one question you always receive about what you do? Many people will ask me, "so do you milk the cows too?" The answer is no, I do not milk the cows here on our farm. Simply because my husband and his brothers are quite good at that and they take extreme care with each of the cows, knows each one specifically and how to manage each and every one properly. Why mess with a good thing? However I do always include that I milked cows when I was younger helping out at a farm where we kept heifers as well as in college I loved to relief milk or help out my friends on the dairy.
Tell me a unique story about your farm. My husband and I met each other at World Dairy Expo in 2007, in a chance meeting that he was passing through the isle I was in. He and his buddy asked me and my friend to hang out and I said no because I didn't know him 😉 However as he walked away little did either of us know at the time but, we both turned to our friends and said that we had found the person we were going to marry. A few weeks later he had secured a tie in spot with our group at Louisville so that he would see me again. Asking me out on an official date at NAILE, I said yes but only if he took my mom too. Seven years later and 4 years into a marriage here we are. (I think my mom on the date really sealed the deal 😉
What is one message you'd like to get across to the general public about what you do? Farming does not discriminate, however people do, so be one less and know that a farmer is no longer the man in the overalls or the woman with the plaid shirt and her hair tied up. Farmers can be anyone, the guy walking out of the Walmart, or even the lady getting her nails done at the mall.
What advice would you give to anyone interested in getting into farming Keep track of all your expenses! Utilize your local extension agents, ask for help when you think you may need it. Take time for your family, because they are your biggest support and don't be afraid of change.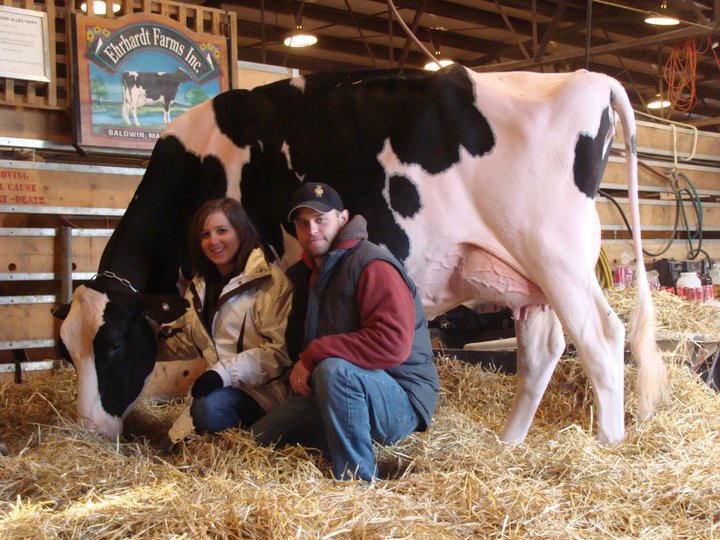 ---
Stay connected with Kalli on her personal Facebook account.
Kalli, thank you for taking time to participate in our "Thirty Days of Dairy" series. If you enjoyed this post, make sure you subscribe to our blog (no spam, just an email when we post a new blog) so you don't miss any posts
Earlier "Thirty Days of Dairy" features this month include:
Sarah & Andy Birch – Derby, VT – the dairy farmers that were my inspiration for the 30 Days of Dairy!
Melissa Collman – Boring, OR – an organic dairy farmer from the West Coast!
Macy Sarbacker – Belleville, WI – a blogger, editor and dairy farmer from American's Dairyland!
Karen Bohnert – East Moline, IL – a very talented writer, Mom and Jersey lover from my state!
Lisa Myers – Hamstead, MD – one of my best friends that moved back home to run their dairy!
Rebecca Schlehlein – Platteville, WI – a dedicated farm employee that loves her Brown Swiss!
Heather Moore – Maquoketa, IA – Special Events Coordinator turned Dairy Farmer!
Katie Dotterer-Pyle – Union Bridge, MD – Spanish teacher and dairy farmer that makes sure her cows enjoy their stay!
Brent Pollard – Rockford, IL – an innovative dairy farmer who loves to tinker with things.
Krista Stauffer – Washington – a 1st generation dairy farmer and very talented AGvogate for the dairy industry!
Diane Loew – Byron, MI – a writer, blogger and dairy farmer from Michigan!
Nicole Fletcher – Southampton, MA – a Cabot Creamery dairy that milks Holsteins & Jersey's!
Elinor Opitz – Maple Lake, MN – a young lady just starting her Ayrshire dairy!
Alise Sjostrom – Brooten, MN – one of the readheads behind Redhead Creamery!
Tara McIntosh – Ontario, Canada – our only dairy farmer featured from Canada!
Jenna Kilgus – Fairbury, IL – a Jersey dairy farmer that bottles their own homogenized milk!
Will Gilmer – Sulligent, AL – our only dairy farmer from the "south"!
Gene Zimmerman – Colby, WI – our only dairy goat farmer featured this month!
Darleen Moore-Sichley – Oregon – a Mom, AGvocate and Gurnsey dairy farmer!
Michelle Eilenstine – Mountain Grove, MO a Mom & University of Missouri graduate!
Jenni Tilton-Flood – Clinton, Maine – a Cabot Creamery dairy that milks 3400 Holsteins!
For a listing of all the 30 Days Bloggers that Holly Spangler rounded up, visit here.
Comments
comments