Today it is my honor to introduce Jenni Tilton-Flood of Flood Brothers Farm (age 42) from Clinton, Maine. Jenni grew up the daughter of the local John Deere salesman (yeah green tractors!) and always wanted to grow up and go off to far flung places and feed the world. She attended college studying Comparative Foreign Policy/International Relations and Sustainable Agriculture. After a few years in college, she decided what she really wanted to do was feed her corner of the world so she headed back home and became involved in her father's agriculturally equipment business. Then somewhere along the way, Jenni and The Farmer fell in love and he swept her off her feet.
I have not met Jenni personally but through following her on social media, you can tell that she is very passionate about agvocacy. She represents their farm and industry on Social Media, at legislative hearings, on the Maine Dairy Promotion Board, or by welcoming visitors to their farm. She enjoys being involved with politics and campaigns as well as being a very proud sideline mom at field hockey and football games, and makes a mean grilled cheese and French Fries. The Flood Family's favorite dairy-filled Thanksgiving recipe is a wee bit of pie to accompany their freshly made whipped cream 😉
---
Jenni's Story in her own words:
Flood Brothers Farm, LLC is a traditional family farm that currently has 3 generations caring for our 3400 cows, calves and heifers, including our 1600 head milking herd on land that has been in our family and in agricultural production for over 200 years. We are proud Cabot Farmers as Agri-Mark/Cabot Creamery Cooperative members and milk our primarily Holstein herd 3x on our DeLaval 100 stall rotary parlor. 6 Flood families and as many as 12 family members work on the farm including helping to harvest our 1850 acres of silage corn and 3000 acres of hay & grass. Farm family members and 40 coworkers help produce 16,000 gallons of milk a day which travels 75 miles south of our farm on the daily milk trucks to the H.P. Hood. Plant in Portland, Maine. Within 24-48 hours the milk is in the stores and on our neighbors' tables.
My husband Dana, our children Lilla (16) and Pres (15 in a few months)live and work here on our family farm along with my husband's parents, George & Prudy; his Uncle Bill; brother and sister-in-law and their children Tim, Erin, Meara, Will, Evelyn and Audrey; cousin Katie and her husband Dan, and their children Tyler, Katelyn and Oakley; Cousin Laura and fiancé Joel and children Peyton and Cruze. Here in our family we are huge fans of the World's Best Cheddar from our own Cabot label, of course (our current in house favorites are Alpine Cheddar and White Oak ) which we LOVE to snack on as well as incorporate into favorite family recipes like Mac n' Cheese or quiche. And yogurt is a definite staple in our house and this smoothie is a regular "go-to" on busy mornings: Maple Moo Smoothie.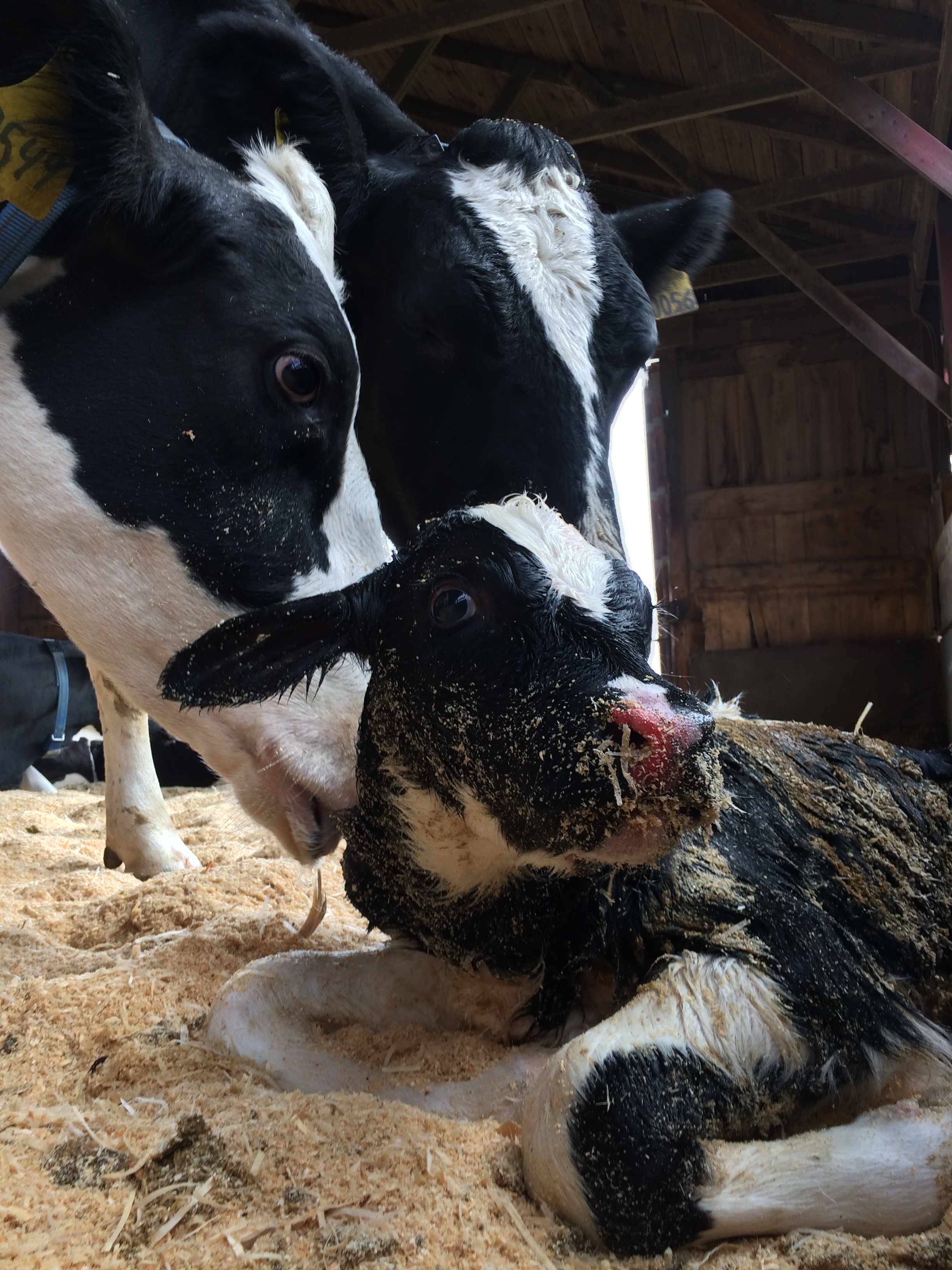 Do you open your farm for tours or agro-tourism opportunities? I love welcoming visitors to our family farm, whether they are local school kids, FFA groups, college students, professional groups or even legislators and politicians. Every visit is an opportunity to tell our story and to bridge the gap between the farm and the table. It's always a special joy to share what you love with someone, and sharing our farm is no different.
What's one question you always receive about what you do? It never ceases to amaze me how people respond when I tell them I am a dairy farmer. They are always impressed and in a bit of shock as more often than not, I am usually the first dairy farmer they have ever met. It is always such a prideful moment but also very humbling because as enamored they may be with the notion of me being a farmer, and impressed as they are that I "feed the world" it serves to remind me that sometimes we farmers take our lives, responsibilities and blessings for granted and it also brings home the reminder that our world is full of people who are no longer a couple doors down from where their food is made, raised and produced and our society is ever increasingly removed from where their food comes from. I always take that opportunity to make sure they understand that I love what I do and that the way we make our life just happens to be the way we make our living.
Tell me a unique story about your farm. Sometimes, when you look back on your life, you realize that the simplest moments are the ones that change your path and trajectory forever…for The Farmer it was seeing the greasy, dirty parts girl come around from behind the parts counter carrying 2 five gallon pails of Hyd. Oil. At that moment, he has often told our children and anyone who cared to listen that at that very moment he thought to himself, "That there is the gal for me." A couple years later when I stopped by his family farm to drop off some mower knives it became apparent that he was indeed correct.
What is one message you'd like to get across to the general public about what you do? I always hope that if people learn one thing about our farm it is that taking care of our cows and ensuring their health and happiness is our number one priority. I tell those who visit our farm if they see an animal that doesn't look comfortable, or happy or healthy to them then to ask me. Ask me if they are healthy. Ask me if there is something more I could do to make them comfortable. Ask me about how much I care for my family of animals because if you have questions about how your food is raised then you should be getting to know your farmer.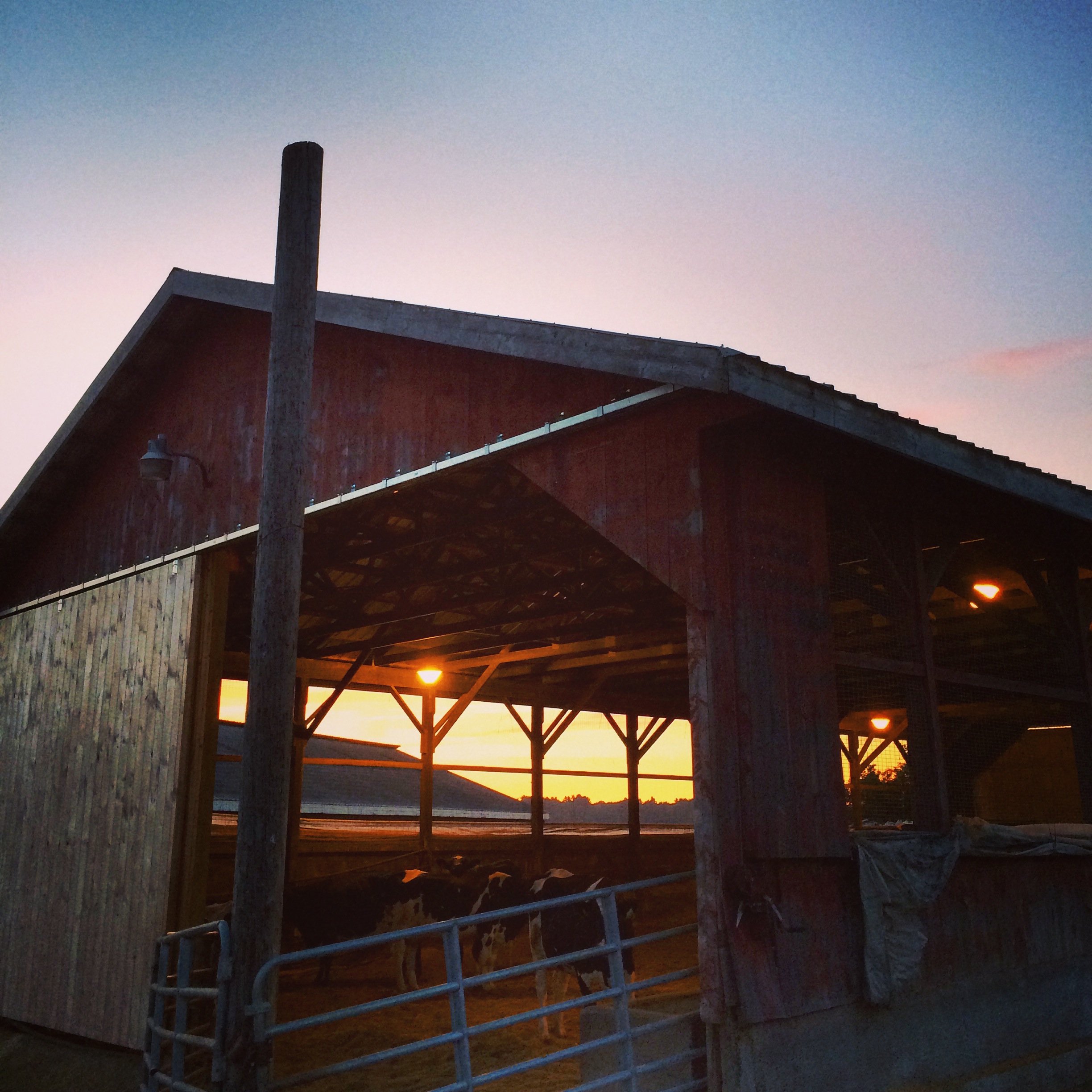 ---
Stay connected with Jenni on her blog, Facebook Page, Twitter and Instagram.
Jenni, thank you for taking time to participate in our "Thirty Days of Dairy" series. If you enjoyed this post, make sure you subscribe to our blog (no spam, just an email when we post a new blog) so you don't miss any posts.
Entire "30 Days of Dairy" Series:
Sarah & Andy Birch – Derby, VT – the dairy farmers that were my inspiration for the 30 Days of Dairy!
Melissa Collman – Boring, OR – an organic dairy farmer from the West Coast!
Macy Sarbacker – Belleville, WI – a blogger, editor and dairy farmer from American's Dairyland!
Karen Bohnert – East Moline, IL – a very talented writer, Mom and Jersey lover from my state!
Lisa Myers – Hamstead, MD – one of my best friends that moved back home to run their dairy!
Rebecca Schlehlein – Platteville, WI – a dedicated farm employee that loves her Brown Swiss!
Heather Moore – Maquoketa, IA – Special Events Coordinator turned Dairy Farmer!
Katie Dotterer-Pyle – Union Bridge, MD – Spanish teacher and dairy farmer that makes sure her cows enjoy their stay!
Brent Pollard – Rockford, IL – an innovative dairy farmer who loves to tinker with things.
Krista Stauffer – Washington – a 1st generation dairy farmer and very talented AGvogate for the dairy industry!
Diane Loew – Byron, MI – a writer, blogger and dairy farmer from Michigan!
Nicole Fletcher – Southampton, MA – a Cabot Creamery dairy that milks Holsteins & Jersey's!
Elinor Opitz – Maple Lake, MN – a young lady just starting her Ayrshire dairy!
Alise Sjostrom – Brooten, MN – one of the readheads behind Redhead Creamery!
Tara McIntosh – Ontario, Canada – our only dairy farmer featured from Canada!
Jenna Kilgus – Fairbury, IL – a Jersey dairy farmer that bottles their own homogenized milk!
Will Gilmer – Sulligent, AL – our only dairy farmer from the "south"!
Gene Zimmerman – Colby, WI – our only dairy goat farmer featured this month!
Darleen Moore-Sichley – Oregon – a Mom, AGvocate and Gurnsey dairy farmer!
Michelle Eilenstine – Mountain Grove, MO – a dairy farmer & University of Missouri grad!
Jenni Tilton-Flood – Clinton, Maine – a Cabot Creamery dairy that milks 3400 Holsteins!
Kalli Ehrhardt – Baldwin, MD – A Mom and dairy farmer!
Craig Swenson – River Fall, WI – a dairy farmer who loves his red & whites!
Katie Harris – Washington – a mom & dairy farmer from Western Washington!
Annaliese Wegner – Ettrick, WI – the Modern-day Farm Chick!
Morgan Kliebenstein – Darlington, WI – a dairy farmer, Genex employee, Mom & wife!
Matt & Joe Engel – Hampshire, IL – the brother behind Luck-E Holsteins!
Stephanie Aves – Popular Grove, IL – a dairy farmer & agriculture teacher!
Beverly Donovan – Benton, Maine – a dairy farmer & accountant!
Sadie Frericks – Melrose, MN – a dedicated AGvocate, dairy farmer, mom & wife!
Greg Schulte – Darlington, WI – the cheesemaker at Brunkow Cheese!
Katie Deslippe – St Mary Ontario – a young lady that loves everything about dairy!
Carrie Mess – Lake Mills, WI – the well-known AGvocate Dairy Carrie!
For a listing of all the 30 Days Bloggers that Holly Spangler rounded up, visit here.
Comments
comments