I would like to Jenna Kilgus (age 33) from Fairbury, Illinois.  Jenna and her husband Matt have three children Kamber (7), Collin (4) and Kelsey (2).  I have known Matt and Jenna for several years as we grew up showing cattle against each other at the Livingston County 4-H Fair!  4-H and FFA played a huge roll in both their lives as they were both active in their 4-H club for over 11 years!  At Prairie Central High School, they were in FFA and were half of the state winning dairy judging team.  At the National FFA Convention their team won second place and were awarded a trip to Europe to judge dairy cattle and learn about European Agriculture.  After high school, Jenna became a dental hygienist and up until last year worked off the farm.  Matt went to Joiliet Junior College and got an AAS degree in Ag Production.
When Matt and Jenna are not working on the farm, they are both active in Farm Bureau Young Leaders (Jenna is Chairwoman) and their church.  Jenna teaches preschool Sunday school and Matt is a church Elder and oversees the Ministry and Administration Committee.  Matt is an avid Bears fan.  Their children enjoy Saturdays evenings at our local dirt race tract but when you own a dairy, you can't get too far from home for very long.
---
Jenna's Story in her own words:
We milk 150 registered Jersey cows in a double ten parallel parlor twice a day.  Our cows are on pasture from April until November and feed on the pasture grasses.  They also get a ration of non-gmo corn and corn silage, hay, and other proteins, most of which are grown on our farm.  We also farm 800 acres of corn, soybeans and hay.
We have an single-source on-farm bottling plant where we process our cows' milk.  We separate the cream and the skim milk with a cream separator.  Then we add the cream back in to make the specific milk that we are bottling at that time (like 2%). Then we pasteurize the milk (heating it to kill any bacteria in the milk) and then put into milk jugs.  We bottle whole, 2%, skim, chocolate, heavy cream, half and half, soft serve ice cream mix, and seasonal egg nog.  Only the milk that our cows produce go into our dairy plant and are marketed under the Kilgus Farmstead brand.  Most of our products are distributed within 100 miles of our farm.  About 40% goes to Chicago and the other stays in Central Illinois.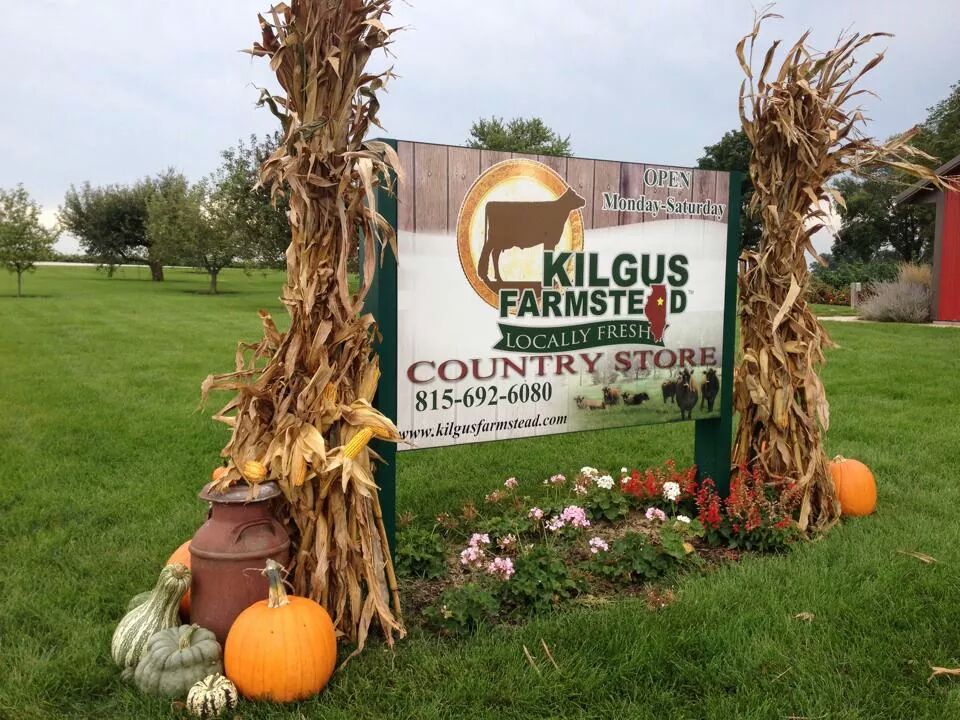 Who do you farm with?   We farm with Matt's Aunt and Uncle Paul and Carmen (Carla, 9) and their son's Justin (Kaylee and children Andrew and Kate) and Trent (Kayla) My responsibility on the farm is keeping up with the Farmstead (bottling and distribution) book work.  I also give most of the tours on the farm.  Matt and Justin manage the bottling operation.  Paul and Trent manage the dairy and milking herd.  Carmen is responsible for the dairy book work.  All the men work together with the other parts of the farming operation, planting, hay baling, and harvest. Justin and Trent also have a large meat goat herd.
What has been the most rewarding part of farming for you? The most rewarding part of farming is being able to raise our kids on the farm, just like we were raised.  We spend many precious hours together as a family milking cows or in the tractors or combines during spring and harvest.  Some people would look at that as work.  We look at that as quality family time, where we are able to teach our children from a very young age responsibility.  They learn how to care for and nurture our cows from little on up, and they can also see the rewards and benefits of the proper care of these animals when they give their milk and it is put into jugs and sold.  We can teach our children how to tell their story, especially to consumers about where their milk comes from and how the cows are cared for.
Do you open your farm for tours?
 We offer farm tours of our operation.  Each tour last around 1.5 hours.  We travel to the nursery to see the newborn baby calves, then talk about the pregnant cows and how they are cared for.  We see the steers and also look at the milk cows' feed and talk about what they eat.  We then see the milk cows in their new barn.  We end the tour with an ice cream cone and look at the bottling plant while talking about how we process the milk.  There is a fee for each tour and tours have to be arranged in advance.  Visit our
website 
for more information.
What's one question you always receive about what you do?  We get asked on almost every tour we give on our farm about the use of rBST and antibiotics.  On our farm we choose not to use rBST, but we do treat any sick cows with antibiotics.  I tell the concerned consumers that if my daughter gets sick I want to make her better and fast! I give her an antibiotic.  I don't give her an antibiotic unless she is sick and really needs it, just like a cow that comes down with an infection such as mastitis (and inflammation in her mammary system).  When we give a cow an antibiotic we put her milk into a separate bucket and dump it down the drain all the while she is given the antibiotic and also for several days after (called the withdraw period).  This way no milk that has an antibiotic residue in it will get into the human milk chain.  Even though we follow these guidelines very closely, as does every dairy farmer, each batch of milk (whether at our small bottling facility or at a larger milk bottling plant) has to be tested for antibiotic residue, and if any is ever found it is discarded and not processed for human consumption.
Tell me a unique story about your farm.  All of the female cows born on our farm are named.   When I was dating my future husband in high school I knew I was "accepted" in his family when they named a cow after me!  A true sign of affection!
What is one message you'd like to get across to the general public about what you do? All dairy farmers work hard to care for their land and their animals.  They often spend more time with their animals than they do their own family, and know them just as well.  They know when they aren't acting right and are sick, just like you would your own child.  These animals will give to us what we give to them… they are working hard to provide wholesome milk and we are providing food and shelter for them. This is not a "job" for us.. this is a way of life… sometimes hard, sometimes rewarding, and sometimes stressful, but we love what we do, and wouldn't change it for anything.
What do you hope for your kids or future generations on your dairy? If my children have a desire to come back to the farm that's great.  If not that's great too… we don't set any expectations for them on returning, but we do want to be able to provide them with a solid farm foundation in case they do want to return to the farm.  With the increase in technology every year, there are continual changes, and I look forward to the day that my kids can start to "teach" me about what's new in the industry.
What advice would you give to anyone interested in getting into farming? Find a farmer and marry him!
---
Stay connected with Jenna on their Facebook page and website.   
Thank you Jenna for taking time to participate in our "30 Days of Dairy" series.
Entire "Thirty Days of Dairy" Series:
Sarah & Andy Birch – Derby, VT – the dairy farmers that were my inspiration for the 30 Days of Dairy!
Melissa Collman – Boring, OR – an organic dairy farmer from the West Coast!
Macy Sarbacker – Belleville, WI – a blogger, editor and dairy farmer from American's Dairyland!
Karen Bohnert – East Moline, IL – a very talented writer, Mom and Jersey lover from my state!
Lisa Myers – Hamstead, MD – one of my best friends that moved back home to run their dairy!
Rebecca Schlehlein – Platteville, WI – a dedicated farm employee that loves her Brown Swiss!
Heather Moore – Maquoketa, IA – Special Events Coordinator turned Dairy Farmer!
Katie Dotterer-Pyle – Union Bridge, MD – Spanish teacher and dairy farmer that makes sure her cows enjoy their stay!
Brent Pollard – Rockford, IL – an innovative dairy farmer who loves to tinker with things.
Krista Stauffer – Washington – a 1st generation dairy farmer and very talented AGvogate for the dairy industry!
Diane Loew – Byron, MI – a writer, blogger and dairy farmer from Michigan!
Nicole Fletcher – Southampton, MA – a Cabot Creamery dairy that milks Holsteins & Jersey's!
Elinor Opitz – Maple Lake, MN – a young lady just starting her Ayrshire dairy!
Alise Sjostrom – Brooten, MN – one of the readheads behind Redhead Creamery!
Tara McIntosh – Ontario, Canada – our only dairy farmer featured from Canada!
Jenna Kilgus – Fairbury, IL – a Jersey dairy farmer that bottles their own homogenized milk!
Will Gilmer – Sulligent, AL – our only dairy farmer from the "south"!
Gene Zimmerman – Colby, WI – our only dairy goat farmer featured this month!
Darleen Moore-Sichley – Oregon – a Mom, AGvocate and Gurnsey dairy farmer!
Michelle Eilenstine – Mountain Grove, MO – a dairy farmer & University of Missouri grad!
Jenni Tilton-Flood – Clinton, Maine – a Cabot Creamery dairy that milks 3400 Holsteins!
Kalli Ehrhardt – Baldwin, MD – A Mom and dairy farmer!
Craig Swenson – River Fall, WI – a dairy farmer who loves his red & whites!
Katie Harris – Washington – a mom & dairy farmer from Western Washington!
Annaliese Wegner – Ettrick, WI – the Modern-day Farm Chick!
Morgan Kliebenstein – Darlington, WI – a dairy farmer, Genex employee, Mom & wife!
Matt & Joe Engel – Hampshire, IL – the brother behind Luck-E Holsteins!
Stephanie Aves – Popular Grove, IL – a dairy farmer & agriculture teacher!
Beverly Donovan – Benton, Maine – a dairy farmer & accountant!
Sadie Frericks – Melrose, MN – a dedicated AGvocate, dairy farmer, mom & wife!
Greg Schulte – Darlington, WI – the cheesemaker at Brunkow Cheese!
Katie Deslippe – St Mary Ontario – a young lady that loves everything about dairy!
Carrie Mess – Lake Mills, WI – the well-known AGvocate Dairy Carrie!
If you enjoyed this post, make sure you subscribe to our blog (no spam, just an email when we post a new blog) so you don't miss any posts
For a listing of all the 30 Days Bloggers that Holly Spangler rounded up, visit here.
Comments
comments