I would like you to meet Heather Moore (age 29) from Maquoketa, Iowa. On October 7, 2014 (one month ago) Heather began milking in a brand new tie stall barn. They are in the process of building their herd to 50 head of registered Holsteins, Jerseys, and Ayrshires. The Jerseys and Ayrshires are owned by another farmer who does not have a milking facility. In addition to the dairy, they also custom feed 800 head of beef cattle. Their milk is sold to Stockton Cheese, a plant that is owned by Brewster Dairy. Brewster Dairy is the largest maker of Swiss Cheese in the United States.
Growing up, Heather was very active in both 4-H and FFA and her favorite project was dairy. Early in Heather's 4-H career, her family moved off their small dairy farm. She then spent the remaining years leasing calves from my grandparents and later from friends. Her dairy project allowed her to win the highest accomplishment in FFA, her American FFA Degree! Besides 4-H and FFA, she was a member of the Junior Holstein Association. After high school, Heather attended the University of Wisconsin-Platteville, where she majored in Dairy Science and Agriculture Education. While in college, Heather worked every fall in a small cheese factory, where she fell in love with all kinds of cheese- with her favorites being a good sharp cheddar or cheese curds straight from the vat!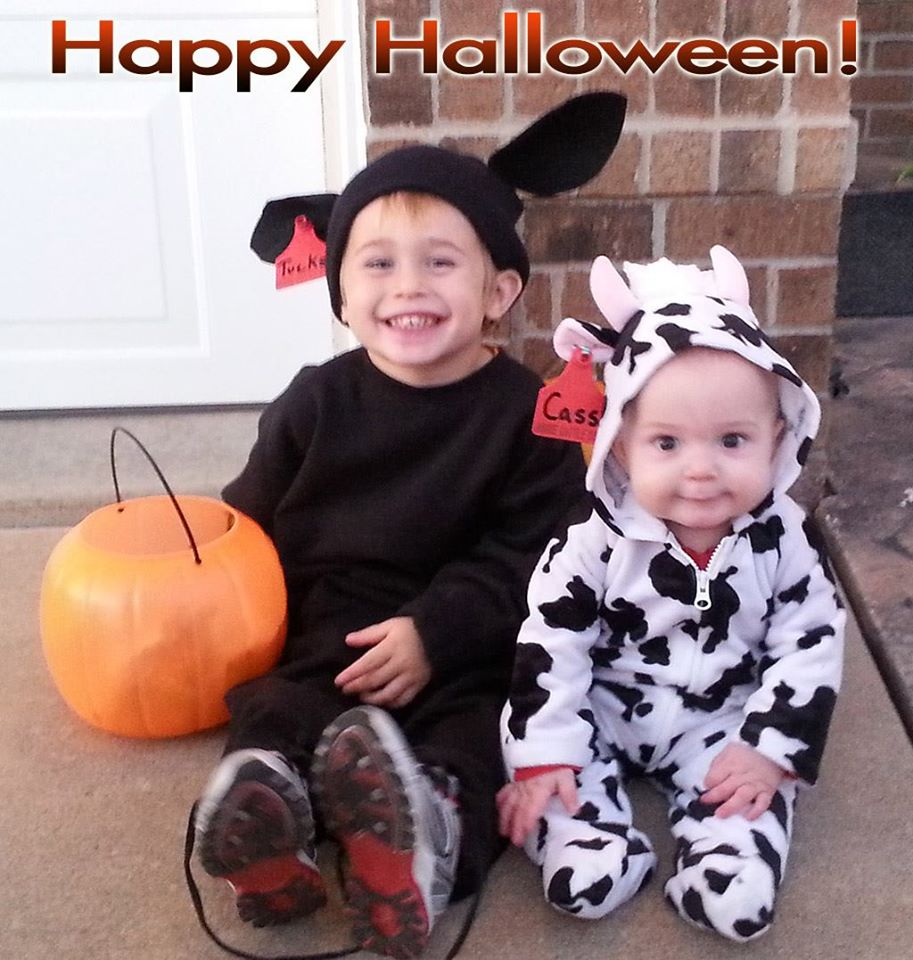 Heather and her husband, Brandon have two boys, Tucker who is four and Cassidy who is 18 months. In September, Heather quit her job as a Special Event Coordinator for a non-profit organization. Her last day on the job was spent arranging flowers, consulting seating charts, and fundraising at a black tie dinner. When not being a Mom or dairy farmer, Heather loves to volunteer. She read a story in a farming magazine once about an older farmer who said: "Those that have the ability to serve their community have an obligation to do so," and that is something she has taken to heart. She is also a 4-H leader for the Cooking Clovers 4-H Club, a member of the Jackson County Fair Association, on the Jackson-Clinton Dairy Promotion Board, and the President of the board of directors for the non-profit preschool in town.
---
Heather's Story in her own words:
I loved my job, but dairy farming has been my calling since I was a child. Each day that I can go into the barn and spend time with the animals and with my family is a treasure.
When did you start farming? We milked our first cow on our farm on October 7, 2014. My goal was always to start a dairy farm, but I married a beef farmer and moved to the number one cow-calf county in Iowa. In the fall of 2013, things fell into place to begin planning for the dairy, a few years earlier than we had anticipated. We spent this summer building a brand new barn and redoing all of our feed yards. Right now, I do all of the milking, and my husband does all of the feeding. Once our project is complete this fall, I'll take over the farming responsibilities, as my husband still works full time for Big Gain, Inc., as a District Representative.
What has been the most rewarding part of farming for you? So far, the two most rewarding things about farming have been the relationship that I've built with the cows, and the relationships that my son has built with the cows. It's very rewarding to work with the animals and to earn their trust. They come to rely on you, just like you rely on them for your livelihood. I've also enjoyed watching my boys learn to love the animals as well. During our recent trip to World Dairy Expo, Tucker sat watching the show, and told a little girl that came to sit with him all about his cows and their pedigrees. It was a very rewarding moment, both as a farmer and as a parent. What has been the most challenging part of farming for you? I think the most challenging part of being a brand new farmer is trusting my own judgment. I've worked on a lot of farms, and milked a lot of cows, but this is my first time really "calling the shots," and I've had to trust myself that I know what I'm doing. Being a female farmer has also had its challenges. I can't count the number of times my husband has had to say "Yes, she's serious about this, and yes, she's in charge of the dairy. You'll need to talk to her."
What is the biggest misconception about the dairy industry? I feel that one of the biggest misconceptions about the dairy industry is that efficiency is bad for cows, and that efficient farms are factory farms. Even in our small barn we try to minimize work for the cows and for the people. We do things that increase cow longevity because it's more efficient to milk the cows you have, rather than to replace them lactation after lactation. One of my college professors always told his classes: "A farm, when run like a business, makes a good way of life. A farm, when run like a way of life, makes a poor business."
Who is your favorite cow? I love all of my cows. But the cow who holds a very special place in my heart is Kit-Kat, the first animal I bred and put my prefix on. I only have two milking daughters from her, and a granddaughter in the heifer pen, but they will always be special to me. Kit-Kat moved to Iowa from Wisconsin with me as a young calf, and her daughter Krispy Kreme was the first cow to step foot in the new barn. Her daughter Katie K calved just this morning with the first dairy calf born on our farm.
What is one message you'd like to get across to the general public about what you do? Farmers are "all in" when it comes to their product- whether it is milk, beef, corn, or vegetables. Every farmer wants to provide consumers with the best possible product. And agriculture technologies are just one very important tool to allow farmers to put food on the table of every person in the world. There aren't any hidden agendas behind those technologies- we're just trying to do the best we can to serve you!
What do you hope for your kids or future generations on your dairy? While I would love for my children to grow up to be dairy farmers, my ultimate hope is for them to learn compassion, responsibility, and to develop the passion and determination to do something they love, and to do it 100%.
What advice would you give to anyone interested in getting into farming? Believe in yourself, and don't give up on your dream. It might seem insurmountable, but just keep chipping away, and eventually you'll get there!
---
Stay connected with Heather on her Facebook page, Moore Moos.
Thank you Heather for taking time to participate in our "30 Days of Dairy" series. If you enjoyed this post, make sure you subscribe to our blog (no spam, just an email when we post a new blog) so you don't miss any posts.
Entire "Thirty Days of Dairy" Series:
Sarah & Andy Birch – Derby, VT – the dairy farmers that were my inspiration for the 30 Days of Dairy!
Melissa Collman – Boring, OR – an organic dairy farmer from the West Coast!
Macy Sarbacker – Belleville, WI – a blogger, editor and dairy farmer from American's Dairyland!
Karen Bohnert – East Moline, IL – a very talented writer, Mom and Jersey lover from my state!
Lisa Myers – Hamstead, MD – one of my best friends that moved back home to run their dairy!
Rebecca Schlehlein – Platteville, WI – a dedicated farm employee that loves her Brown Swiss!
Heather Moore – Maquoketa, IA – Special Events Coordinator turned Dairy Farmer!
Katie Dotterer-Pyle – Union Bridge, MD – Spanish teacher and dairy farmer that makes sure her cows enjoy their stay!
Brent Pollard – Rockford, IL – an innovative dairy farmer who loves to tinker with things.
Krista Stauffer – Washington – a 1st generation dairy farmer and very talented AGvogate for the dairy industry!
Diane Loew – Byron, MI – a writer, blogger and dairy farmer from Michigan!
Nicole Fletcher – Southampton, MA – a Cabot Creamery dairy that milks Holsteins & Jersey's!
Elinor Opitz – Maple Lake, MN – a young lady just starting her Ayrshire dairy!
Alise Sjostrom – Brooten, MN – one of the readheads behind Redhead Creamery!
Tara McIntosh – Ontario, Canada – our only dairy farmer featured from Canada!
Jenna Kilgus – Fairbury, IL – a Jersey dairy farmer that bottles their own homogenized milk!
Will Gilmer – Sulligent, AL – our only dairy farmer from the "south"!
Gene Zimmerman – Colby, WI – our only dairy goat farmer featured this month!
Darleen Moore-Sichley – Oregon – a Mom, AGvocate and Gurnsey dairy farmer!
Michelle Eilenstine – Mountain Grove, MO – a dairy farmer & University of Missouri grad!
Jenni Tilton-Flood – Clinton, Maine – a Cabot Creamery dairy that milks 3400 Holsteins!
Kalli Ehrhardt – Baldwin, MD – A Mom and dairy farmer!
Craig Swenson – River Fall, WI – a dairy farmer who loves his red & whites!
Katie Harris – Washington – a mom & dairy farmer from Western Washington!
Annaliese Wegner – Ettrick, WI – the Modern-day Farm Chick!
Morgan Kliebenstein – Darlington, WI – a dairy farmer, Genex employee, Mom & wife!
Matt & Joe Engel – Hampshire, IL – the brother behind Luck-E Holsteins!
Stephanie Aves – Popular Grove, IL – a dairy farmer & agriculture teacher!
Beverly Donovan – Benton, Maine – a dairy farmer & accountant!
Sadie Frericks – Melrose, MN – a dedicated AGvocate, dairy farmer, mom & wife!
Greg Schulte – Darlington, WI – the cheesemaker at Brunkow Cheese!
Katie Deslippe – St Mary Ontario – a young lady that loves everything about dairy!
Carrie Mess – Lake Mills, WI – the well-known AGvocate Dairy Carrie!
For a listing of all the 30 Days Bloggers that Holly Spangler rounded up, visit here.
Comments
comments