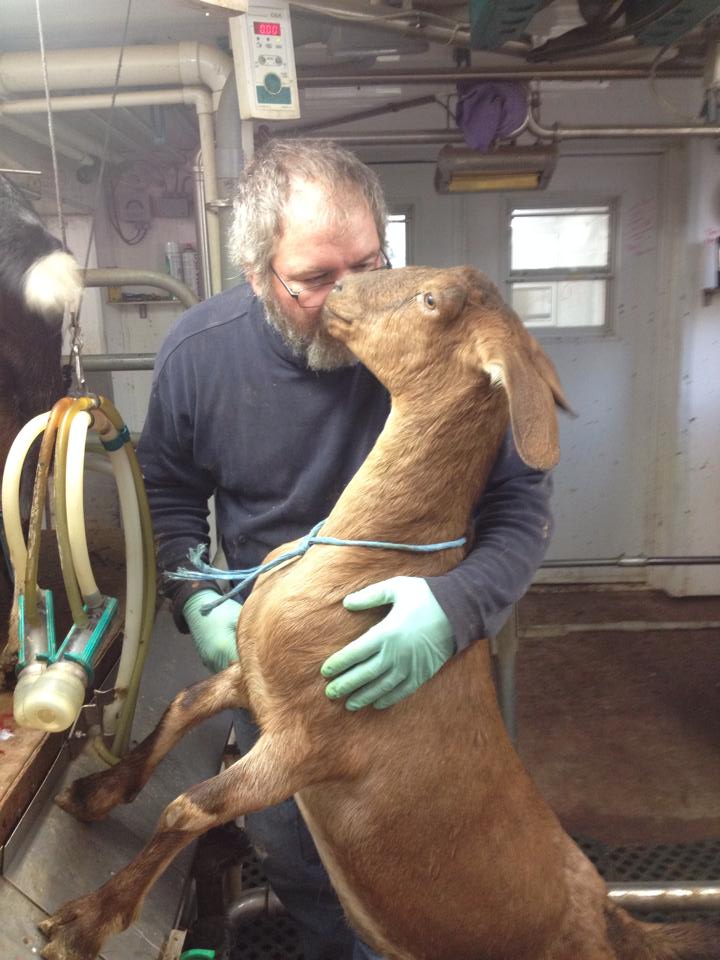 It's my honor to introduce Kiersten Hoeg (age 23) and her Dad, the owner of G&G Double Dairies Gene Zimmermann (age 49) from Colby, WI.  I came across their Facebook Fan Page and was very excited they participated in my 30 Days of Dairy series.  Unlike everyone else featured, they milk dairy GOATS!  G&G Double Dairies is a conventional dairy that grows their own crops and is home to over 400 dairy goats with a herd total of over 1000 goats.  Their goats are milked in a 28 herringbone style parlor (milk from the side) with automatic take off and milk poundage recording. They milk primarily Lamancha, Saanens and Nubians, with a few Alpine and Toggenburgs.  Of the goats on the farm, some are registered but not all and they use purebred bucks.  G&G utilized cross breeds for good milk components like butterfat and protein.
Gene and his wife Gwen, have two daughters Kiersten and Raisha and you cannot forget about their Grandparents Roy and Nordean.  The entire family has been active in FFA from the choir (Kiersten); top 5 in the Nation for goat production (Raisha); and WI Star Farmer (Gene).  Gene lists his hobbies as hunting, trap shooting and reading.   The family's favorite dairy product is milk!  Granted, I have never had goat milk but they say it is delicious!  They describe goat milk ice cream as delicious too, sweet and creamy.  Kiersten has made homemade cajeta (goat milk caramel) and fudge and you cannot forget about the goat cheese from Montchevre!  Milk from their farm is sold to Montchevre in Belmont, WI where it is made into a variety of cheese.
---
Gene and Kiersten's Story in their own words:
 When did you start farming?  Gene and Gwen got married. Gwen came with 12 goats and Gene had 100 cows, it quickly became 100 milking goats and 100 cows. In 1996 after several knee surgeries, Gene sold the cows and the farm switched over to only goats. In 2011 Kiersten met and became engaged to the milk hauler, Wayne. They married in 2012 and were moving north where Wayne lived. After several natural disasters (flooding) and high land price. The farm was sold and relocated 2.5hours north (grandparents included).
 Has your farm changed since you became involved?  advances in technology… Biggest change in cropping has been nutrient management and  the ability to use less fertilizer and pesticides while increasing yields, for example in 1983 150 bushel/acre was good. Just this year we were able to harvest 250 bushel/acre. (corn) On the dairy side, automatic take offs have been huge technologically, and micro nutrient biotechnology to increase milk yield.
What has been the most rewarding part of farming for you?  Rewarding has been having grand champion goats at the competitive state level, and raising healthy happy kids (baby goats). What has been the most challenging part of farming for you?  Challenging has been the weather and then the feed and health problems that stem from weather issues, such as flooding.
What is the biggest misconception about the dairy industry?
1.  That goats eat tin cans (goats are very picky eaters but extremely curious. they will taste anything but not eat anything. as far as tin cans go, they are actually after the glue on the back of the labels)
2. That goats are second class species to cows even though, worldwide, more goat milk is consumed than any other type of milk.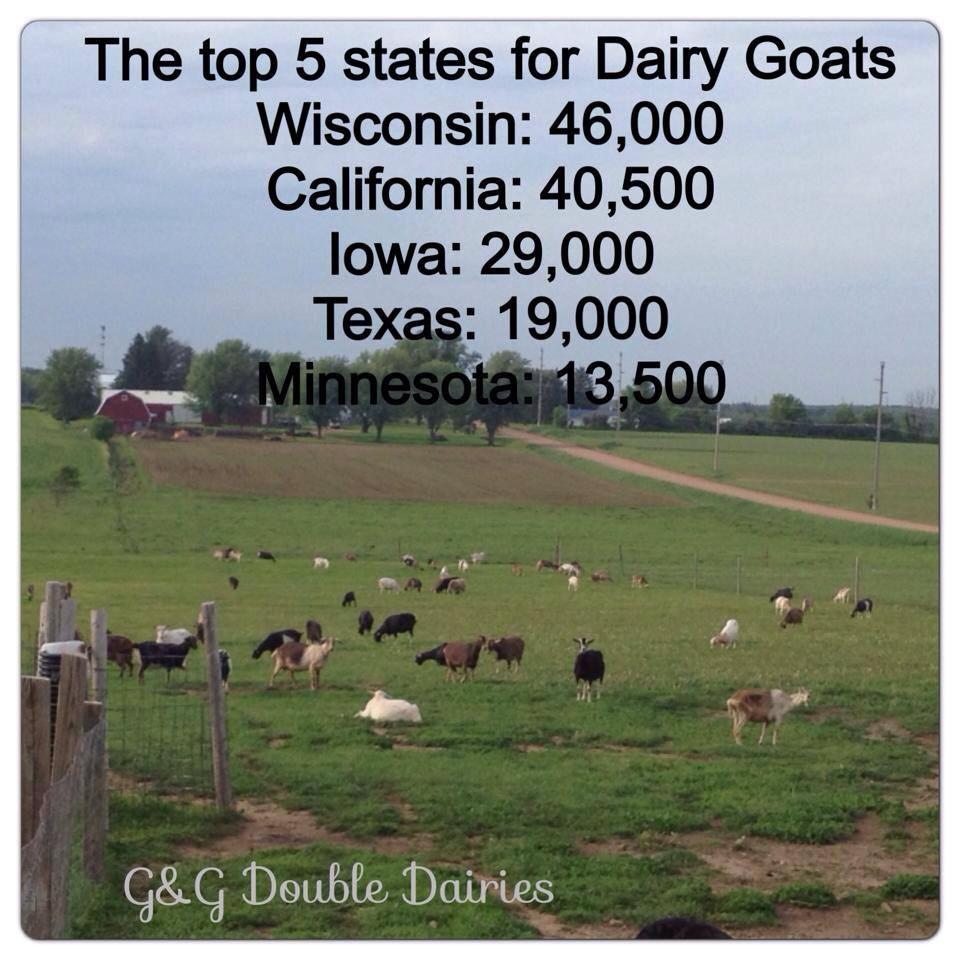 Who is your favorite cow & goat?  Cow: Pistol/445 she was the friendliest, biggest cow (1800lbs) that Gene ever had. He was able to ride her. She milked 180lbs/day in 1985.  470 milk 160lbs/day but was the most showy, pretty cow and had the best conformations Gene has ever seen.  Goat: Cher had several grand champion wins and was an excellent milker.  Grumpy Goat: is not really grumpy, just really expressive.  Honestly all goat have different and unique personalities and if we are naming goats we will be here all day.
What is one message you'd like to get across to the general public about what you do?  
Check out Gene's message via
youtube
!
What do you hope for your kids or future generations on your dairy?  Gene hopes the goat industry continues to be progressive so that his daughters have the financial ability to take over the farm if they desire.
What advice would you give to anyone interested in getting into farming?  Go talk to as many current goat farmers as possible. Get as many ideas that you can, because what works for one farm wont work for another. Be cautious of "farm experts" because while their are many good experts for cow, the information does not translate into the goat industry well (some does but not all).
---
Stay connected with G&G Double Dairies on Facebook.
Gene & Kiersten, thank you for taking time to participate in our "Thirty Days of Dairy" series.  If you enjoyed this post, make sure you subscribe to our blog (no spam, just an email when we post a new blog) so you don't miss any posts
Earlier "Thirty Days of Dairy" features this month include:
Sarah & Andy Birch – Derby, VT – the dairy farmers that were my inspiration for the 30 Days of Dairy!
Melissa Collman – Boring, OR – an organic dairy farmer from the West Coast!
Macy Sarbacker – Belleville, WI – a blogger, editor and dairy farmer from American's Dairyland!
Karen Bohnert – East Moline, IL – a very talented writer, Mom and Jersey lover from my state!
Lisa Myers – Hamstead, MD – one of my best friends that moved back home to run their dairy!
Rebecca Schlehlein – Platteville, WI – a dedicated farm employee that loves her Brown Swiss!
Heather Moore – Maquoketa, IA – Special Events Coordinator turned Dairy Farmer!
Katie Dotterer-Pyle – Union Bridge, MD – Spanish teacher and dairy farmer that makes sure her cows enjoy their stay!
Brent Pollard – Rockford, IL – an innovative dairy farmer who loves to tinker with things.
Krista Stauffer – Washington – a 1st generation dairy farmer and very talented AGvogate for the dairy industry!
Diane Loew – Byron, MI – a writer, blogger and dairy farmer from Michigan!
Nicole Fletcher – Southampton, MA – a Cabot Creamery dairy that milks Holsteins & Jersey's!
Elinor Opitz – Maple Lake, MN – a young lady just starting her Ayrshire dairy!
Alise Sjostrom – Brooten, MN – one of the readheads behind Redhead Creamery!
Tara McIntosh – Ontario, Canada – our only dairy farmer featured from Canada!
Jenna Kilgus – Fairbury, IL – a Jersey dairy farmer that bottles their own homogenized milk!
Will Gilmer – Sulligent, AL – our only dairy farmer from the "south"!
Comments
comments