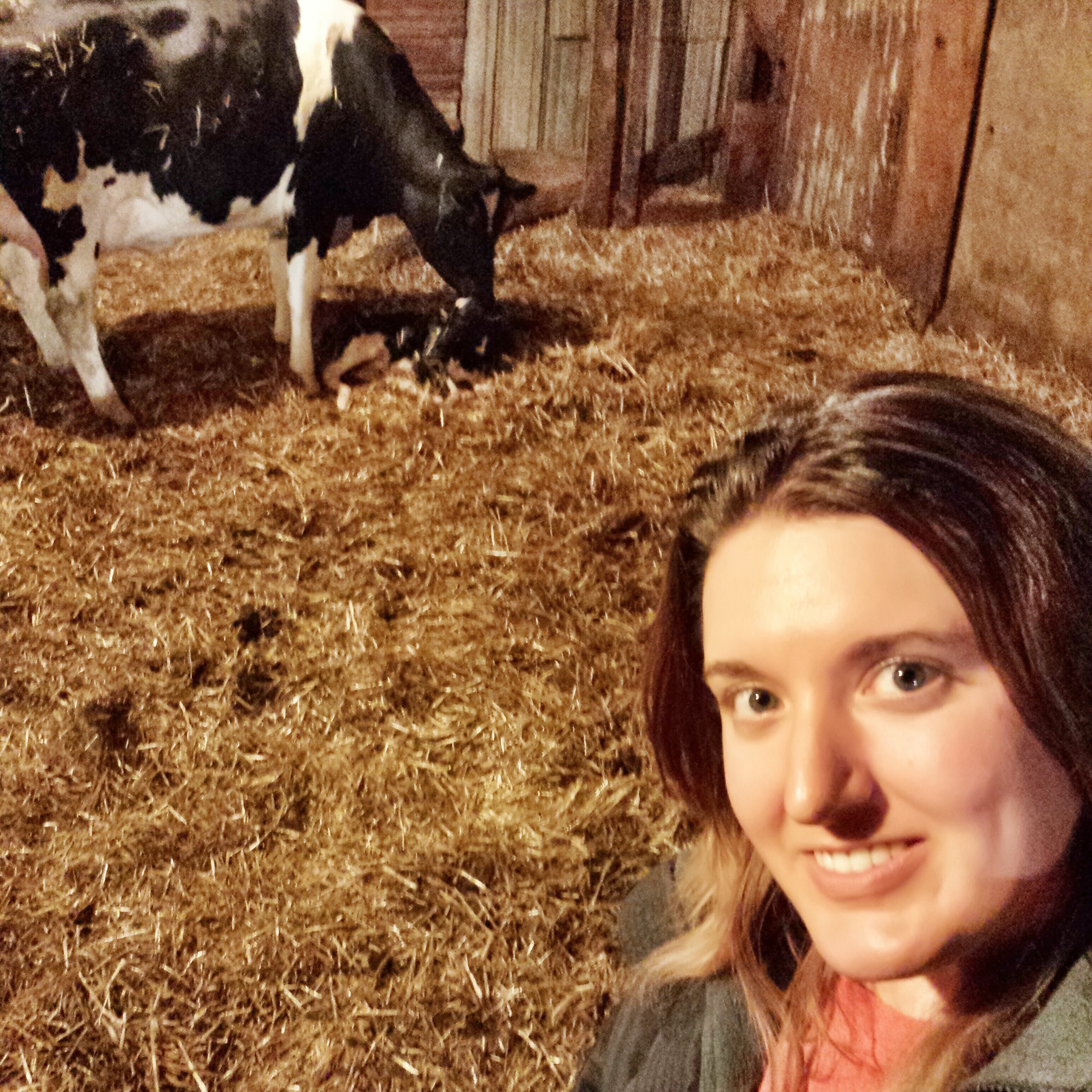 It's an honor to introduce an AGvocate celebrity, Carrie Mess (age 32) from Lake Mills, WI. Carrie and her husband, Patrick share their home with 3 dogs and 3 cats and farm with Patrick's parents Clem and Cathy.  In high school, Carrie discovered FFA and she credits FFA to leading here where she is today.  Despite being a city kid, Carrie was able to show her Ag teacher's animals (9 miniature donkeys) at the county fair and was hooked!  After high school, Carrie started college to be an interpreter for the Deaf and Hard of Hearing but realized it wasn't the right path for her.  Before coming back to the farm full-time, Carrie worked in sales and marketing.  While this was a career she enjoyed, it wasn't fulfilling or challenging enough for her.  Carrie claims she had no idea if she would be able to cut it as a farmer but, 6 years in, she admits that she has found her passion!
In Carrie's free time, her and Patrick are big fans of live music.  Although they don't get to go out often enough, they try to take a couple nights a year to get off the farm and check out their favorite bands.  And one of those weekend thanks to social media, we were able to meet up in Chicago! Carrie's favorite Thanksgiving meal is potato gratin and her favorite dairy product is cheese!
---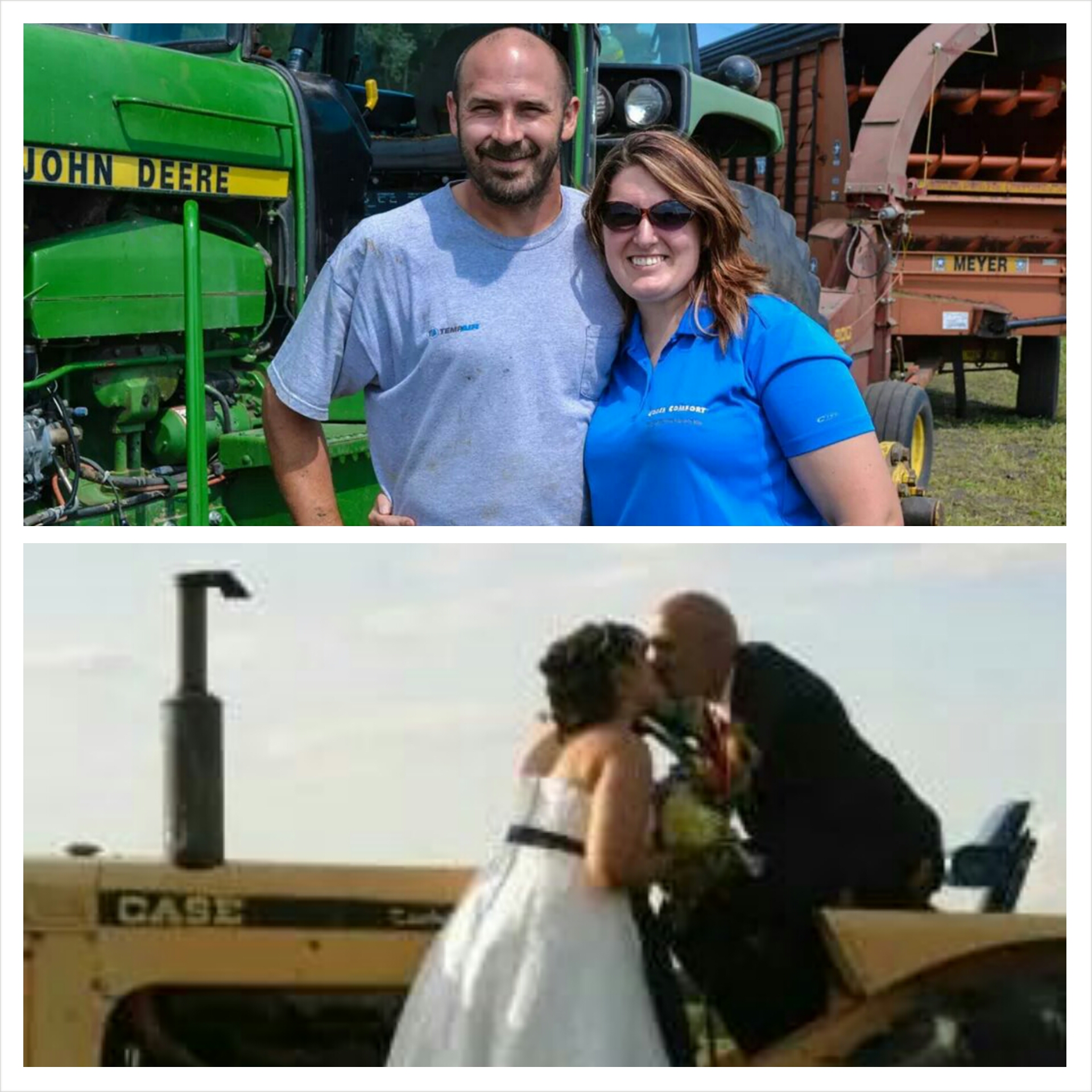 Carrie' Story in her own words: 
Our farm is a partnership between my husband and I and his parents. We milk about 100 cows, raise about 120 heifers and grow corn, soybeans, alfalfa and other forage crops on about 300 acres. We milk in a double 8 parallel, drop rail parlor with automatic takeoffs that was built into our old tie stall barn. The cows are housed in a freestall. About 70% of our herd is Holstein and the other 30% is Jersey and crossbreds. We are members of the Swiss Valley Farms milk cooperative. Most days our milk goes to the Kraft plant in Beaver Dam, Wisconsin and is made into Philadelphia cream cheese.
Has your farm changed since you became involved? Before I came to the farm our cows were bred more for looks and milk production than health traits and longevity. Since introducing a crossbreeding plan and focusing our breeding goals on making healthier cows, we've been able to better our herd overall. This year our RHA is over 29,000lbs and a cheese yield of 3,055 which is the highest it's ever been and for the second year in a row we've sold over 20 milk cows to other dairy farmers because we didn't have room for them.
Who do you farm with?  Because of my travel schedule, I am not on the farm everyday. That doesn't mean I am not very hands on! I do all of our employee scheduling, mating decisions, and a lot of the records keeping from my phone wherever I am. When I am home I do a lot of the health work with our cows and work with our veterinarian on different projects.
What has been the most rewarding part of farming for you? What has been the most challenging?  The answer on this one is the same for me. Working with the cows is the most rewarding thing I can think of. The care we put into our girls shows up in the bulk tank. At the same time, the heartbreak of losing a cow that you love or having a calf die after you spent all night awake with it trying to nurse it back to health can really drag you down. As a dairy farmer I am constantly reminded of the circle of life and it's made me more aware of how I live my own life.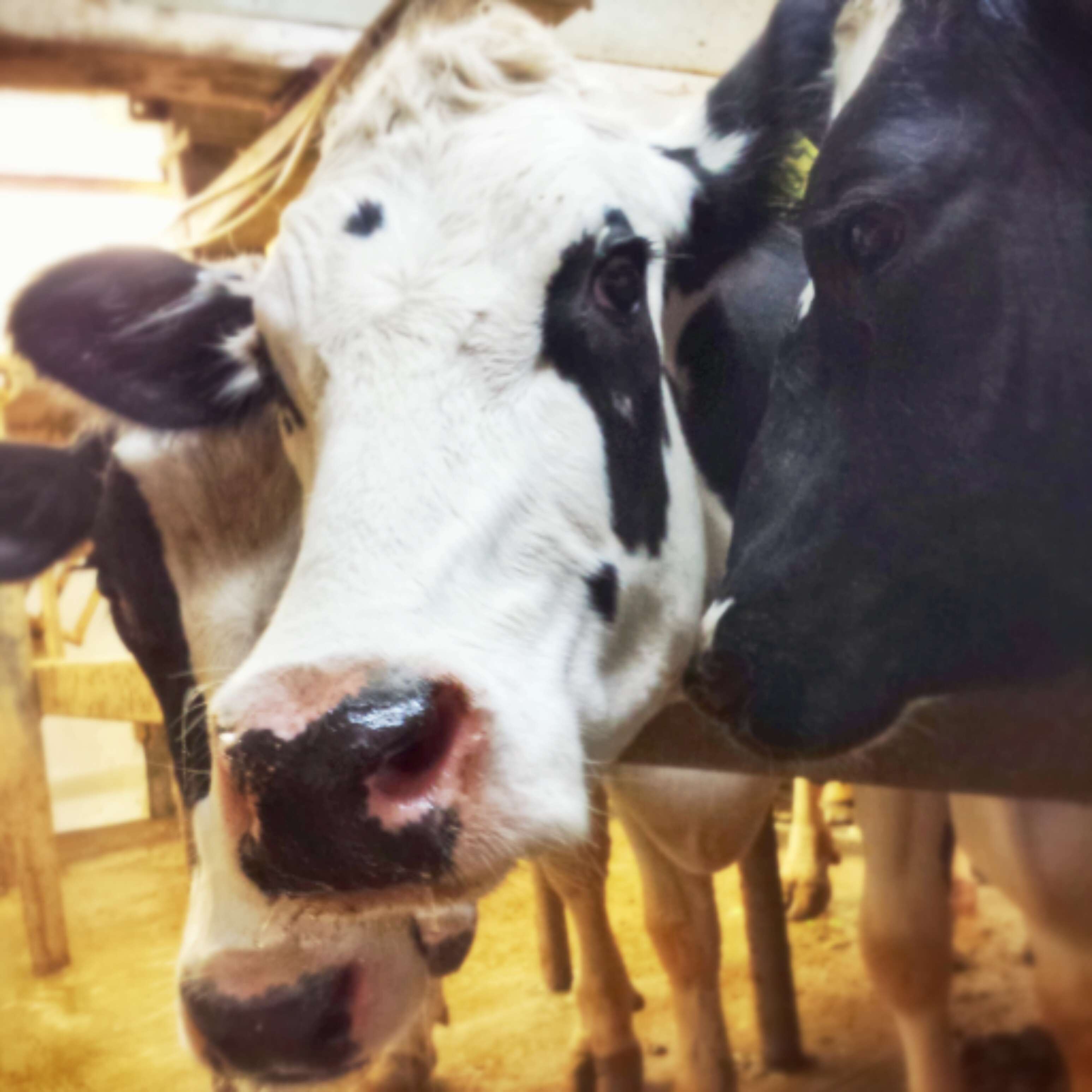 Who is your favorite cow?  I have way too many pets to pick just one but Jasmine (#520) is my favorite Holstein because not only is she a great milk producer, she's also a real sweetheart that likes hugs. Her personality really stands out in the crowd.
What is one message you'd like to get across to the general public about what you do? The people behind your food are just like you. They have hopes, dreams and worries that keep them up at night just like you. We are not pawns in a greater game. We have reasons for everything that we do. Most of all we want people to not only buy and enjoy the products that our farms produce, we want them to trust that those products were made with care for the animals and the environment.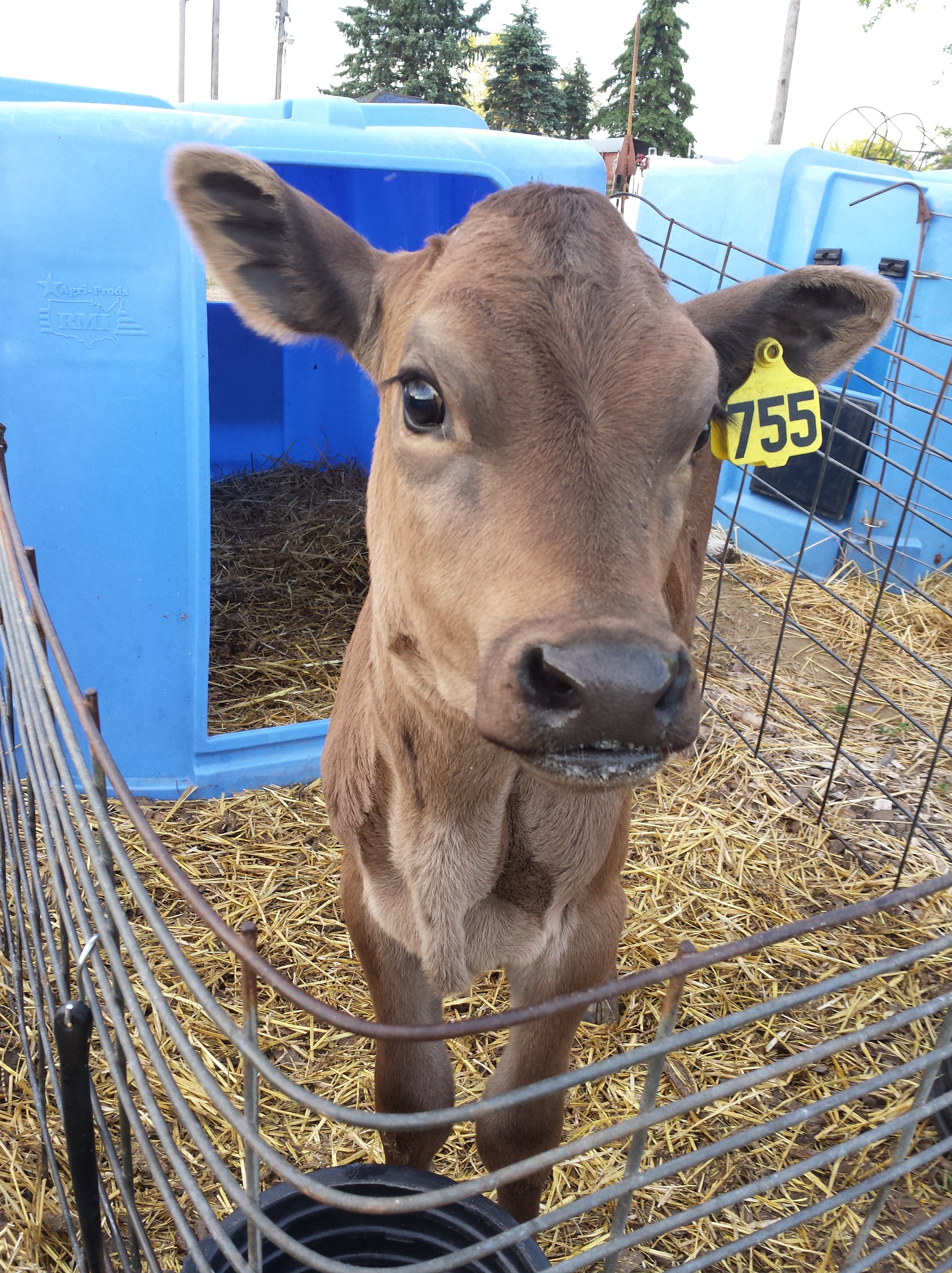 What advice would you give to anyone interested in getting into farming?  Get out there and work on as many different types of farms as you can. Keep learning. Keep an open mind. Know that there isn't one right way to do things.
---
Carrie is very active in social media, make sure you check out her website, Facebook Page, Twitter and Instagram accounts.
Carrie, thank you for taking time to participate in our "Thirty Days of Dairy" series.  If you enjoyed this post, make sure you subscribe to our blog (no spam, just an email when we post a new blog) so you don't miss any posts
Earlier "Thirty Days of Dairy" features this month include:
Sarah & Andy Birch – Derby, VT – the dairy farmers that were my inspiration for the 30 Days of Dairy!
Melissa Collman – Boring, OR – an organic dairy farmer from the West Coast!
Macy Sarbacker – Belleville, WI – a blogger, editor and dairy farmer from American's Dairyland!
Karen Bohnert – East Moline, IL – a very talented writer, Mom and Jersey lover from my state!
Lisa Myers – Hamstead, MD – one of my best friends that moved back home to run their dairy!
Rebecca Schlehlein – Platteville, WI – a dedicated farm employee that loves her Brown Swiss!
Heather Moore – Maquoketa, IA – Special Events Coordinator turned Dairy Farmer!
Katie Dotterer-Pyle – Union Bridge, MD – Spanish teacher and dairy farmer that makes sure her cows enjoy their stay!
Brent Pollard – Rockford, IL – an innovative dairy farmer who loves to tinker with things.
Krista Stauffer – Washington – a 1st generation dairy farmer and very talented AGvogate for the dairy industry!
Diane Loew – Byron, MI – a writer, blogger and dairy farmer from Michigan!
Nicole Fletcher – Southampton, MA – a Cabot Creamery dairy that milks Holsteins & Jersey's!
Elinor Opitz – Maple Lake, MN – a young lady just starting her Ayrshire dairy!
Alise Sjostrom – Brooten, MN – one of the readheads behind Redhead Creamery!
Tara McIntosh – Ontario, Canada – our only dairy farmer featured from Canada!
Jenna Kilgus – Fairbury, IL – a Jersey dairy farmer that bottles their own homogenized milk!
Will Gilmer – Sulligent, AL – our only dairy farmer from the "south"!
Gene Zimmerman – Colby, WI – our only dairy goat farmer featured this month!
Darleen Moore-Sichley – Oregon – a Mom, AGvocate and Gurnsey dairy farmer!
Michelle Eilenstine – Mountain Grove, MO – a dairy farmer & University of Missouri grad!
Jenni Tilton-Flood – Clinton, Maine – a Cabot Creamery dairy that milks 3400 Holsteins!
Kalli Ehrhardt – Baldwin, MD – A Mom and dairy farmer!
Craig Swenson – River Fall, WI – a dairy farmer who loves his red & whites!
Katie Harris – Washington – a mom & dairy farmer from Western Washington!
Annaliese Wegner – Ettrick, WI – the Modern-day Farm Chick!
Morgan Kliebenstein – Darlington, WI – a dairy farmer, Genex employee, Mom & wife!
Matt & Joe Engel – Hampshire, IL – the brother behind Luck-E Holsteins!
Stephanie Aves – Popular Grove, IL – a dairy farmer & agriculture teacher!
Beverly Donovan – Benton, Maine – a dairy farmer & accountant!
Sadie Frericks – Melrose, MN – a dedicated AGvocate, dairy farmer, mom & wife!
Greg Schulte – Darlington, WI – the cheesemaker at Brunkow Cheese!
Katie Deslippe – St Mary Ontario – a young lady that loves everything about dairy!
For a listing of all the 30 Days Bloggers that Holly Spangler rounded up, visit here.
Comments
comments