Last Saturday (November 1st), I began my Thirty Days of Dairy project, the purpose of my project is to showcase individuals in the millennial generation (born in 1980's to early 2000's) who are diving head first into the dairy profession by sharing their stories.  Today, I would like to introduce Brent Pollard (age 33) from rural Rockford, IL.  Brent, his wife Carrie and daughter Ainsley are the growing number of Americans in their 20's and 30's that are running farms.  The Pollard's milk 96 cows in a single sided 12 cows parallel parlor.  Brent has been very involved with Illinois Farm Bureau and was the Chairman of the Young Leaders Committee last year.  He admits that he spends a lot of time being involved with Farm Bureau and other related activities by helping farmers put their best foot forward for our industry.  On their farm, they milk Holsteins and Milking Shorthorns. The dairy farm has 300 acres of crops where they grow corn, soybeans, wheat, alfalfa and other crops that they harvest as hay or silage like sorghum-sudan grass or peas and barley.
Growing up, Brent was involved with 4-H for twelve years with projects ranging from electricity to forestry, but most of the time was spent on his dairy and corn projects.  After high school Brent attended the University of Illinois for undergraduate studies in Animal Sciences and University of Arizona for graduate school where he studied Animal Physiology and ultimately decided he did not want a career in research.  When he is not farming, Brent spends most of my time with his wife and daughter.  Brent's favorite dairy product would be chocolate eclair flavored frozen custard and his favorite dairy-filled Thanksgiving recipe is green bean casserole is loaded with Parmesan cheese.
---
Brent's story in his own words:
When did you start farming?  In 2005, I grew up on the farm but started towards a career as a research scientist.  I decided I should go back to my family's farm after my trials were over when I missed caring for my research cows more than the research.  My parents Warren and Gail, retired from dairy farming last year.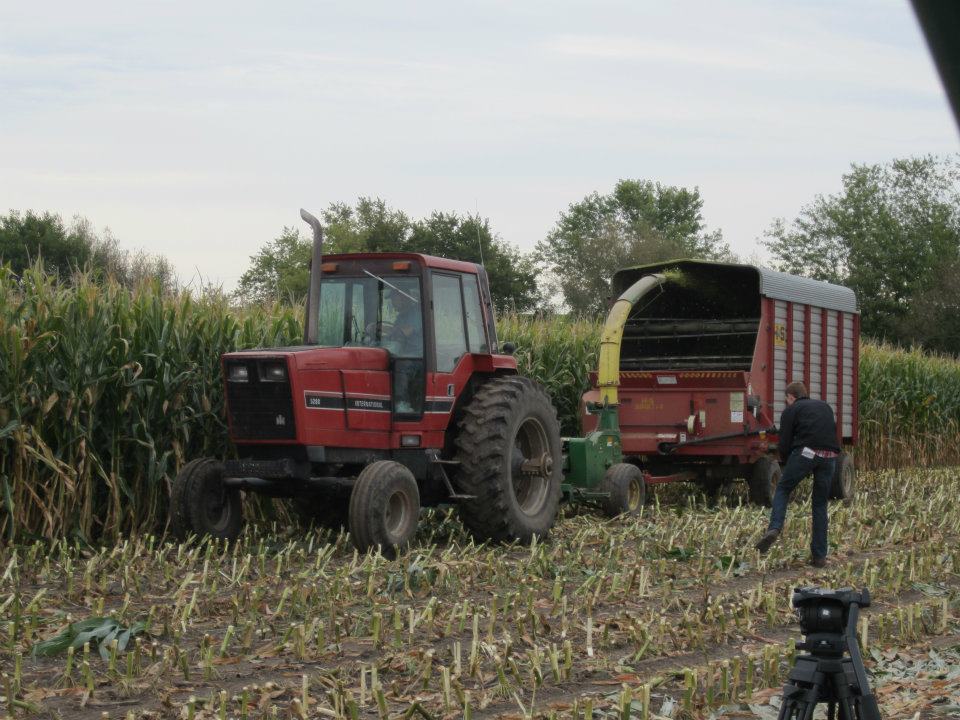 Where do you sell your milk?  We sell our milk through our cooperative Mid-West Dairyman's Company where they supply the milk to Muller Pinehurst Dairy (one mile from our farm) where they produce fluid milk for a variety stores under the code of 17-284 (check out wheresmymilkfrom.com for more information)
Has your farm changed since you became involved?  We have made many changes to make things things better for the cows. I think the biggest benefit for our cows is the free stall barn that we built 3 years ago. It was build with Dairyland Initiative's recommendations for stall size and cow comfort. I am always tinkering with ways to make things better for the cows.
Who do you farm with?  It is me and Carrie. My father helps me get the crops taken care of and my mom feeds the bottle calves every day. They are also available to milk cows when we have other conflicts with milking twice a day.
What has been the most rewarding part of farming for you? I enjoy being my own boss and having a job that always has different challenges every day.  What has been the most challenging part of farming for you?  The most challenging is there is never enough time to get everything you want to do that day and it gets frustrating when the to do list never gets smaller.
What is the biggest misconception about the dairy industry?  As dairy farmers, we are just like everybody else except we get to milk a lot of cows. We want to do what's best for our family, our farm and the environment and want to do what's best for all of us as a society.
What is your greatest achievement thus far?  Again, the free stall barn is helping us take  better care of our cows. We want to grow our farm, so that my family can spend more time working together as a family on our farm. I believe that we will achieve this through finding better ways to take care of our cows, which will in turn result in our cows producing more for us. I believe and this really hit home for me in graduate school taking care of cows during hot summers that taking the negative things out of the environment that effect cows results in higher milk production and better welfare for the cows.
What's one question you always receive about what you do?  People always ask me if you have to milk cows twice a day, and are amazed by the amount of work we do.
What is one message you'd like to get across to the general public about what you do?  There are lots of fears about what's in your food and I get it, you want to do what's best for your family. But so do we, we breathe the air around our farms, we drink the water on our farm, and we eat what we produce. Why would we do that if we didn't think we were doing what's best for us and the world.
What advice would you give to anyone interested in getting into farming?  Farming is a lot of hard work. It is also an extremely expensive to be a farmer, so I would suggest finding a good farmer to be a mentor to learn from because they have a world of experience that you don't have.
---
Stay connected with Brent on his blog, through Facebook and Twitter. 
Thank you Brent for taking time to participate in our "30 Days of Dairy" series.  If you enjoyed this post, make sure you subscribe to our blog (no spam, just an email when we post a new blog) so you don't miss any posts.
Entire "Thirty Days of Dairy" Series:
Sarah & Andy Birch – Derby, VT – the dairy farmers that were my inspiration for the 30 Days of Dairy!
Melissa Collman – Boring, OR – an organic dairy farmer from the West Coast!
Macy Sarbacker – Belleville, WI – a blogger, editor and dairy farmer from American's Dairyland!
Karen Bohnert – East Moline, IL – a very talented writer, Mom and Jersey lover from my state!
Lisa Myers – Hamstead, MD – one of my best friends that moved back home to run their dairy!
Rebecca Schlehlein – Platteville, WI – a dedicated farm employee that loves her Brown Swiss!
Heather Moore – Maquoketa, IA – Special Events Coordinator turned Dairy Farmer!
Katie Dotterer-Pyle – Union Bridge, MD – Spanish teacher and dairy farmer that makes sure her cows enjoy their stay!
Brent Pollard – Rockford, IL – an innovative dairy farmer who loves to tinker with things.
Krista Stauffer – Washington – a 1st generation dairy farmer and very talented AGvogate for the dairy industry!
Diane Loew – Byron, MI – a writer, blogger and dairy farmer from Michigan!
Nicole Fletcher – Southampton, MA – a Cabot Creamery dairy that milks Holsteins & Jersey's!
Elinor Opitz – Maple Lake, MN – a young lady just starting her Ayrshire dairy!
Alise Sjostrom – Brooten, MN – one of the readheads behind Redhead Creamery!
Tara McIntosh – Ontario, Canada – our only dairy farmer featured from Canada!
Jenna Kilgus – Fairbury, IL – a Jersey dairy farmer that bottles their own homogenized milk!
Will Gilmer – Sulligent, AL – our only dairy farmer from the "south"!
Gene Zimmerman – Colby, WI – our only dairy goat farmer featured this month!
Darleen Moore-Sichley – Oregon – a Mom, AGvocate and Gurnsey dairy farmer!
Michelle Eilenstine – Mountain Grove, MO – a dairy farmer & University of Missouri grad!
Jenni Tilton-Flood – Clinton, Maine – a Cabot Creamery dairy that milks 3400 Holsteins!
Kalli Ehrhardt – Baldwin, MD – A Mom and dairy farmer!
Craig Swenson – River Fall, WI – a dairy farmer who loves his red & whites!
Katie Harris – Washington – a mom & dairy farmer from Western Washington!
Annaliese Wegner – Ettrick, WI – the Modern-day Farm Chick!
Morgan Kliebenstein – Darlington, WI – a dairy farmer, Genex employee, Mom & wife!
Matt & Joe Engel – Hampshire, IL – the brother behind Luck-E Holsteins!
Stephanie Aves – Popular Grove, IL – a dairy farmer & agriculture teacher!
Beverly Donovan – Benton, Maine – a dairy farmer & accountant!
Sadie Frericks – Melrose, MN – a dedicated AGvocate, dairy farmer, mom & wife!
Greg Schulte – Darlington, WI – the cheesemaker at Brunkow Cheese!
Katie Deslippe – St Mary Ontario – a young lady that loves everything about dairy!
Carrie Mess – Lake Mills, WI – the well-known AGvocate Dairy Carrie!
For a listing of all the 30 Days Bloggers that Holly Spangler rounded up, visit here.
Comments
comments