I would like to introduce Alise Sjostrom (age 28) from Brooten, Minnesota.  While she considers herself a dairy farmer, she more so calls herself a cheesemaker, since that is where she  spends most of her time.  Jer-Lindy Farms is a family-run and owned dairy in central Minnesota. They raise and milk registered Holsteins and a few registered Brown Swiss dairy cows. Their farm is able to produce enough corn for silage to be fed to the cows all year long, as well as alfalfa for balage (fermented hay). Jer-Lindy purchases some hay and grains in order to fulfill the cow's nutritional needs.  The herd is milked twice a day in a milking parlor and all the young stock is raised on site. Every other day, the morning milk is used for on-farm cheese production for Redhead Creamery.  Jer-Lindy Farms sells their milk to Bongard's Creameries where it is made into cheese. Around 10% of the milk is sent 50 feet away via pipeline to the Redhead Creamery cheese plant, only on days that we make cheese (3 days/week).  Redhead Creamery makes cave aged cheddar, fresh cheddar cheese curds and whey ricotta.
Jer-Lindy Farm and Redhead Creamery are a true family operation.  Alise is married to Lucas and they admit that the operation is run by Lucy, their 2 year old daughter!  Jerry and Linda Jennissen are Alise's parents and co-partners in the creamery.  Alise has three sisters who all have red hair – hence 'Redhead Creamery'.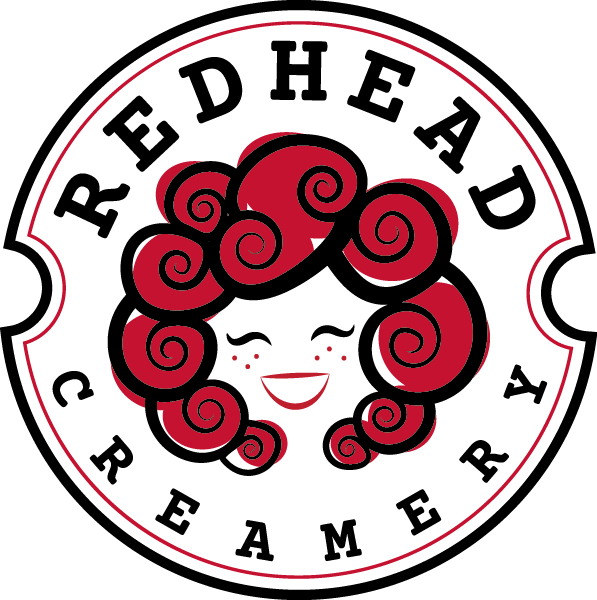 Growing up, Alise was very active in 4-H. Her dairy showing career began when she was 2 or 3 years old.  She participated in county arts-in as a performer and director and always competed in the foods judging at the county fair level.  She credits a trip to the National 4-H Dairy Conference as the reason she is making cheese today!  During the Conference, they visited to Crave Brothers Farmstead Cheese, LLC where it opened her eyes to the idea of farmstead cheese.  She admits that she was very lucky to have had the opportunity to work for Craves in 2011/2012 before moving home to build their own cheese plant.  After high school, Alise attended the University of Minnesota – Twin Cities and received a Bachelor of Science in Agriculture Industries and Marketing; DairyFood Quality emphasis and an Applied Economics minor.
It should not come as a surprised that Alise's favorite dairy product is cheese!  Alise states, "When I was asked this question as a kid, I would always say 'muenster cheese', which I still love as it makes great grilled cheese sandwiches".  As she has gotten older, her taste has evolved into loving more of the semi-soft stinky cheeses; Red Hawk from Cowgirl Creamery, Good Thunder from Alemar Cheese, Harbison from Jasper Hill Creamery, just to name a few.
---
Alise's Story in her own words:
I was a food broker right out of college. My career started as a Leadership Development Associate for Acosta Sales and Marketing. I learned a great deal about the grocery industry, which is very beneficial in the cheese world. We moved to Vermont a year later, where I was a retail clerk at a specialty cheese shop/factory. They bumped me up to marketing assistant, as I had the experience, but was the only associate with a dairy farm background and was able to utilize that knowledge quite well. My husband, Lucas worked for the Holstein Association as a lobbyist. We then moved to Wisconsin as Lucas got a new job at Hoard's Dairyman magazine as an associate editor. I landed a job with Crave Brothers as marketing assistant. It wasn't until we were pregnant with Lucy that we decided that it was time to come back home. We wanted her to grow up on a farm like we had and my parents were ready for us to come back. I started doing sales work for Stickney Hill Dairy and Lucas became a grad student with the University of Minnesota.  Just months later, my parents decided that we should move forward with the cheese plant idea, so my time switched to milking cows and planning/working with contractors.  I take a lot of pride in the work that my parents have done to rebuild this abandoned site into a beautiful working farm. Everywhere I worked between college and now, I couldn't help but think about what life will be like when I move back home. I need to be my own boss and I need to work with people who care about what they are doing.
Who do you farm with?  The farm is owned by my parents, Jerry and Linda, though Lucas and I are slowly becoming part-owners in Jer-Lindy Farms. We are equal partners in Redhead Creamery, LLC, though my main responsibilities are on the creamery side. My dad is the over-all manager/herdsman. He milks cows every morning and fills in for night milking. The rest of his day is spent working with the cows, doing field work, fixing equipment, attending meetings, etc. My mom also milks cows every morning and is the primary calf-care provider. She washes up and heads into the cheese plant with me after milking. Lucas serves as a fill-in milker, cow breeder (AI technician) and does the farm/creamery bookwork. He also has an of-farm job with Dairy Herd Management as an assistant editor and is finishing up his masters degree at the University of Minnesota for dairy management.  I also serve as a replacement milker. I also register all of the cattle on a monthly basis. It's my job to give them all unique names, which can be entertaining at times. I am the primary cheese maker.  Lucy helps feed calves and cares for the one cat, Ferris Bueller. We have about 5 part-time staff and one other full time employee that milk cows and give my parents some time off.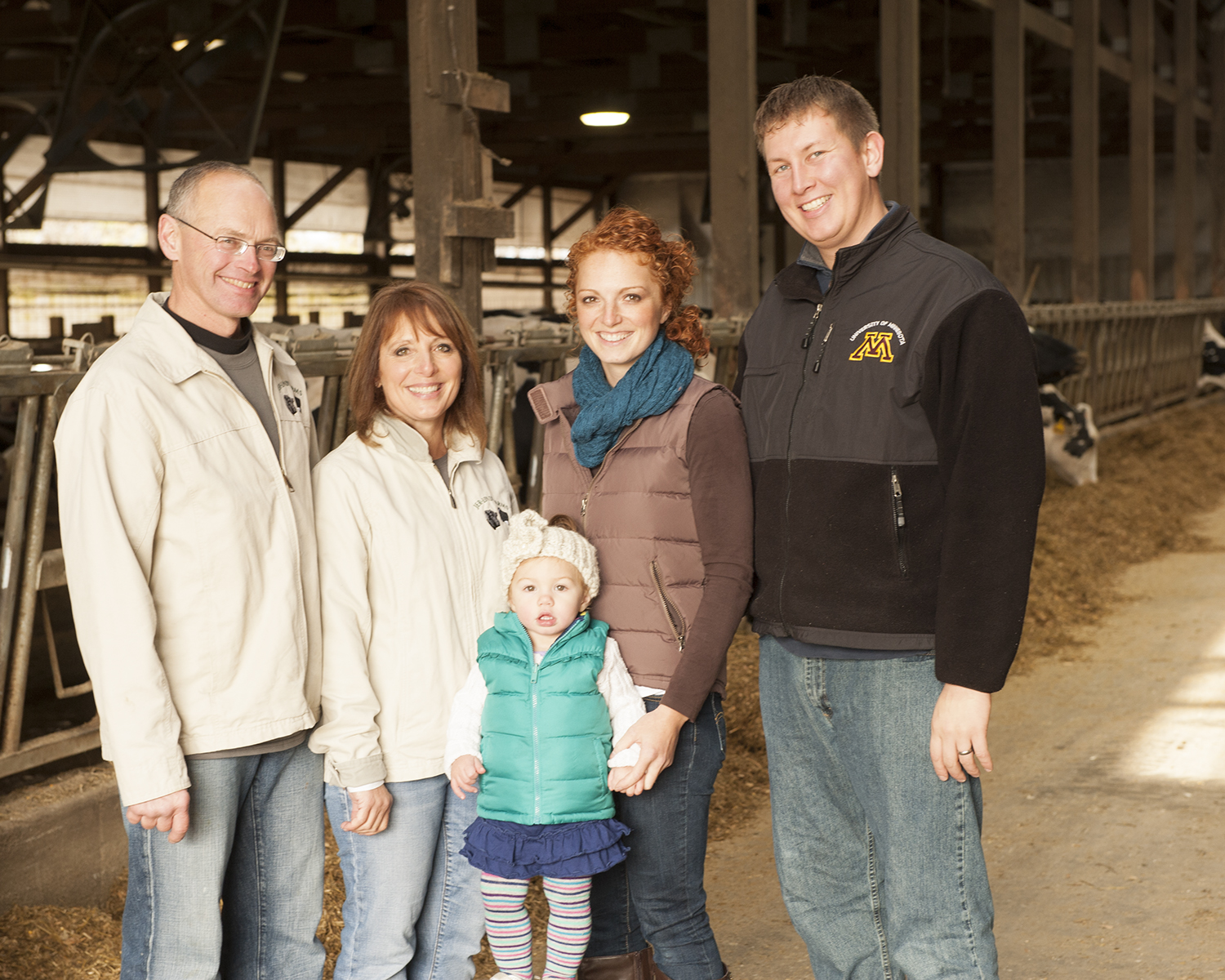 What is the biggest misconception about the dairy industry?  We host many tours on our farm and one particular tour sticks out in my mind every time this question comes up. We had two women (around my age) from the Twin Cities stop by the cheese shop who wanted a farm tour. My dad happily led them through our farm not knowing much of their background. Towards the end of the tour, the one girl asked 'So why wouldn't we support you?' My dad was speechless, not sure where she was going with the question. She mentioned seeing all of the bad videos online about how some farmers 'appear' to treat their cows. That it's obvious we take care of our cows and treat them well, so it didn't make sense in her mind. My dad went on to explain that those videos are not a true representation of our industry. Animal cruelty is not acceptable. We truly do care for our animals, the land, our neighbors, because this is our life and we are morally obligated to do a good job. The girl seemed to be completely relieved – as were we, that we had the opportunity to show her what dairy farms are truly like.
Do you open your farm for tours or agro-tourism opportunities?  Our on-farm cheese shop is open weekends from 12-5, except for holidays. Soon, we will be open on Friday afternoons once our cheese curds are ready (usually around 3:00). We provide guided tours for $5/person with a 5 person minimum on an appointment basis and/or at 3:00 on Saturdays. Our cheese shop has viewing windows into the factory where visitors can watch cheese being made. They can also shop around as we carry many local specialty foods as well as our favorite cheeses from around the country and those made in Minnesota. We also have a commercial kitchen where we bake pies and other baked goods.  Our cheese shop also has the capability of hosting up to 40 people for meetings or private events. Reservations can be made by emailing me: alise@redheadcreamery.com
What's one question you always receive about what you do?  "Isn't that a lot of work?" – Yes it is, but I really enjoy physical work and feeling
like I've really accomplished something at the end of the day. It's also rewarding to work with your family and appreciate the work we are able to do together. We all have unique skills and talents and I think we take advantage of all of them on our farm.
Tell me a unique story about your farm.  My parents came across this farm site while cross country skiing one day. It was an abandoned farm site with a large pond, a barn, house, garage and a few sheds. They thought 'wow, if we could afford this site some day, that would be really great.' A few years later, they were told that they either needed to purchase the farm site they were renting or move out – as the owner's son was ready to move home. That same week, the owner of this abandoned site called them knowing that they needed a new farm. To their surprise, it was the place they skied onto years back. They've turned an abandoned site into a beautiful tourist destination through 30 some years of continuous work.
What is one message you'd like to get across to the general public about what you do? It's all about the cow. Our family works together to utilize the best technology and practices that we can achieve in order to provide the best care for our cows.  That allows us to provide good tasting quality milk and cheese for all of us to enjoy.
What is your favorite dairy-filled Thanksgiving recipe? I'm sort of in love with my Pumpkin Tiramisu Parfait. I made it for our family Thanksgiving back in 2011 and later that week found a recipe contest for holiday desserts. I entered at the final deadline and found out the next day that I had won the contest. I couldn't believe it! The money helped with some school loans, which was completely awesome.  I really enjoy cooking/baking. When my husband and I first moved to Vermont, I needed something to connect with my family back home, so I started a blog. I haven't kept it up very well since the creamery started up, but I do hope to get back into sharing recipes. I have to remind myself that not everyone reads food magazines and food blogs on a regular basis like I do, so its good to share what works and what doesn't.  As a family, we like to go on road trips and eat at small-town food establishments or micro breweries or cheese shops. We like to attend live theatre performances as well. Our free time is starting to turn into work time, but we like it, so it works.
What do you hope for your kids or future generations on your dairy?  I'm very eager to see what my daughter's future will turn out to be. Her life will be much different growing up than what any of us had, because of the cheese plant. I hope we provide her with the tools to make good life decisions and to appreciate animals, land, people and food.  Some of our employees are still in high school – who didn't start with a farm background.  It's very exciting to watch their skills develop and their love for the industry grow. I just hope that we can show how wonderful and necessary agriculture is without being pushy about it.
What advice would you give to anyone interested in getting into farming?  Ask questions. Lots of them. Spend time with people who are already into farming and who have been doing it for a long time. The perspective of a 20's year old farmer compared to a 60's farmer will be completely different, so be sure to get all perspectives. They will each have unique ideas and suggestions that will end up complementing each other.  It's not easy. If it were, everyone would be doing it, right? There are bad days, but luckily the good days outweigh those. Prepare yourself to grow a thick skin.  Be humble. No one knows it all – as with anything in life, it's good to go into things with an open mind, but with confidence.  Make sure you're having fun. Life is too short, but too long to do something you don't like.
---
Stay connected with Redhead Creamery on their website, Facebook Page, and Twitter.  You can also follow Alise on Twitter and Instagram.  
Thank you so much Alise for taking time to participate in our "30 Days of Dairy" series.
Entire "Thirty Days of Dairy" Series:
Sarah & Andy Birch – Derby, VT – the dairy farmers that were my inspiration for the 30 Days of Dairy!
Melissa Collman – Boring, OR – an organic dairy farmer from the West Coast!
Macy Sarbacker – Belleville, WI – a blogger, editor and dairy farmer from American's Dairyland!
Karen Bohnert – East Moline, IL – a very talented writer, Mom and Jersey lover from my state!
Lisa Myers – Hamstead, MD – one of my best friends that moved back home to run their dairy!
Rebecca Schlehlein – Platteville, WI – a dedicated farm employee that loves her Brown Swiss!
Heather Moore – Maquoketa, IA – Special Events Coordinator turned Dairy Farmer!
Katie Dotterer-Pyle – Union Bridge, MD – Spanish teacher and dairy farmer that makes sure her cows enjoy their stay!
Brent Pollard – Rockford, IL – an innovative dairy farmer who loves to tinker with things.
Krista Stauffer – Washington – a 1st generation dairy farmer and very talented AGvogate for the dairy industry!
Diane Loew – Byron, MI – a writer, blogger and dairy farmer from Michigan!
Nicole Fletcher – Southampton, MA – a Cabot Creamery dairy that milks Holsteins & Jersey's!
Elinor Opitz – Maple Lake, MN – a young lady just starting her Ayrshire dairy!
Alise Sjostrom – Brooten, MN – one of the readheads behind Redhead Creamery!
Tara McIntosh – Ontario, Canada – our only dairy farmer featured from Canada!
Jenna Kilgus – Fairbury, IL – a Jersey dairy farmer that bottles their own homogenized milk!
Will Gilmer – Sulligent, AL – our only dairy farmer from the "south"!
Gene Zimmerman – Colby, WI – our only dairy goat farmer featured this month!
Darleen Moore-Sichley – Oregon – a Mom, AGvocate and Gurnsey dairy farmer!
Michelle Eilenstine – Mountain Grove, MO – a dairy farmer & University of Missouri grad!
Jenni Tilton-Flood – Clinton, Maine – a Cabot Creamery dairy that milks 3400 Holsteins!
Kalli Ehrhardt – Baldwin, MD – A Mom and dairy farmer!
Craig Swenson – River Fall, WI – a dairy farmer who loves his red & whites!
Katie Harris – Washington – a mom & dairy farmer from Western Washington!
Annaliese Wegner – Ettrick, WI – the Modern-day Farm Chick!
Morgan Kliebenstein – Darlington, WI – a dairy farmer, Genex employee, Mom & wife!
Matt & Joe Engel – Hampshire, IL – the brother behind Luck-E Holsteins!
Stephanie Aves – Popular Grove, IL – a dairy farmer & agriculture teacher!
Beverly Donovan – Benton, Maine – a dairy farmer & accountant!
Sadie Frericks – Melrose, MN – a dedicated AGvocate, dairy farmer, mom & wife!
Greg Schulte – Darlington, WI – the cheesemaker at Brunkow Cheese!
Katie Deslippe – St Mary Ontario – a young lady that loves everything about dairy!
Carrie Mess – Lake Mills, WI – the well-known AGvocate Dairy Carrie!
If you enjoyed this post, make sure you subscribe to our blog (no spam, just an email when we post a new blog) so you don't miss any posts.
For a listing of all the 30 Days Bloggers that Holly Spangler rounded up, visit here.
Comments
comments