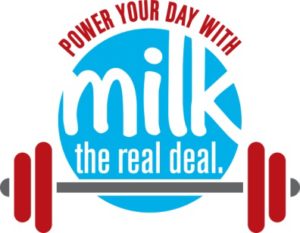 Since 1937, June has been the month to honor dairy farmers for the wholesome foods they provide. It's also the perfect time to remind consumers of the health benefits that milk, cheese and yogurt deliver. Most Americans readily recognize dairy's calcium and Vitamin D and their connection to bone health. Yet, few are in-the-know when it comes to milk's power player, protein.
According to the International Food Information Council Foundation, 89% of Americans believe getting enough protein is important. And with good reason: protein is a powerhouse nutrient. It strengthens our immune system and our muscles following a workout. Plus it helps us feel fuller longer and regulates metabolism as we get older. "Protein plays a key role in helping to build and maintain healthy bodies," notes Dairy Council registered dietitian Monica Nyman.
Making sure we're hitting the protein mark is easier than ever. Grocery store shelves are filled with a wide array of products showcasing the nutrient. However, dairy foods have always been a standout for the natural protein they provide. "Most people don't realize that one 8-ounce glass of milk contains as much protein as an egg. Simply adding milk to every meal can help sustain energy levels and fuel your body throughout the day," says Nyman.
Long-considered a cereal bowl staple, milk can be enjoyed well beyond early morning hours these days. Biodegradable re-sealable bottles make milk an anytime on-the-go beverage. Chocolate milk is the finishing touch to many athletes' workouts, thanks to research supporting its use as a recovery beverage for adults after strenuous exercise.
And milk is making an appearance on dessert menus, as well. "Milk processors have rolled out gourmet milks in limited edition flavors. Flavors such as caramel, dark chocolate and pumpkin spice work well in coffees and as stand-alone desserts," notes Nyman. The calorie content of gourmet milks may vary, so check the labels for brand-specific information.
Consider these easy ways to plus-up your protein intake with dairy around the clock:
Rise and shine with milk: add to hot/cold cereal, stir into coffee, or pair with breakfast bowls and sandwiches
Layer it on for lunch: top crackers with cheese slices, sprinkle shredded cheese on salads and soups, or build a perfect parfait with yogurt, berries and granola
Make it a meal with milk: round out lunch/dinner with a glass of nine nutrients and great taste
Do dairy for dessert: savor the rich creamy flavors of gourmet milk, warm or cold
Maximize mini-meals: whip up smoothies with milk and yogurt, roll cheese into wraps, or mix cheese cubes with nuts and dried fruit
While industry innovation may have changed the look of milk, no other beverage comes close to offering its nutrient package. Loaded with high quality protein, milk is a perfect choice to help power through your morning, noon or night. So this June Dairy Month, let's raise a glass of powerful nutrition to the ones that make milk happen: our local dairy farmers.
For more information about dairy foods and their role in a healthy diet, visit our website or check us out on Facebook.
Comments
comments