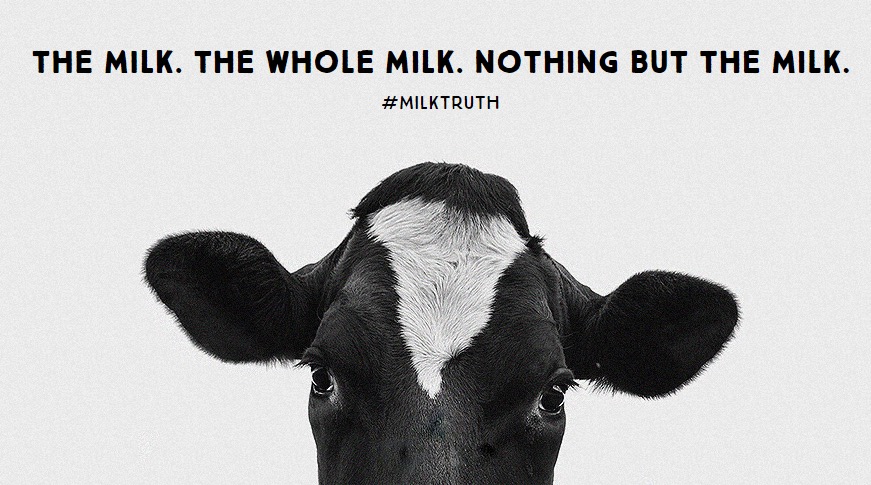 There are a lot of us seeking out the real story and the real truth about the things that are important to us, like the food we put on our family table. The internet and social media have put the answers at our fingertips but also made it hard to avoid all the "information" being thrown at you, let alone weed through it all in search of the truth. When you're searching for the truth your best bet is to go to the source, and when you're seeking the truth about milk, your source is a dairy farmer. As moms and dairy farmers we are always looking for the facts and truth and when it comes to milk we thought it was about time to get real and talk about the milk truth.
We are Joanna Samuelson Lidback from The Farm at Wheeler Mountain in Vermont, Mary Mackinson Faber from Mackinson Dairy Farm in Illinois and Jenni Tilton-Flood from Flood Brothers Farm in Maine and we are all moms and we not only want to make sure what we feed our families is nutritious and healthy, but we're also family dairy  farmers and we want to set the record straight about milk.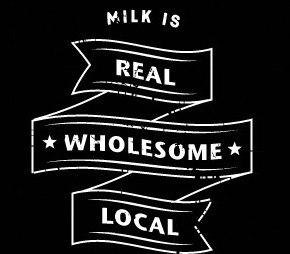 There are dairy farms in every single state of the United States – from over 10,000 in Wisconsin to six in Hawaii. While it is true that the absolute numbers of dairy farms have been on the decline in the United States for several years, 97% of dairy farms remain family-owned. Dairy farmers take pride in providing nature's most perfect food – a protein-packed powerhouse delivering nine essential nutrients in one eight-ounce serving. Striving to deliver the freshest product possible, it only takes about two days from the time the milk leaves the cow until it reaches the shelf at the grocery store; which means that milk doesn't travel far to arrive at the store. Take it a step further and locate the dairy code on the container you're drinking, go to whereismymilkfrom.com and follow the instructions to discover which creamery delivered your milk. You can also search from the site various locations to find the closest dairy.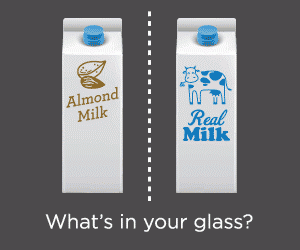 As working wives and mothers, we are always looking for new recipes to try.  When browsing recipes on Pinterest, it seems that the more ingredients listed, the less likely we are to (1) read the entire recipe and (2) try it out.  Of course, that recipe has the potential to be amazing but more often than not the more ingredients the recipe requires does not always mean better or better for you and as the saying goes, often less is more.  The same saying applies to cow's milk and the various milk substitutes that are plant-based.  The most common substitutes are made from products like rice, soy, nut, and hemp.  When reading the ingredients list for the plant-based milk substitutes they typically have stabilizers and flavorings listed.  As stated in Mary's blog post, 8 Reasons Why Cow's Milk is the Real Deal, plant based milk substitutes must be fortified in order for you to get the same nutrients found in cow's milk.  Fortified means reinforced by adding material.  For example; milk substitutes have to add calcium which is not always absorbed into your body like the natural calcium found in cow's milk that your body can readily absorb.  Tanya Zuckerbrot a Registered Dietician and Founder of the F-Factor Diet does a great job explaining a few of alternatives in her article entitled, The Truth About Milk.  The next time you find yourself in the dairy section, grab a gallon of cow's milk and head for the check-out lane.  You can rest assured that it is a nutrient powerhouse – for everyone in your family!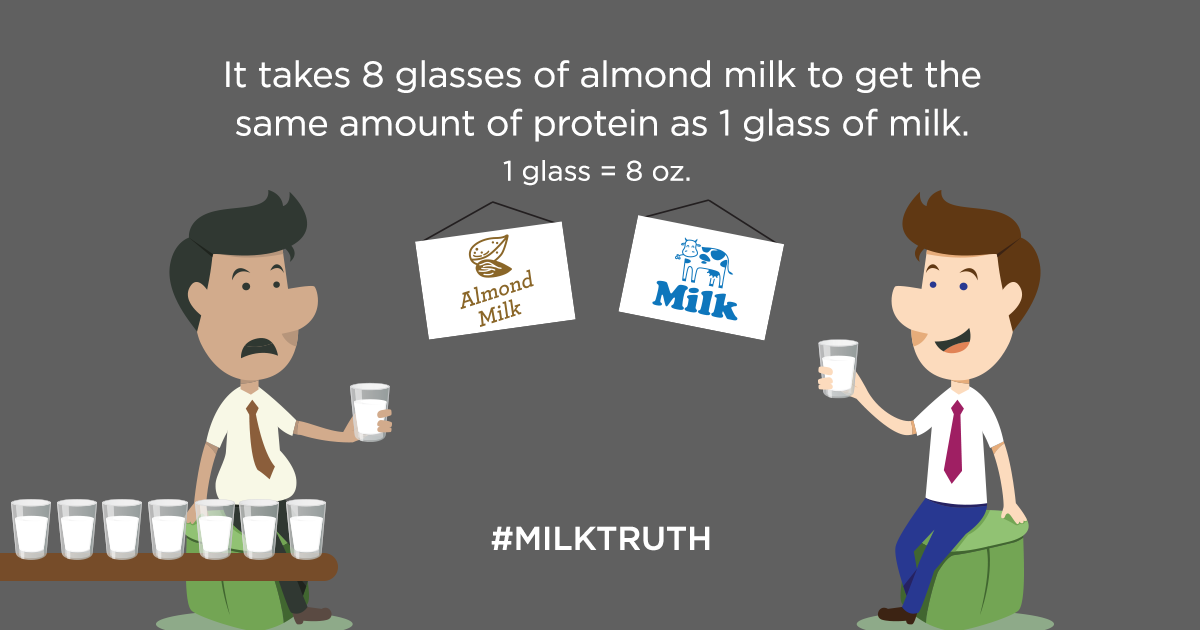 Folks may claim that plant based beverages are a better source of nutrition than real dairy but the truth is that nothing can deliver the protein punch of milk.
The fact is that "Milks from rice, almonds, coconut, oats, and hemp are not a replacement for cow's milk. Cow's milk has 8 grams of protein per cup while those other milks have only 1 gram of protein per cup. Each serving also provides about 1/3 of the daily requirement for vitamin D and calcium, two nutrients that can be difficult to find elsewhere."( Mary Hartley, RD, MPH for DietsInReview.com)  ­When it comes to making the decision as to what is best for your family and yourself it's hard to deny the protein and calcium and other nutrients milk and real dairy products have to offer and they do all that without all the other ingredients found in plant based beverages.  If you are a vegetarian looking for protein then real dairy products are "a high-quality protein food, and a little goes a long way toward meeting your amino acid and protein requirements."  And despite the fact that our newsfeeds are chock full of talk show hosts, self appointed nutritionists, and life coaches touting the supposed superiority of plant based beverages the reality is that  "almond milk is so diluted from the source of the whole nut that the liquid has little to no protein."  When we are looking for the best, we are looking for what's real and we're looking for the truth, and what you get with milk is real.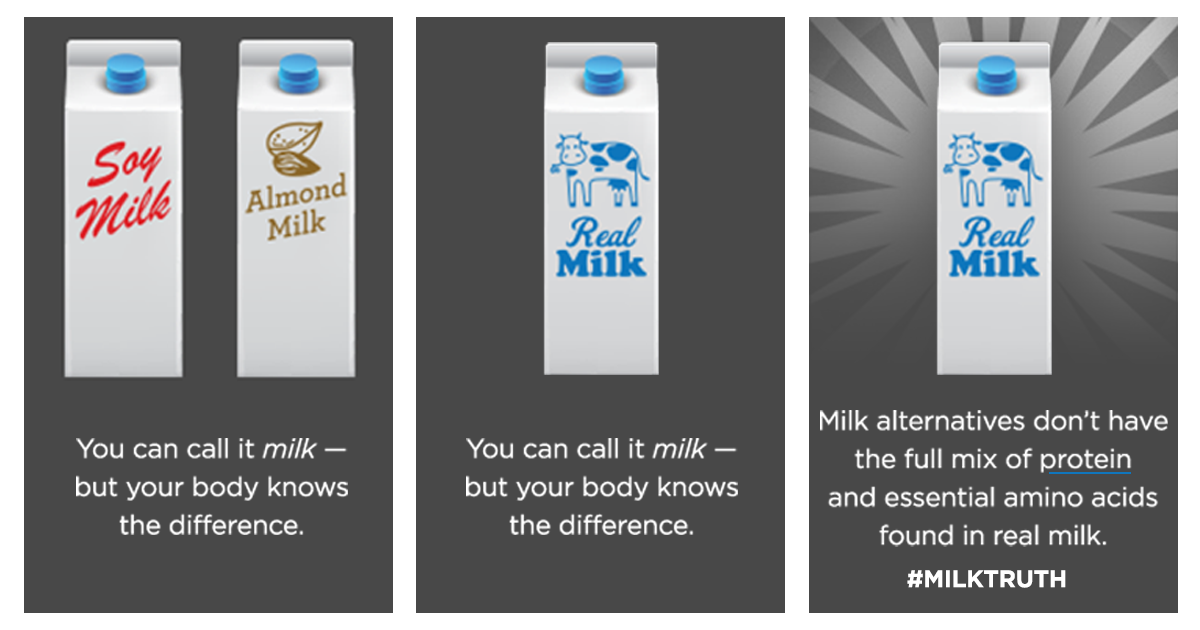 These are the facts about milk. The real truth. We see the headlines, we hear the claims and the confusing "advice" about giving up milk but when it comes to our health, and our families and what we put on our table to nourish and feed those we care about it takes more than a catchy phrase or a clever advertisement to convince us. So we look for the real facts and we find the real information.  If you are looking for the real facts about dairy why not talk to the folks who know milk best-dairy farmers? Joanna, Mary and Jenni are all dairy farmers who like any moms ask the questions and demand the answers. Go ahead and get to know them and ask them the questions you want answers to.  Isn't it time we get real and learn the milk truth?
Get real about milk by visiting milktruth.com
Thank you to my wonderful and talented co-authors Joanna and Jenni!  .
Joanna Samuelson Lidback and her husband operate a 50-cow dairy farm in the beautiful Northeast Kingdom of Vermont. Their herd consists of Jerseys and Holsteins. The two also raise youngstock and several Jersey steers that they process for a local market. Joanna has a full-time off-farm job as well and a financial background. The two are raising two young sons on their beautiful farm and feel so blessed to have this opportunity.  Check out Joanna's blog, Farm Life Love and her story in the Women in Dairy series.
Jenni Tilton-Flood grew up the daughter of the local John Deere dealer and then became the "Parts Girl" and eventually worked beside her father as a tractor and equipment salesperson. After one of her customers fell in love with her she became a dairy farmer and part of a family farm (Flood Brothers Farm, LLC) that has been in agricultural production for over 200 years and is currently operated by 3 generations of family members and 40+ employees. She is a proud Cabot Farmer as the farm are owner/members of the Agri-Mark Cooperative. Her family farm produces 5% of Maine's milk with a milking herd of 1600 and 3400 head overall. They raise 1600 acres of corn for silage and harvest 3000 acres of grass 2-3 times a season for both dry hay & haylage to feed their herd. She is very proud of the care they provide to their animals, their stewardship of the land, and their commitment to their families, and environment.  Check out Jenni's blog, The Deere Milkmaid and her story in my 30 Days of Dairy series.
Comments
comments