The second Illinois Harvest Dinner held Wed., Sept. 7 at the Conrady/Titus Family Farm (Elkhart) brought 96 healthcare professionals, food service directors, university administration, legislators, bloggers, and farmers together for an exchange of ideas about food, farming and Illinois agriculture.
The IHD was created as one more outlet at which consumers can network with Illinois farmers and learn more about farming and food production.
She said they seek to foster trusted relationships between consumers and farmers and to highlight Illinois' number one industry, agriculture.
Faber and Pratt partnered with Thomas and Breann Titus to bring the dinner to central Illinois.  Titus is currently serving as a Face of Farming & Ranching for the U.S. Farmers & Ranchers Alliance. In addition the family was recently named as Pork Producers Family of the Year from the Illinois Pork Producers Association.
Guests toured the Titus farm and learned more about raising pigs.  In addition, guests climbed into the combine and tractor to check out the farmer's view and learned more about technology and its application in agriculture.
Several Illinois farmers were also on hand to talk to guests about corn and soybean production, dairy farming, specialty crops and the diversity and strength of Illinois agriculture.
The Pontiac FFA Chapter guided by advisor Jesse Faber, built raised garden beds in which they planted sweet corn, popcorn, wheat, pumpkins, horseradish, green beans and peas.  The garden beds were on display at the dinner, and FFA members were on hand to explain the significance of each crop to Illinois' agriculture community.
"Many people see Illinois strictly as a corn and soybean state, but we grow 85 percent of the world's horseradish," said Pratt.
The dinner was prepared by Executive Chef Vince Swanson of Cracked Pepper (Peoria, Ill).
Appetizers included bacon jam and brie crostinis, horseradish infused deviled eggs, strawberry bruschetta with balsamic reduction, flatbread with buffalo chicken and ranch flavored popcorn.  The dinner menu included fresh vegetable salad, bone in bourbon glazed pork chops, cheesy polenta with elotes, green beans with bacon and onion and pumpkin bars and apple pies for dessert.
"We are so grateful to all the businesses, organizations and individuals who supported this event," said Faber.
Sponsors contributed at one of three levels of contributions – Illinois Agriculture Builder, Conversation Cultivator and Sprout Starter.  Contributing at the top level of sponsorship as Illinois Agriculture Builders were Farm Credit of Illinois, Illinois Farm Bureau, Illinois Agri-Women, and Wyffels Hybrids.  Conversation Cultivator sponsors included Carthage Vet Service, Illinois Corn Growers, Illinois Farm Bureau, COUNTRY Financials & GROWMARK, Inc., Illinois Pork Producers Association, JBS United, Midwest Dairy, Pilot Knob Comforts and Prairie Farms
Faber said the group plans to follow-up with the IHD guests to learn if they met their goals for the event.  "Early respondents to our evaluation rated the evening as excellent and indicated they have more confidence in Illinois agriculture,"she said.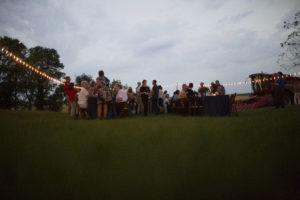 Photo credit: Erin Ehnle Brown, Grand Vale Co.
Comments
comments