In November, I featured Heather Moore's story in my 30 Days of Dairy Series.  On October 7, 2014; she started milking cows at their Iowa dairy. As a wife and Mom to two young boys, her schedule was full and life was hectic. Today, Heather is sharing her story about how her family's world came crashing down on May 8th, 2015.
Heather's Story in her own words:
---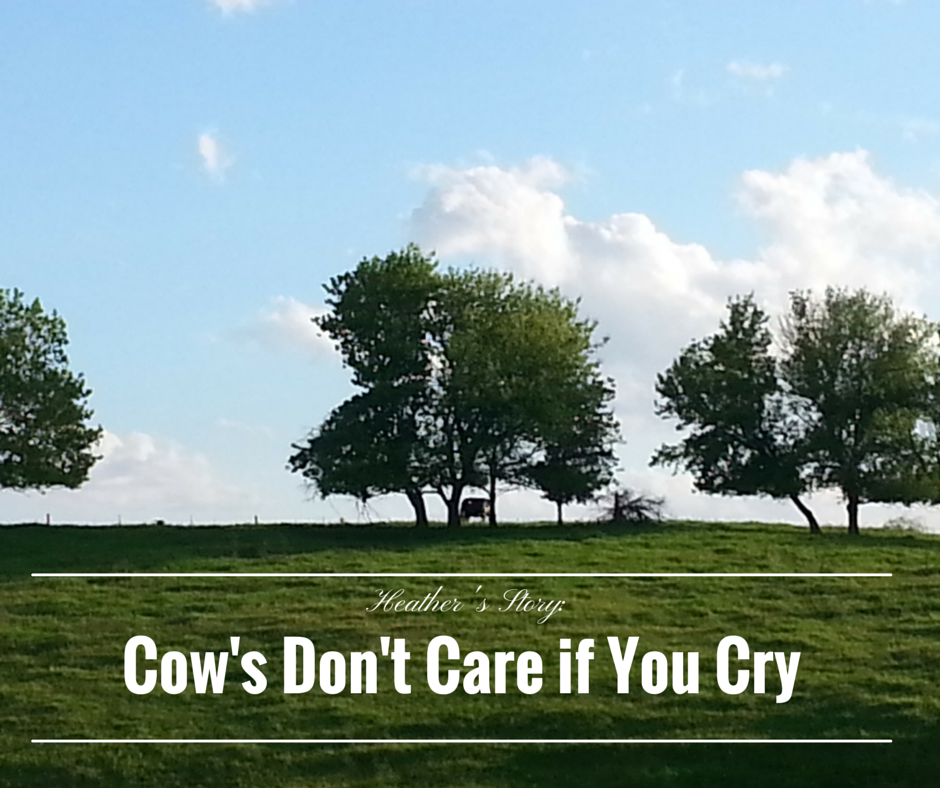 "Heather, honey… there's no heartbeat."
I don't know if I'll ever forget those words. Dr. Kramer held my arm, and I began to cry. It was May 8, 2015, and what was supposed to have been a routine 20 week anatomy scan had just turned into a nightmare. A month earlier, I had been in the very same ultrasound room, listening to a heartbeat, watching a baby that Dr. Kramer described as "perfect" wiggle around on the screen.  I remember grinning with anticipation as the ultrasound technician handed me an envelope that would later tell my husband and I that we were adding a third boy to our farm family. Having spent the last six months completely immersed in farming and our two little boys, I wasn't sure on my dates. The ultrasound was ordered to confirm a September arrival.
Sitting alone in an empty exam room, I called my husband who was at home. "How'd it go?" he asked – the same question he always asked after every appointment. "There was no heartbeat," I choked out. Through our shock, we made plans for our boys, as well as a list of everyone we knew that might be able to milk my 30 dairy cows.
Dairy farming runs in my veins, and every beat of my heart pounds with love for farming. I have a collage in my office that I made in my high school English class which lists my life goals:
Go to college
Have a family
Own a dairy farm
I met my husband at UW-Platteville, in a class about managing beef cattle (required for me, enjoyed by him). When we discussed getting married and my move from dairy country in Wisconsin to beef country in Iowa, a dairy farm was always included in the conversation. In 2014, my dream came true, and we started our own dairy. My husband works off the farm and manages 850 head of feeder cattle so milking falls entirely to me.
I love every minute of it. I know the cows. I know their moods, I know who their friends are in the herd, and I know their habits. I know who's going to be waiting at the barn door, and I know who I'll have to pry away from the feed bunk.
In the hospital room, I cried when my brother-in-law answered his phone. He agreed to milk without asking for details. I could feel myself relax. My father-in-law had my boys, and my brother-in-law had my girls. My husband arrived and the nurse started the procedure to induce labor. Even though I had two inductions under my belt, this one was agonizing. Eight hours later, at 11:45 pm, our third son was born. We named him after two of the very first dairy farmers in my life, my grandfathers.  Brandon and I welcomed and said goodbye to our third son, Orvin Lloyd, within the same moment.
I was released from the hospital 21 hours after the ultrasound. Brandon had gone home hours before to do his chores and to check on a cow that had just calved. The sun was shining, and I had a fleeting thought of all the chores waiting for me.  But those thoughts were pushed to the back of my mind.
What am I going to do now? How could this have happened? Was it something that I did?
I wracked my brain, trying to come up with a reason to blame myself. Was I exposed to a new chemical? No, we use very few chemicals on our farm, and the ones I had been exposed to (cleaning chemicals) had been in use since before the pregnancy. Had I gotten kicked or pushed? No, none of my cows were kickers. No one had pushed me.  Had I fallen? No, impossible. As hard as I tried, I could not come up with a single way to blame myself.
Once home, I went looking for the new calf. I found him, curled in the straw of our baby calf pen. Snowy white, he laid serenely while I marveled at him. This is the beauty of a farm, I thought, even when my heart is breaking, there is still good in the world. Life goes on.
Chore time at Moore Moos is 4:00 p.m. but I apprehensively headed to the barn, still in pain, stabbing physical and emotional pain. Brandon offered to find someone to milk for me, but I declined. That first milking, Brandon stood by in anticipation, washing cows, moving milkers, talking. The next milking was Sunday morning; Mother's Day. I slipped out of bed, careful not to wake Brandon, ready to try this on my own. I needed to be alone with my thoughts, alone with my feelings; I needed to decide how to proceed and what emotions were in my head and in my heart.
The barn is where I center myself, the place where I deal with my emotions, the place where I hang my hopes and dreams, the place where I come to after a long day of working in town. The barn is where I solve all (or most) of my problems. The roar of the vacuum pump and the consistent rhythm of the milking machine ease my mind and spark my creativity.  Once I walked into the barn, I started to cry. It was there that I had thought about the baby and what he would become. It was there where I imagined a little boy in a stroller, waiting in the alley while I milked, listening to my stories and laughing at my songs. I imagined him running in and out of the barn with his brothers, building cities in the sand, treasure hunting, laughing and playing and fighting….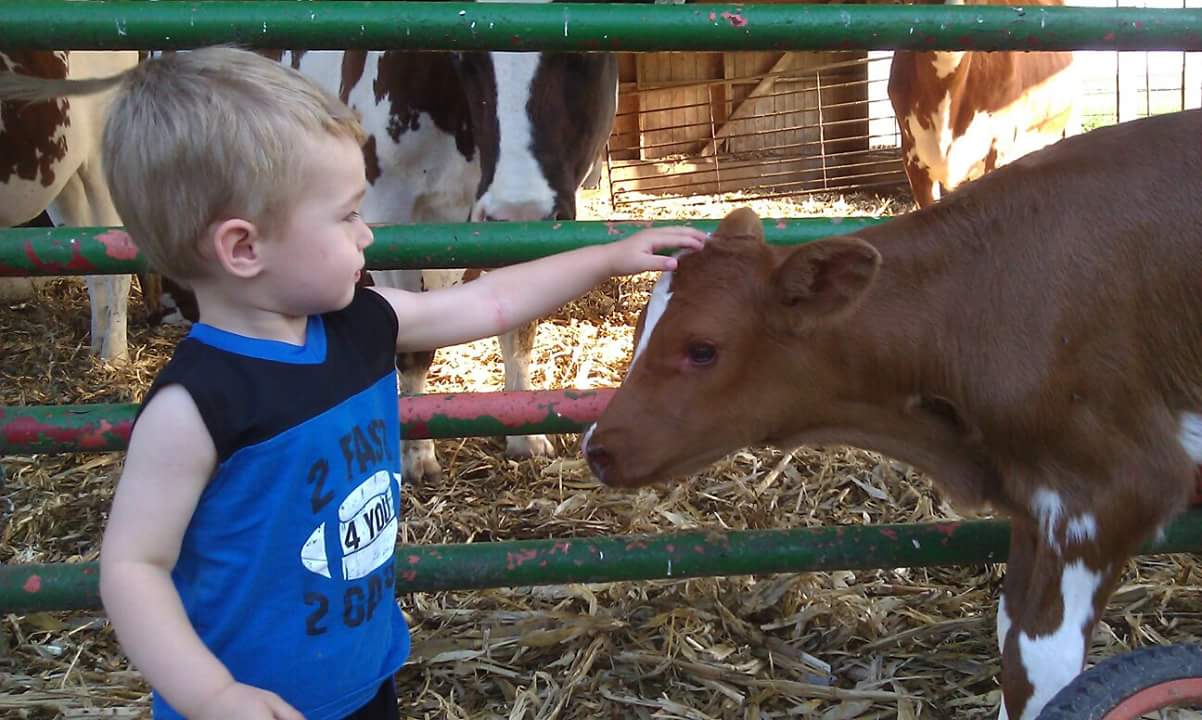 The cows don't care if you cry. They don't give you funny looks and they don't tell you it will be okay. They stand and proceed to chew their cud, regardless if there are tears rolling down your face. Occasionally one might lick your shoulder, or chew on your hair, as if to let you know that they are listening. Others let you lean against them as you bury your face in their sleek side and sob. I like to think their big eyes understood something was amiss as they moved to their stalls a little more quickly and a little more quietly than was typical. Over the next few milkings the tears got less and less and my soul felt a little more at peace.
I was angry the day of the burial. Angry that I had to bury our baby and angry that the world that I had I worked so hard to keep in order was now in shambles. In a grocery store bathroom, I counted the milkings. I had milked eight times since delivering our baby. How many more would I need for these feelings to go away? The burial site was beautiful but once we returned home, I needed to go to the barn. Half a dozen cows into milking, I could feel the burning anger in the pit of my stomach ease and finally die away. As I came to the last cow, Cinnamon, a beautiful Brown Swiss, her eyes told me how much she trusted me. No matter my shortcomings, no matter how much hurt I felt, I knew then that it would be okay. It might be another week, month or year, but the pain would subside. My body would get stronger, and my heart would heal. My girls were always going to be there to remind me that I would be okay.
As a farmer, we tend to go on about everything that we do for our cows, without ever mentioning what they do for us. We analyze every pound of feed they eat, every little behavior they display, every drop of milk they give.  We do everything in our power to keep them happy and healthy. When we're not with our cows, we're thinking about them. We put our cows' needs ahead of our families, our friends and our health. Why though? I can only describe it as the rush that fills our bodies when we step inside that barn, even if it's been years.    I think it's all the ways that our cows make our lives worth living. We depend on them for so much more than just making a living. They will never make us rich but they will fill our hearts. They help heal our wounds and they imprint themselves on our very identity. Our cows give us a reason to weather all kind of storms- the literal, the financial and the ones that rock our souls.
Comments
comments