I was recently asked this question by a friend and fellow mom. We both want to provide the best for our families, and she was curious whether or not skim milk has the same nutrients as 2% or whole milk. The answer is YES. The fluid milk varieties (whole, 2%, 1%, fat-free or skim) all have the same 9 essential nutrients (calcium, potassium, phosphorus, protein, vitamins A, D and B12, riboflavin, and niacin). So what's the difference besides the price? The difference is in the amount of fat, the number of calories, and the grams of fat.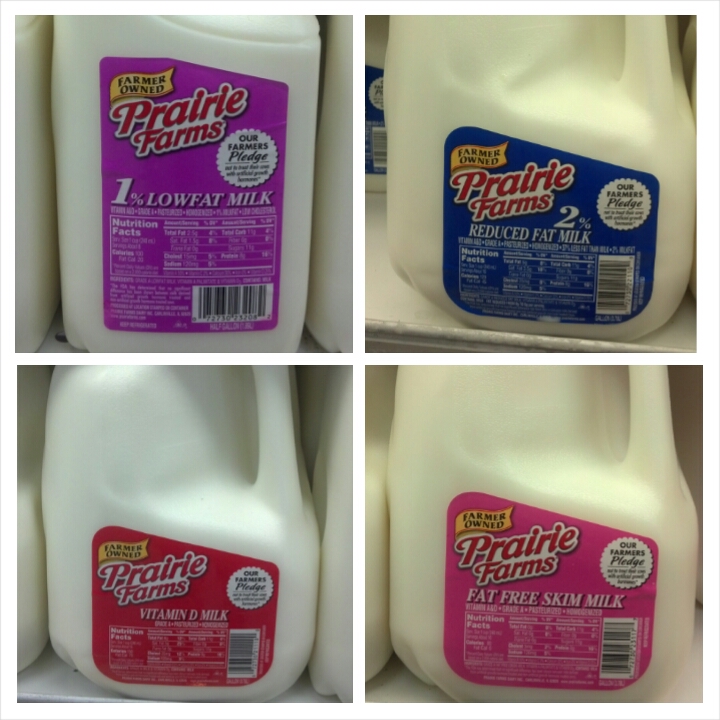 The following stats are based off of one 8 ounce serving.
Whole Milk – 3.25% fat, contains 150 calories and 8 grams of fat
2% Milk – 2% fat, contains 120 calories and 5 grams of fat
1% Milk – 1% fat, contains 100 calories and 2.5 grams of fat
Skim/Fat-Free – 0% fat, contains 80 calories and 0 grams of fat
Depending on the variety you purchase, if any amount of fat was removed, then vitamins A & D may have been removed as well. Therefore, the vitamins must be added back (the milk is fortified) to the level of 2,000 International Units (IU) of vitamin A and 400 IU of vitamin D per 1 quart. This information must be stated on the label.
Speaking of the label, if you have ever wondered about the source of the milk, the label has a code which corresponds to a specific processing plant. You can then enter that code in here: www.whereismymilkfrom.com. Our milk goes to the fluid milk plant in Peoria, IL. This plant uses the code of :17-101. The first two numbers tells you the state (Illinois is 17) and the remaining numbers represent the plant. Don't be surprised if all the brands (store and name brands) at your grocery store were all processed at the same plant.
Both of these gallons of milk where processed at plant 17-101 -Prairie Farms in Peoria, IL
If you prefer to purchase organic milk, all of the information above is the same. The difference between our milk and that from an organic dairy is the farmer's management practices. All fluid milk is antibiotic free.
Depending on where you purchase your milk, you may see products from Kilgus Farmstead in Fairbury, IL. Kilgus milk is non-homogenized, which means that the cream from the milk naturally rises to the top. So the milk must be shaken before you enjoy it.
As you sit down tonight for dinner with your family, we hope you enjoy your favorite variety of fluid milk. My favorite is Prairie Farms 2% milk. What's yours?
Comments
comments