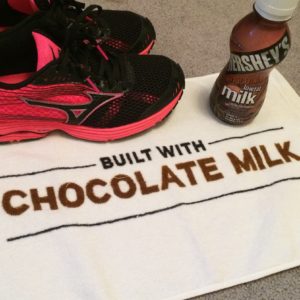 Built with Chocolate Milk, Fueled by a Passion for the Dairy Industry
From morning chores on the farm to running miles logged at the gym or on the road, a tall, refreshing glass of low-fat chocolate milk is my recovery fuel of choice. Low-fat chocolate milk is a true powerhouse for athletes and active individuals, as it provides protein, carbohydrates, electrolytes, fluids, calcium and Vitamin D, B vitamins, and nine essential nutrients. Plus, chocolate milk tastes great! Growing up, I mostly consumed fat free milk and was not one of the kids to reach for the chocolate milk carton in the cafeteria. Once I started running and competing, I did my research and listened to the nutritionists about the positive effects of low-fat chocolate milk. Now I can enjoy a delicious treat after exercise and maximize my recovery and future performance!
Post-workout recovery is often overlooked, but is equally as important as pre-exercise prep and warm-up. After a tough workout, nutritionists typically suggest the "two-hour recovery window" as the optimal time-frame to refuel with a snack or beverage that has a 4:1 carbohydrate to protein ratio. While most people replenish with a glass of water after a long run or workout, I reach for a glass of low-fat chocolate milk to help replenish depleted glycogen stores, to reduce muscle breakdown, to re-hydrate, and provide nine essential vitamins and minerals.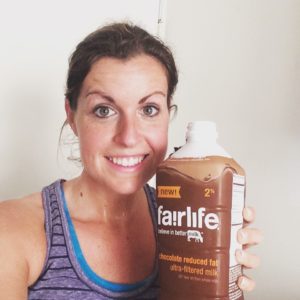 In terms of post-exercise nutrition, nutritionists suggest 1.5 g of carbs/kg body weight during the first 30 minutes of exercise, and again every 2 hours for up to 4 to 6 hours. As mentioned, the ideal protein intake is 4:1 or 3:1 carbohydrates to protein. In terms of fluids, 16-24 fl. oz. for each pound of body weight lost during exercise helps restore fluid balance. Sodium and potassium are the primary electrolytes lost in sweat/through exercise and need to be replenished as well. Depending on activity level and age, such as athletes and older adults, these requirements may be higher. Sweat loss and exercise intensity can also impact how much protein should be consumed post-exercise.
The type of protein matters as well though, as not all proteins are created equal. High-quality proteins include dairy products such as low-fat chocolate milk, yogurt, and cheese. These high-quality sources of protein help to satiate your hunger, build muscle, and provide energy throughout the day. Additionally, as Dr. Matt Pikosky, Ph.D., RD, FACN has stated, protein supports our bones, ligaments and tendons, moves oxygen to our muscles, helps us metabolize other nutrients, and is part of keeping our immune system healthy.
Raising dairy cattle and training for a race/athletic endeavors have more things in common than one might think. In preparation for a cattle show and a race, you have to prepare not only in the days ahead but months prior to the event. For a cattle show, you have to work with your animals to teach them to lead, provide them with the proper nutrition, and monitor the animals to make sure they are healthy. Both activities are also a large financial commitment between entry fees, travel, supplies, and feed for both the cows and yourself. In preparing for a race, I train in the months prior by logging my mileage and exercises, practicing race-day fueling methods, and training in the different weather elements. Once the competition has concluded, assessments follow about what could have been done differently, how to better prepare for the next event, and goal setting. A celebratory glass of low-fat chocolate milk is also involved after the competitions!
——————————————————————————————————————
About the Author: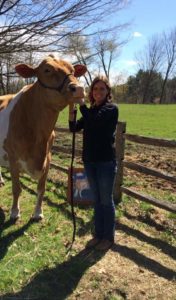 Ashley Sears was raised on her family's 4th generation dairy farm, Indian Acres, located in South, Deerfield, Massachusetts. She was involved in 4-H and exhibited Guernsey and Holstein cattle. Her greatest accolade came at the 2007 World Dairy Expo when her homebred Guernsey cow, Indian Acres MM Pistachio Pie, was named Supreme Champion of both the Junior and Open Shows. Ashley is a 2011 graduate of Cornell University, receiving her B.S. degrees in Applied Economics & Management and Animal Science. Ashley then attended Western New England University School of Law and received her Juris Doctorate in 2014. Today, she resides in Maine and works for the Maine Department of Agriculture, Conservation and Forestry as a Marketing Specialist / Special Projects Manager.
Comments
comments