What parent doesn't feel awful when their child gets sick? Since she was 3 months old, my Miss A has had to deal with more then her fair share of ear infections. We have had several nights where she is miserable, doesn't sleep, and tugs incessantly on her ears. The next day, we make an appointment with our pediatrician, wait for the official diagnosis, and then are prescribed an antibiotic. After a few doses, she is back to her feisty self. Cows are very similar to humans in this regard. As much as we try to take care of ourselves, sometimes we just get sick.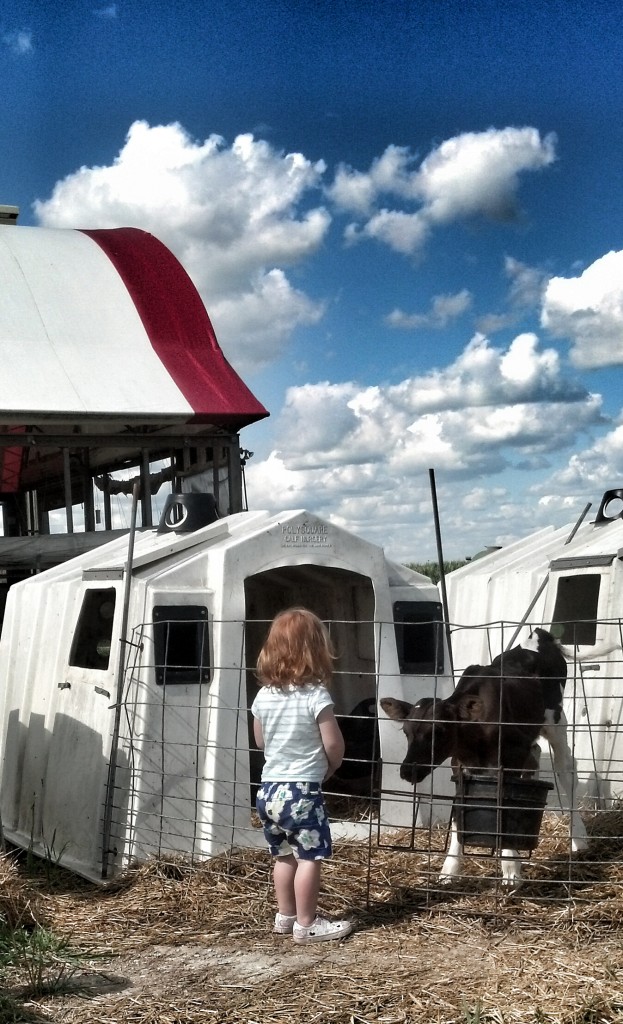 On our farm and on every dairy farm in the United States, antibiotics are only given when they are necessary to treat and cure an animal's illness. As we care for our animals and work hand in hand with our veterinarians to keep our cows healthy. Just like the antibiotics prescribed for Miss A, those prescribed for dairy cows are for a specific period of time and for treating a specific illness. Most importantly though, if antibiotics are prescribed for a cow, the milk will never reach the food supply.
Our milk is picked up every other day and is taken to the fluid milk plant in Peoria, Illinois. When the trucker gets to the farm, he takes a sample from the milk tank and then begins pumping and loading the milk onto his tanker. After all pickups are complete, he heads to Peoria. Upon arrival, all the milk samples are tested BEFORE the milk is unloaded. Should any sample come up positive for antibiotics, for example, the entire truckload is rejected and then destroyed. The farmer responsible for the positive sample is then financially responsible for paying for that truckload. This can be very expensive and farmers do everything possible to prevent this from happening.
To read more about what happens are the milk processor, click here.
Every load of milk – regular and organic – is tested for the most commonly used antibiotics.
In 2013 nearly 3.19 million tests were conducted on milk samples to detect antibiotic or other drug residues with less than 0.014% testing positive for traces of antibiotics. Any milk testing positive was destroyed, preventing it from reaching the consumer market. Zero milk products heading to market have tested positive for traces of antibiotics.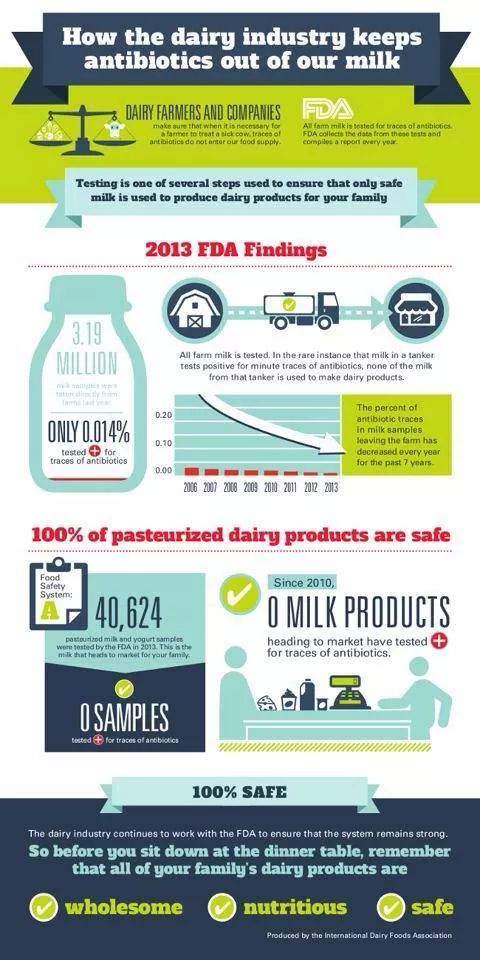 4 Questions about Antibiotics:
How you know an animal is on antibiotics? If an animal requires antibiotics, we document what and how much (dose) she was given. If that animal is milking, we put red bands on both of her back legs (pictured below). This alerts the milker that this cow's milk must be dumped. We also write the cows' name and the drug administered on a dry erase board in the milking parlor.
What you do with the milk? The milk from a cow that has received antibiotics is destroyed. The milk is put into a bucket that we pour down the drain which is then deposited into our lagoon.
How long do you wait after they are off of antibiotics to begin including their milk again? This depends on which antibiotic the animal received. Each drug has a specific withdrawal period. This information is found on the drug label.
What are examples of common ailments we use antibiotics to treat? The most common ailment for our baby calves would be scours (diarrhea). Depending on the time of year, animals of all ages can be prone to pneumonia. In the milking herd, it would be mastitis. Mastitis is the inflammation of the mammary gland and udder tissue.
The dairy industry supports consumer choice. The bottom line though is that carton to carton, bottle to bottle, all milk is wholesome, safe, and nutritious.
Do you want more information, check out these excellent resources:
Dairygood.org
Dairyfarmingtoday.org
Nationaldairycouncil.org
Comments
comments