More than likely, the reason you are reading this blog is because you are interested in what our farm produces.  Although we are both a dairy and grain farm, the main focus of this blog and our Facebook fan page is on our dairy cows.  We milk the cows 2 times a day (4:30 a.m. and 4 p.m.) every day in a "double 6 parlor".  This means that there is a center alley where we stand and then an elevated space for six cows to walk in on each side (the cows udders will then be at a convenient height for milking).  The parlor was constructed in 1975 and remodeled in 2001.  Our milk is picked up every other day and goes to the fluid milk bottling plant in Peoria, IL.  We are proud members of the Prairie Farms Dairy cooperative.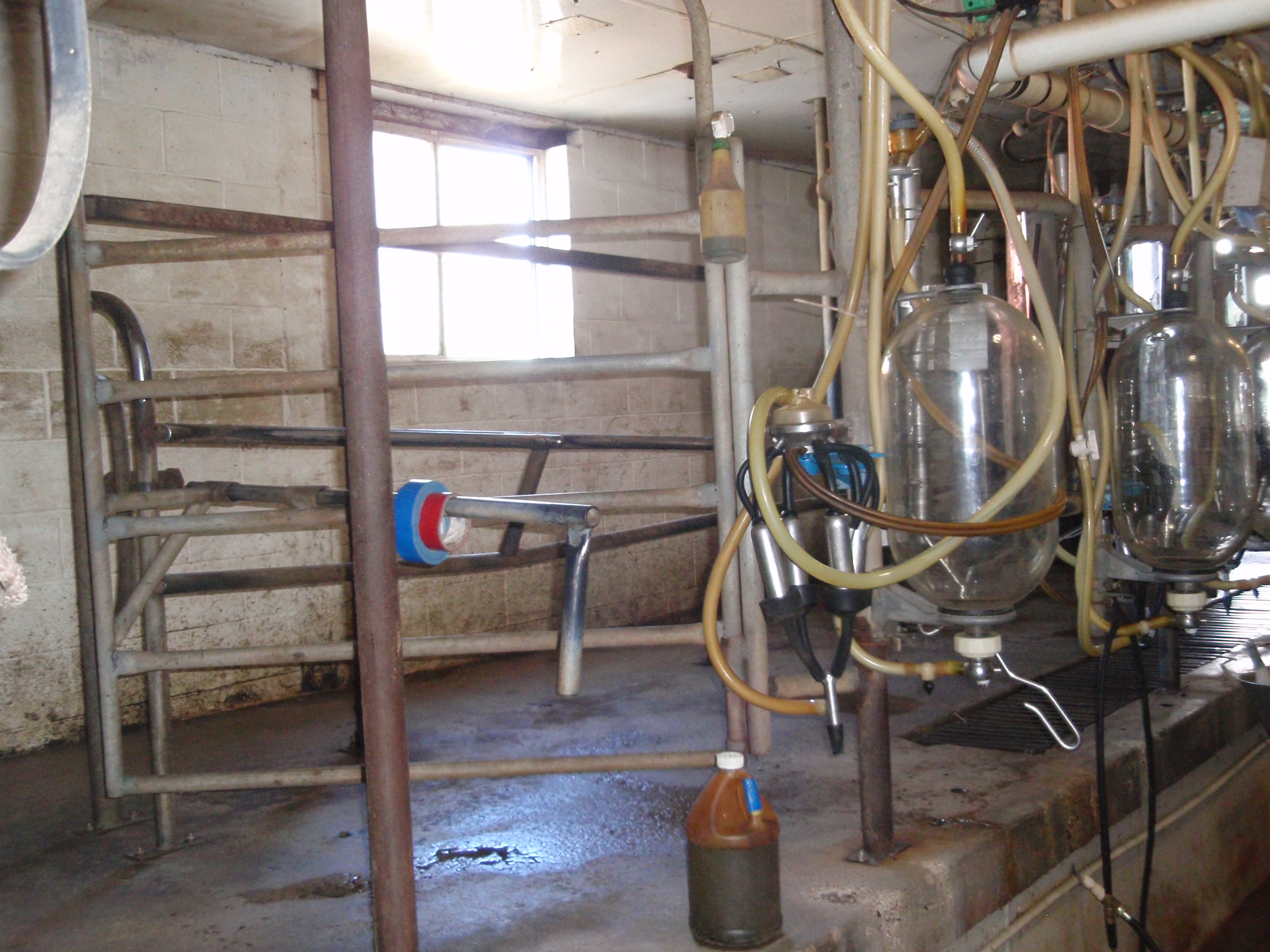 A view of one side of the milking parlor
All calves (less than 6 months old) are housed in individual calf hutches and are vaccinated twice and receive semi-annual boosters. The cows and heifers (older than 6 months) are fed a total mixed ration (TMR).  TMR means we mix and blend a certain number of pounds of corn silage, haylage, soybean meal, corn gluten, as well as other necessary minerals together.  The milk cow ration consists of 11,600 pounds of feed!  Our TMR is just like your Kitchenaid mixer but much bigger!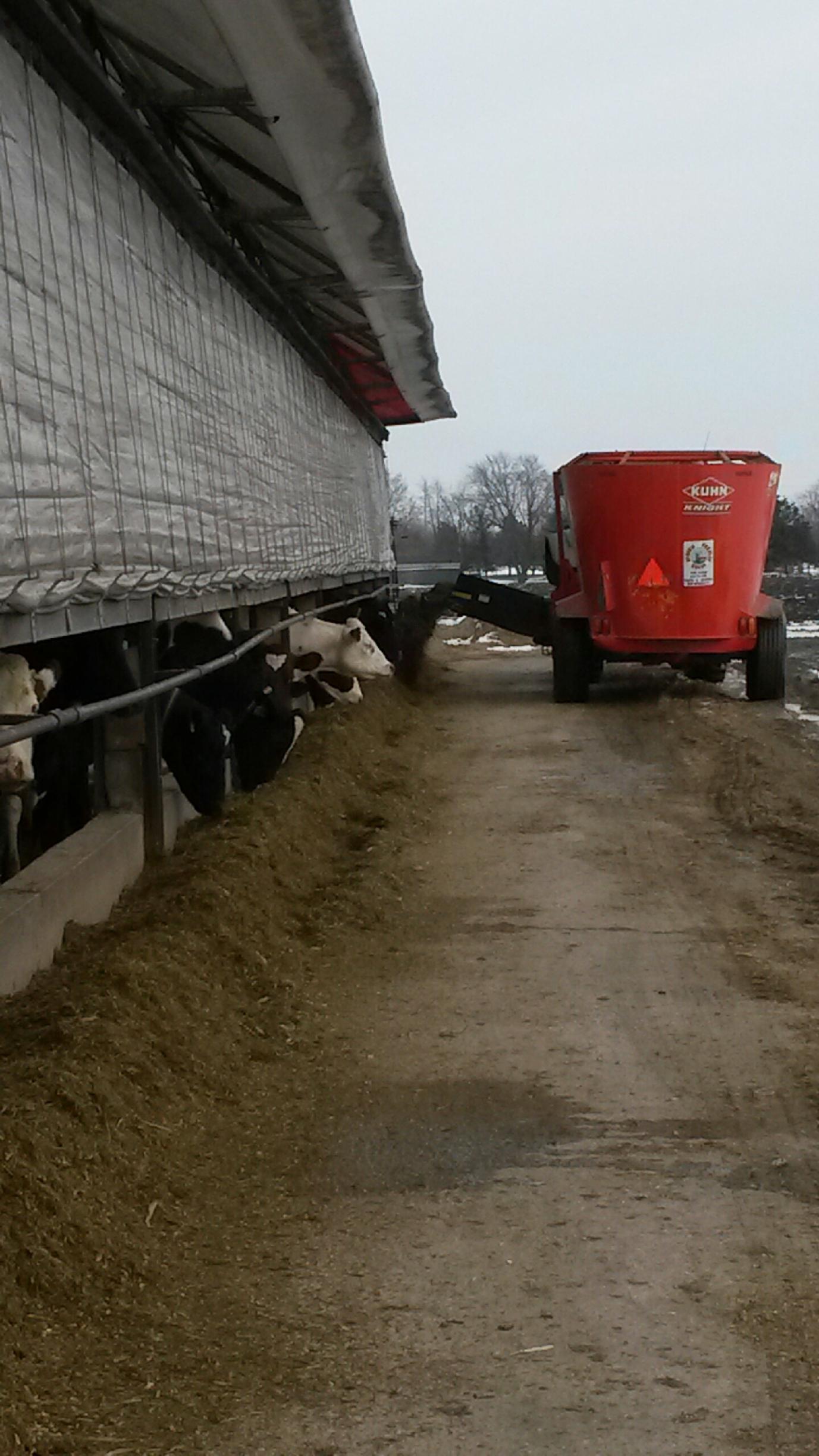 TMR feeding the milk cows
 MDF currently works closely with 3 veterinarians and a nutritionist to keep our cows healthy and comfortable.  The heifers are grouped according to age.  In 2011 we constructed a heifer barn which has 4 separate areas that can house 70-90 heifers depending on age. Last summer, we also constructed a dry cow / maternity pen.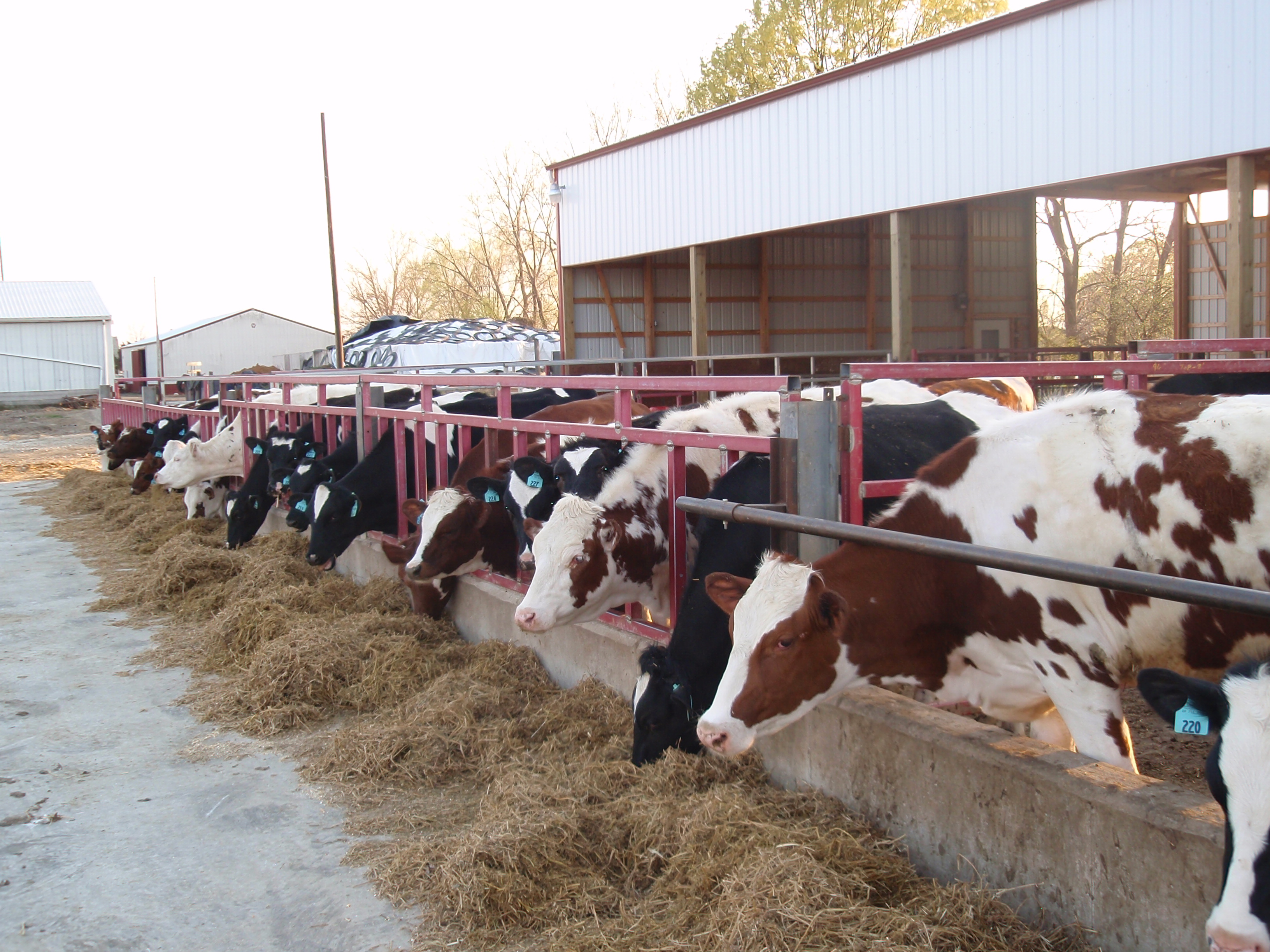 Heifers enjoying their dinner
During the summer months, we are able to utilize pasture for the heifers, the dry cows, and the milking herd.  We have two free stall barns (almost 16,000 square feet) so the cows have a choice as to where they spend their time.  A free stall barn is a barn that houses dairy cows and provides the animals with a clean, dry, comfortable resting area and easy access to food and water.  The cows are not restrained and are free to enter, lie down, get up and leave the barn whenever they desire.  The newer free stall barn utilizes sand bedding.  Yes, it's just like the beach and the cows enjoy putting their hooves in the sand.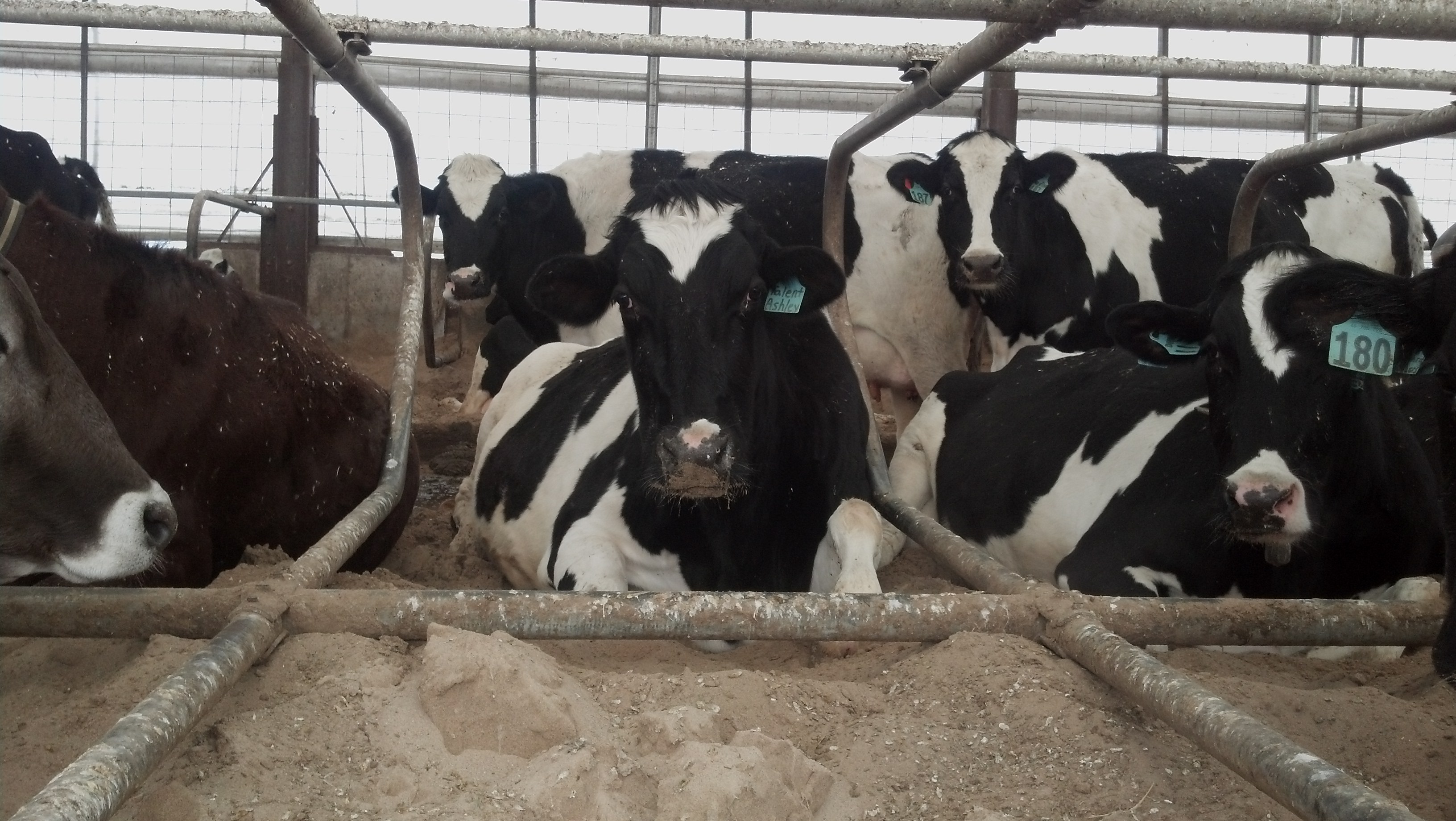 A few of the milk cows relaxing in the free stall barn
A majority of the cows are bred through artificial insemination but we do have a bull if that is necessary. We are currently utilizing embryo transfer and in-vitro fertilization with a few of our top cows.  Growing up, we showed our cows through 4-H and today we continue to compete at a few shows.  You might see some of our animals at the Illinois State Fair, the All-American Dairy Show in Harrisburg, PA, the World Dairy Expo in Madison, WI or the North American Livestock Expo in Louisville, KY.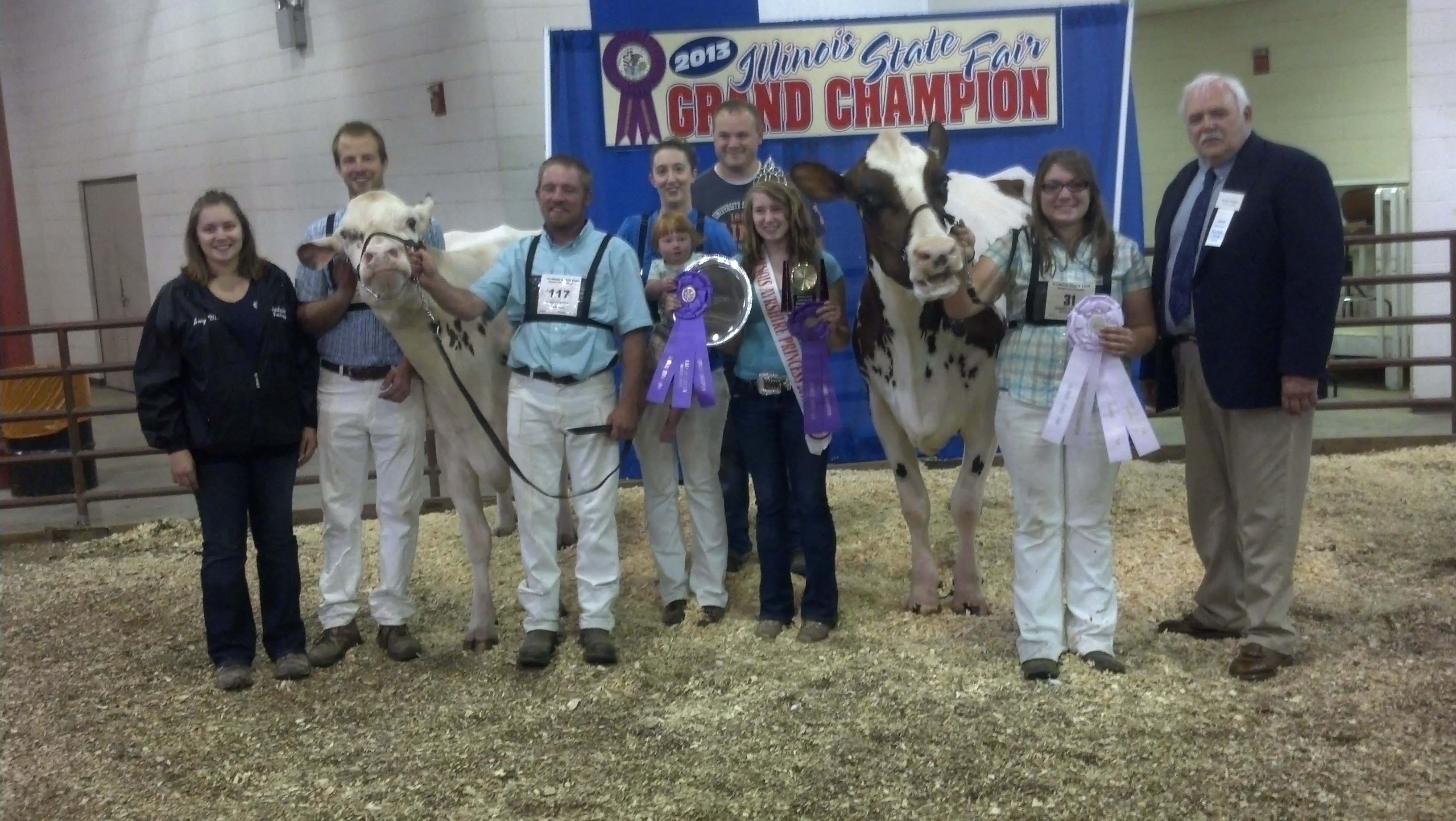 2013 Grand Champion Ayrshire – Illinois State Fair
Our crop rotation is corn, soybeans, wheat and alfalfa.  We do grow a majority of the crops we feed our cows, the only exception would be the soybean meal and additional vitamins and minerals which we purchase.  The excess grain is sold to grain storage facilities and is transported via rail, barge or turned into ethanol.  In regards to conservation efforts, we do minimum tillage and no-till on the highly erodible soil.  Cover crops have also been implemented into the rotation.  In the fall of 2011, we built a manure storage facility that is adjacent to the dairy.  This storage facility holds 2.8 million gallons of manure which is applied to our fields as fertilizer in the fall.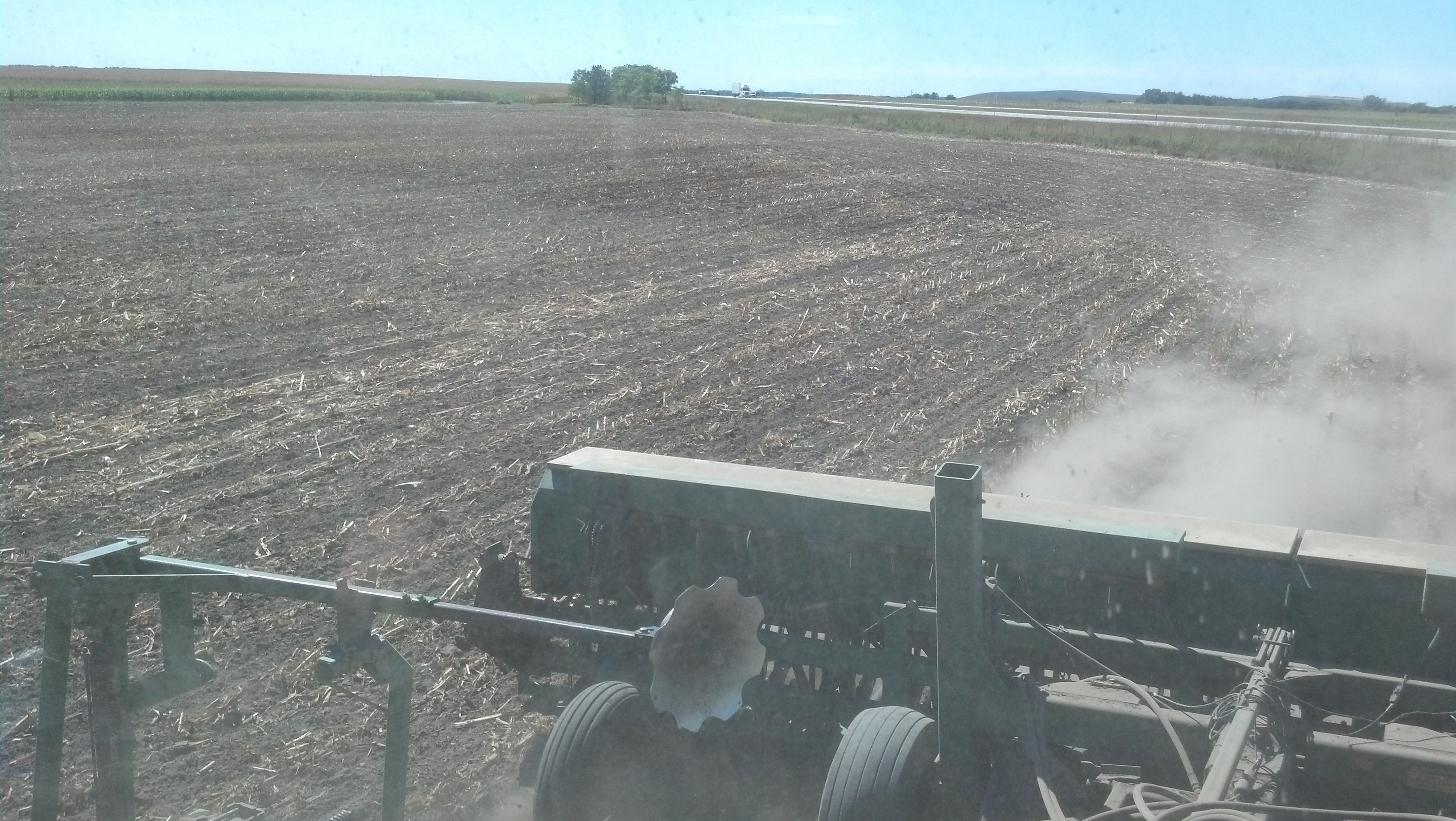 Planting rye in the fall of 2013
If you are ever in central Illinois, we would love to meet you and show you our farm.  I encourage you to find us on social media, www.facebook.com/MackinsonDairyFarm or @mtmacki on Twitter.
Comments
comments