It was a Wednesday night, no different than any others. The forecasters were calling for storms, tornadoes were possible but most of the time the forecast was wrong. After picking up the kids from daycare, we transitioned to our typical nightly routine of dinner, baths and cartoons. All while I casually watched the weather. Bedtime came and went and something told me, you better get prepared if the electricity goes off. Since the kids love flashlights, this took more time than it should have. I also grabbed a few candles and put them next to the flashlights. My cell phone was fully charged, it time to wait for the storm to miss us, so I could go to bed.
About an hour after putting the kids to bed, I got this feeling. One I have tried to unsuccessfully to describe. One I can only explain as a Mother's Intuition. I went downstairs and put some blankets and pillows in our downstairs bathroom (an interior room with no windows). While our old farmhouse had a basement, it was dark, dingy and wet. I knew once I took the kids down there, they would wake up and be scared.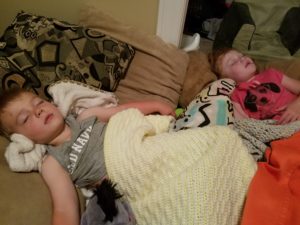 The storm system continued to get closer and I decided to move the kids to the bathroom. Taking them to the bathroom, allowed them to continue sleeping without realizing what was going on outside. The storm got closer and a tornado warning was issued for our area, I thought it was heading right toward the farm so I made sure my parents and brother/sister-in-law were awake and aware since it was 10:00 p.m.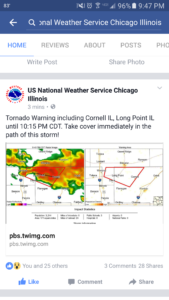 It didn't take long for the wind to pick up and then the power went out. Thankfully, I had planned ahead. The only thing missing was my wine, so I headed to the fridge. Back in the bathroom, I poured myself a glass and then I heard it. The train. I always heard, a tornado sounds like a freight train.
I slammed my glass of wine and pushed my kids close together and laid over top of them. Eli continued to sleep and Ava woke up after she heard the window shatter. After calming Ava down and Eli waking up from the excitement, a tornado warning was issued for Pontiac.
Thirty minutes earlier, Jesse asked me if he should come home. I told him no, because the storm wasn't headed for us. Just like the forecasters, I was wrong and called Jesse and my parents. Pretty sure my exact words were, "we were hit". They jumped in their cars and headed over. Without any electricity, I had no idea the extent of the damage. I just knew we had a broken window. Not wanting to scare the kids, we hung out in the bathroom and played with the flashlights.
Knowing my parents were close, we ventured out of the bathroom because Abba and Papa were coming! It wasn't until their headlight revealed they couldn't get into the driveway I knew it was bad. Mom somehow mastered the tree maze and got into the house while Dad and I tried and quickly survey the damage. We knew we had no electricity, broken windows and lots of trees down. The fire department arrived and made sure everyone was safe. I grabbed the essentials (wine included) just as Jesse got home and we headed to the farm for the night.
The night kept playing in my head and even one year later it seems like yesterday. I'm not sure if I slept that night but the next morning, the sun came up. It was time to head home and access the damage. As we got closer, I knew it wasn't good. I broke down. Five days earlier, we had listed our home with a realtor because we had begun building our dream home. It had looked so good, now it was a mess. Neither one of us knew where to begin. I started taking pictures for insurance while Jesse cleaned up broke glass.
A little after 7:30 a.m. two of my co-workers arrived with their chainsaws and a plan. Then more co-workers arrived. The saying "many hands make light work" is true. By 4:00 p.m., our yard which lost twelve mature hard-wood trees was clean and the windows and roof were patched up.
The road to rebuilding was slow and extremely bumpy. One year later, reflecting on that night I'm thankful. I am thankful for allowing us to live, work and raise our children in this community. A community that rallies behind others in a time of need and for this, we are forever grateful.
Comments
comments