Ashley's story in her own words:
I grew up on my family's 40 cow dairy in upstate NY. My parent's sold their farm in the 90's, but I kept my love for cows. I have degrees from SUNY Cobleskill in Ag Business as well as Cornell University in Animal Science. After graduating from Cornell in 2009, I married my husband, Robert. In 2011 we began our journey as first-generation farmers. We milk a herd of about 50 registered Holsteins and a few registered Brown Swiss. We have been farming in upstate NY, but on November 1st we moved our herd to Staunton, VA. For the past 4 years that we have been farming, I have also worked full-time off of the farm. I previously worked as a herd manager at Allenwaite Farm, a large commercial dairy, and currently work at Welcome Stock Farm, a seed stock herd. I am also currently pursuing a career as a freelance writer for the dairy industry, and have been published on Dairy Agenda Today.
In 2013, we had our son, Derek. He loves the cows! I have been involved in coaching 4-H dairy judging, coaching the Tri-County Jr. Holstein dairy bowl team, and have been an advisor for the Tri-County Jr. Holstein Club. My husband and I also enjoy leasing out calves to be shown at our county fair.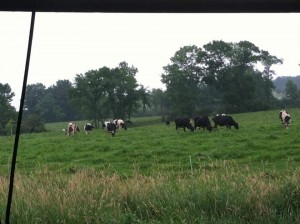 What are 3 things you want consumers to know about the dairy products you produce?
I think that it is very important for consumers to know that dairy is a truly irreplaceable part of a balanced diet. There are so many products marketed these days as ""dairy-free"" and ""fortified with calcium"" etc., that it becomes easy to forget that milk is nature's most nearly perfect food. Milk has amazing health benefits, and it is important to not lose sight of that even in a society where diet fads have people believing that dairy products are unnecessary.
I would also like consumers to realize that living in a vegetarian/vegan world is completely unrealistic. The amount of quality proteins, vitamins, and minerals that are found naturally in meat and dairy products cannot be matched by any other foods.
And most importantly, I want consumers to understand that dairy products are so closely regulated for quality control, that there is simply no way that antibiotics make their way into the food industry. And farmers shop at the same grocery stores as their consumers, so we would never feed other people things that we would not feed to our own family.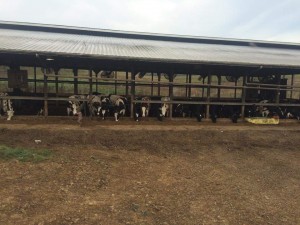 As a Mom what do you want to share with others about the dairy industry?
The dairy industry is made up of amazing people and animals, and the bond between them all is unbelievable to anyone who hasn't experienced it. There is no way to truly describe the depth of feelings that we have for our cows and our "dairy family"! In an industry of extreme ups and downs and constant volatility, we lean on each other for support, and we depend on the love that we have for our cows to keep us going. It is beyond anything that can be explained to others.
What is the most rewarding part of production agriculture? Challenging?
The most rewarding part of agriculture, for me, is seeing a new baby calf born, and giving it the absolute best care possible, then seeing that same calf mature into a cow and have her own baby! Those moments make all of the long days, midnight calf checks, and early mornings worth it.
The most challenging part of agriculture is having so many aspects of our business that we cannot control. We cannot control the weather, the milk price, etc. That is very unique to agriculture, and it makes for immense challenges, especially as ""new"" dairy farmers who have no outside help. We run ourselves ragged doing what we love, and at the end of many days we have lost money or barely break-even. Yet we continue on, doing what we love because we cannot bear the thought of doing anything else.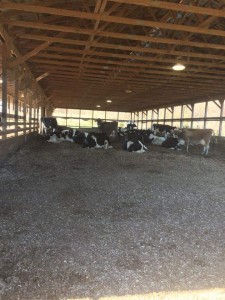 Who is your favorite cow?
My favorite cow of all time is JoyRide Sanchez Madison. She is the first cow that my husband and I bred together, and she is currently scored EX-92 as a 5 year old. She is an absolute gentle giant, at about 65 inches tall, and weighing near a ton. She is a joy to work with, full of personality (she knows how special she is) and she is one of the reasons that we go to the barn every day. Since I only have a son, I joke that Madison is "my favorite daughter" but it's kind of true 😉
---
Ashley, thank you for sharing your story with us!
Entire Women in Dairy Series:
Comments
comments