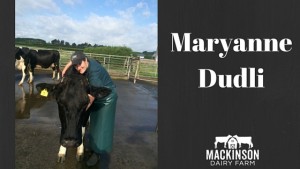 Today, we have a very unique opportunity as Maryanne Dudli from New Zealand shares her story with us.  I was not familiar with sharemilking and the seasonal grazing which are very popular in New Zealand.  Maryanne does a wonderful job explaining those topics to us today as she shares her story!
---
Maryanne's Story in her own words:
I grew up on a dairy farm, and right from my preschool years I absolutely loved farming. I was always on the farm – helping milk from a young age, feeding calves, making my own little pits of grass silage (my checking them daily probably didn't help the ensiling process..!), and just generally being involved with whatever my father was doing.  I remember him trying to sneak out of the house quietly to milk in the mornings, but I'd always hear him and go too.  I was fortunate that my father recognized and fostered my passion, and over the years he passed on all his farming knowledge to me. He also gave me responsibility, and allowed me the opportunity to learn from my mistakes.  Even though he is no longer involved in dairy farming, I still greatly value my father's advice.
I was an academic student, and because of a keen interest in animal health I leaned toward veterinary science.  I saw a lot of vet practice in my teenage years, and greatly enjoyed it.  My interest in animal health, and genetics, continues to this day.  Studying animal science at University did change my direction a bit, because I really missed farming and the outdoors, and couldn't concentrate in three-hour science labs.  It simply wasn't the environment where I was at my best.  So off I went, for what was to be a break in my studies and a short OE (overseas experience).  It would be six years before I settled back in New Zealand.  Travel is another passion of mine, and the time I spent overseas in my late teens/early twenties was pivotal for me in terms of personal growth and experiences.  It certainly broadened my horizons, made me more confident with communication, and taught me how to interact with a wide range of people.  Of course, I also saw some amazing sights and met some wonderful people.  Antarctica is the only continent I've yet to set foot on – and that will happen!  Travel is such a valuable experience – I encourage everyone to do it. While overseas I was also fortunate enough to be able to see and/or experience a number of different dairy farming systems.  So it will come as no surprise to hear that, after returning home to NZ and working in some dairy-related roles, I eventually returned to my first love – farming.
These days I'm a 50/50 sharemilker on a 51 hectare (126 acre) dairy farm on the fertile slopes of Mount Taranaki, where I milk 160 holstein-friesian and crossbred cows.  (50/50 sharemilking has historically been a stepping stone to farm ownership in NZ.  Under this system the farm owner, my employer, supplies the farm and infrastructure – milking shed, cow races/lanes, permanent fences, water supply and troughs, effluent disposal system.  I as the sharemilker, supply the cows, machinery, equipment and labour.  I pay for power and day-to-day farm running costs, the farm owner pays for maintenance fertilizer, we split the cost of nitrogenous fertilizer, and we split the cost of any purchased feed for the cows – primarily grass silage and hay).
There is nothing like 4-H or FFA available in NZ (unfortunately), but from a young age I was involved in the Holstein-Friesian Association (now HFNZ) as a youth member.  I started grading up my own pedigree Holstein-Friesians at age 12 (aided and encouraged by a local breeder), and became involved in showing and breeding.  This has been my hobby for years and years – although I don't show my own animals these days (they're too round-boned and lack show-ring style), I have really enjoyed being part of other successful breeder's teams and the lifelong friendships that have resulted.  I've been lucky enough to have stood at the halter of Champion cows, and place in the top-three of national showmanship competitions. In recent years my focus has been more on judging, and I've greatly enjoyed judging multiple breeds throughout NZ.  I particularly enjoy judging on-farm shows, where you find some real gems of cow's busy working on the farm.  Judging youth classes, and interacting with and encouraging keen young people, is another passion of mine.  The youth are, after all, our future.  A few years ago I also qualified as a TOP (Traits Other Than Production) inspector and classifier with NZ Animal Evaluation, but to date I haven't had a chance to get off farm to do much (a lot of inspections take place during busy times on the farm – and sadly I've learnt that my energy and time isn't limitless!).
When did you start farming?
As I explained earlier, I think I was born into farming and never really left it.  Our family farm was sold in 1996, and I kept some cows and leased them out.  I have their descendants in my herd today.  After my main overseas stint I assisted on various farms and worked in dairy-related fields (genetics, livestock clerking, and farm services).  I always wanted to get back to fulltime farming, but back then I lacked the confidence to go into it as a single female (which isn't common, but is slowly becoming more so).  Certainly, I now compete with couples for the same sharemilking jobs, which can be a little daunting.  But I've been lucky to have found and been given opportunities to prove my farming ability, and have been fortunate to have achieved farm milk production records and milk quality awards.  My advice to any women out there who may be unsure of themselves: Go for it! It may be tough to get a foot in the door at first, but with persistence you will be given a chance.  And if you're passionate about what you do, you will do well.  When my previous employer sold his farm, I was gratified to have unsolicited job offers coming to me.  It made the hard work worth it – I'm not one to go around talking about what I'm doing, I'm usually on the farm doing it…
My current job is a 160-cow seasonal-calving system, which I run alone.  Cows are permanently outside on pasture.  My cows are mainly Friesian/Friesian cross, with a bit of Ayrshire, Jersey and Brown Swiss thrown in (gotta keep it interesting!).  I milk through a herringbone which is a 16-aside swingover (one row of milking machines in the centre, and once the cow on one side is milked the machine is swung over to milk the cow on the other side).  I fit 11-12 cows in each row, so milking takes three hours at the peak, plus another hour to clean up.  Walking times for the cows can be up to an hour from paddock to milking shed (parlor).  My milk is supplied to Fonterra, who have their Whareroa processing site within view of the farm.
Describe a "typical/average" day for you.
Since I farm a seasonal grazing dairy operation, which may be unfamiliar to some, I thought I'd describe a typical dairy farming season in NZ.  Please note that this is the historic "norm" for NZ farming systems – these days they are changing and evolving, due to factors like weather, and milk processing companies offering premiums for "off-peak" milk.
The NZ season starts on 1 June.  This is changeover day – if farmers/employees/cows are moving farms it happens today (or within a few days of).  If a farm has been sold, this is also often the takeover date.  Its winter, grass growth is minimal, herds are dry and on dry-cow rations – grass, grass hay and/or silage.  In some parts of the country cows are wintered on/offered crops like turnips, beet, swedes, and kale.
Calving season starts in July (varies depending on area and elevation).  My herd starts calving in the last week of July.  After six weeks, 80% of the herd will have calved.  The remainder will all be calved by the end of September.  As part of my sharemilking contract, I'm allowed to rear 45 replacement heifer calves on milk. Calves are kept inside for the first month or so, in group pens.  After that they are given access to pasture but offered a shed (barn) as well.  As the weather warms up and they get closer to weaning calves are moved around paddocks on the farm, and given shelter during wet weather.
September 1st is the official start of spring.  Warmer weather is always welcome by then, because it promotes grass growth and the cows need sunshine.  September is always a tough time on the farm in terms of available grass – most of the herd is in milk, their feed requirement is increasing as they head toward peak production, and winter-saved pasture is almost gone.  September 20th is historically "take-off date" or "balance date" – when the grass starts growing at a rate higher than demand.  Spring fertilizer is applied when conditions allow.
In October mating starts.  My herd is mated to AI for six weeks, followed by natural mating with herd bulls for another four weeks.  The bulls are removed from the herd around Christmas.  In October and November there is usually a surplus of grass, which is harvested as baled silage.  This is also a time to undertake weed control in pastures. Rapid pasture growth can mean that pasture quality suffers now as well – mowing before the cows go into paddocks (topping) is common to maintain quality. Calves are weaned in batches (based on age and/or weight) throughout these months.  Mine are fed grain for up to a month after weaning.
Summer is December – February.  This can be a tough time on-farm, with my area having droughts over the last three summers.  Pasture is supplemented with grass silage, and other inputs if necessary/available/cost effective. Some farmers grow turnips for summer, with cows being given access to a small strip of the crop each day.  Maize (corn silage) is also a common supplement, but is usually not available until mid-March.  If weather conditions get very dry and grass growth is very low, some farmers switch onto 16-hour milking. This is milking every 16 hours instead of every 12 (so cows are milked 3 times over 48 hours instead of 4).  This has the effect of maintaining cow condition and reducing cow stress, because they are walking less and milking less (and so lowering feed demand).  Pregnancy testing takes place over this time, and herd numbers are dropped as low as possible if feed is short.  Average non-pregnant (empty) rates in NZ herds are around 10-12% – but these can vary greatly depending on many factors including length of mating period, cow condition and nutrition, weather conditions, and whether any intervention (synchrony programmes) have been used.
March brings autumn and usually welcome rain, which boosts grass growth (which we need, because now farmers start planning their winter feed supplies).  Autumn fertilizer is applied.  My herd traditionally dries off in early May, but this is variable depending on available pasture.  If summer was exceptionally dry and long, younger and lighter-conditioned cows will already have been dried off.  I will progressively dry off at-risk, younger and/or earlier calving cows as feed supplies dictate.  By mid-May at the latest, every cow on the farm is dry and in their wintering groups (I group mine into young and light-conditioned cows, and another group of the big mature cows).  As their pregnancies progress they are sorted into early and later calving groups, due to the early calving cows having a higher nutritional requirement.  By early July a close-to-calving group has been made, magnesium supplementation has begun, and before you know it calving is upon you..!
Who is your favorite cow?
Breed doesn't worry me.  My perfect cow is average-sized and very capacious.  She needs to have width throughout – muzzle, chest, and rump.   One of my major dislikes is high pins, which in my experience leads to fertility and mobility problems.  A cow needs to have a functional udder with a strong suspensory ligament, which milks out freely from correctly placed and sized teats.  Correct feet and legs are essential for all the walking cows do in NZ.  Low foot angle and/or weak pasterns lead to cows which don't last.  I particularly admire older cows that have stood the test of time, and kept on producing and reproducing efficiently – those are the cows I want to get heifer calves out of.  Sound basic structure is a key component of my perfect cow, no matter the breed or the system she's farmed under.
What is the most rewarding part of being in the dairy industry? Challenging?
The most rewarding is the pleasure of working with cows and on the land each day (in inclement weather, this can also be rather challenging!) Also, there are some wonderfully genuine and good people in the dairy industry.  It is a pleasure to work alongside them in dairying. Milk price is a challenge, and one which farmers have basically no control over.  I'm not motivated by money, but I need to be financially solvent to stay in business.
What do you envision the future of the dairy industry looking like?
Farms and farming operations seem to be getting bigger and bigger (and I understand that economies of scale have played a role in this).  However, smaller farms do endure, and I believe that they have their place.  I hope that the future of the dairy industry will allow well-run operations of all sizes to thrive.  I also hope that the pathways and opportunities will remain open for farm ownership for keen, hard-working people.  The dairy industry needs that next generation of farmers coming through.
---
Maryanne, thank you for sharing your story with us!
Entire Women in Dairy Series:
Comments
comments